Alternative Dispute Resolution
Charles Wolfgang
Dec. 8, 2021, 10:29 p.m.
...
Alternative dispute resolution (ADR) is the number one alternative to US court litigation. Want to know about divorce arbitration mediation? It involves legal procedures that help parties resolve a dispute. Before the ADR process takes place, parties sign an agreement to avoid litigation. File a request for mediation. This way, they can secure the services of a neutral third party. The neutral party will then help the disputing parties reach a final agreement. Click here for small claims. The most common types of ADR are arbitration and mediation. Other types include neutral fact finding, negotiated rulemaking, and minitrials. Find out more about family arbitration.
ADR is a forum for parties to achieve a consensual, voluntary agreement. Contact Us to learn more about the Arbitration Process. The only exception is the binding arbitration process. Through binding arbitration, an arbitrator provides a final ruling that cannot get overturned. ADR benefits disputing parties for many reasons. Know what is an arbitration clause. One of the top reasons is that parties get encouraged to work together. Litigation differs because a judge decides a case without any input from parties. ADR helps parties avoid expenses, delays, and uncertainty. All those factors apply to standard, traditional litigation processes. Think of ADR as a vehicle for boosting communication between parties. Labor arbitration is a specific form of arbitration. It is a forum based on factoring creative solutions into disputes. This way, outcomes can meet the needs of parties in an ideal way. Please continue reading to learn more about alternative dispute resolution. If you have any questions, do not hesitate to contact our association. Visit the website for average settlement offers during mediation.
What Is the Definition of ADR?
Here is a basic definition of alternative dispute resolution (ADR). There are different types of arbitration. It is a method of resolving disputes without resorting to litigation. Sometimes public courts will get asked to review specific ADR processes or methods. But public courts almost never overturn an ADR decision, such as an arbitration award. Please keep reading to learn more about arbitration agreement meaning information. The key is for disputing parties to form a valid dispute resolution contract. This way, parties can abide by the contract and complete the ADR process. There are two major forms of ADR. They are arbitration and mediation. Must read about Power Imbalance.
The Types of ADR
Listed below are the different types of ADR. You're also welcome to learn more about the arbitral tribunal. Arbitration and mediation are, by far, the most popular forms of dispute resolution. That is why ArbitrationAgreements.org focuses on arbitral and mediation services. If you have questions about any ADR types, do not hesitate to contact our association. Read more about Value Conflict.
ADR Type: Arbitration
Arbitration focuses on relaxed, informal hearings. Each hearing gets presided over by a neutral person known as an arbitrator. The arbitrator will hear arguments and assess evidence from both sides. Click here to know about arbitration bias. Then, the arbitrator will decide the legal outcome, much like that of a courtroom judge. Know what is an arbitration contract? But do not assume that court litigation and arbitration have many similarities. Arbitration is much less formal than that of a public court trial. Plus, the rules of evidence become applied in a relaxed manner. Click here for know about interest arbitration.
Most arbitrations have legal binding status. Through binding arbitration, parties make a crucial agreement. The parties agree that they will accept an arbitrator's decision as final. Download arbitration clause. Thus, there is almost never a right to appeal the decision of an arbitrator. Do you want to know about advantages of arbitration? Now, say that nonbinding arbitration takes place between two parties. Each party has a right to request a court trial once arbitration concludes. Why? Because there is no obligation to accept the decision of the arbitrator. Please continue reading to learn more about demands for arbitration.
ADR Type: Mediation
Mediated disputes involve a neutral individual known as the mediator. Learn more about arbitration definition economic. The goal of every mediator is to assist parties in reaching a final resolution. Each resolution must get accepted by parties on a mutual basis. Keep in mind that mediators never decide a case on behalf of parties. Read also insurance arbitration. Instead, they help parties communicate in a meaningful manner. This way, the dispute can get settled without much intervention. Mediation is often best for business partners, neighbors, and family members. Want to know how the arbitration decision process functions work? Otherwise, mediation could seem inappropriate if one party has power over the other. Even so, parties from diverse legal situations opt to proceed with mediation. Read more about professional debt mediation.
ADR Type: Neutral Evaluation
Like mediation, neutral evaluation also involves a neutral person working with parties. Know about arbitration new york city. This individual will have subject-matter expertise related to the dispute. He or she will listen to arguments and review the strengths/weaknesses of each side. Know how long does arbitration take. Then, the neutral evaluator will provide an evaluation of potential court outcomes. This way, the neutral evaluator can promote a fair settlement. The evaluator can also provide specific case planning guidance. Through consent of parties, a neutral evaluator will help parties draft a settlement. We can understand here arbitration vs litigation.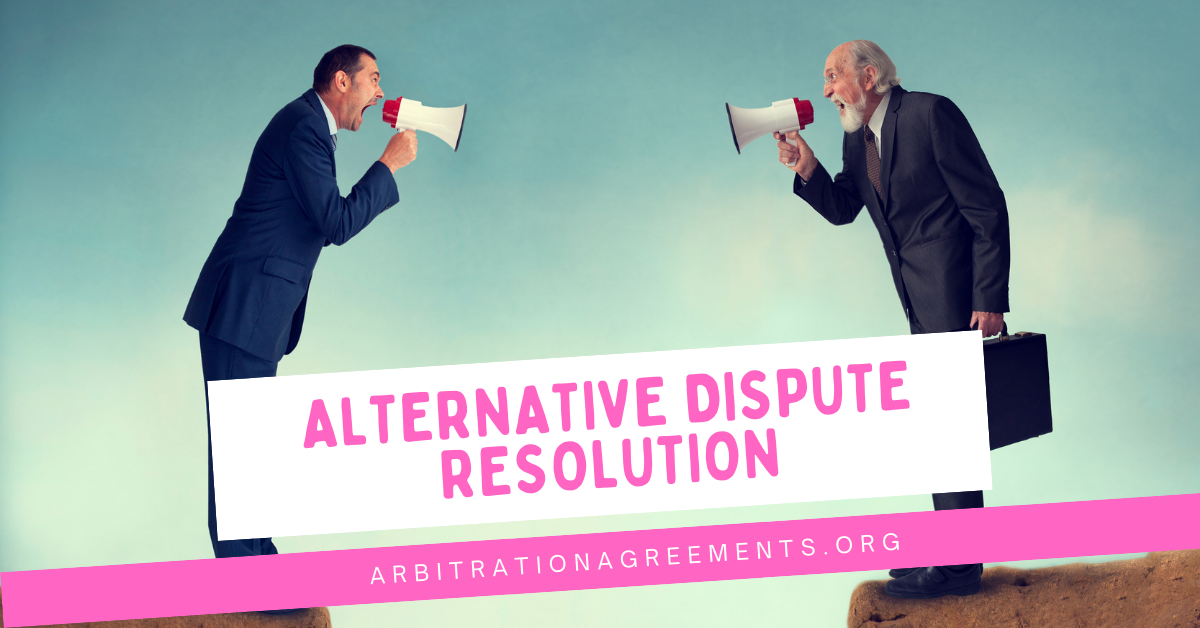 ADR Type: Collaborative Law
Collaborative law functions as a problem-solving alternative dispute resolution process. Read our arbitration rules. The purpose is to provide divorcing parties with a mechanism for ending a marriage. Know what is a arbitration provision. (Lawyers related to each party also benefit through this ADR process.) The restructuring of families is another key goal of many collaborative law cases. Divorce-related litigation has a reputation for causing stress, expenses, and delays. A central focus of collaborative law is to reduce these negative factors. Click here for consumer arbitration demand form.
There are three major principles associated with collaborative law. Please continue reading to learn the basics of out of court settlements. The first is that the parties agree not to litigate the dispute in court. A second principle guarantees that formal discovery will not take place. Instead, parties agree to have an honest, good-faith change of relevant information. Are you or your business in need of a standard arbitration agreement? The third commitment focuses on committing to seek high-priority solutions. All solutions should have the best interest of the parties and their children. Attorneys must commit to these collaborative law principles. But every lawyer can still represent his or her client with diligence. Read more about mediation clauses.
ADR Type: Parenting Coordination (PC)
Parenting coordination is a child-focused dispute resolution process. Learn more about divorce mediationadr. An experienced legal or mental health professional serves as the parenting coordinator. The coordinator will assist high-conflict parents. The goal of a PC resolution is to create an official parenting plan. A parenting coordinator can make decisions within the scope of an appointment contract. Or, within the scope of a court order. But decisions related to resolution only happen once parties provide approval. Plus, a court may also need to sign off on approval for a resolution. Learn more about Interest arbitration. So, what is the main purpose of parent coordination? It is to assist parents in resolving conflicts that involve their children. PC resolutions have a reputation for taking place in a fast manner. Each resolution promotes meaningful and safe parent-child relationships. Learn what is a Conciliation Process?
ADR Type: Restorative Justice
This form of ADR involves a process that focuses on addressing an incident of harm. Read more about arbitration atlanta. Or, any dispute in which a great deal of distress has taken place. Learn more about face negotiation theory. Through restorative justice, stakeholders recognize and address the impact of the harm. This positions the parties to focus on relevant needs and obligations. As a result, parties can create an action plan as a resolution and move forward. Know more about arbitration los angeles.
ADR Type: Settlement Conferencing
Settlement conferencing involves the actions of the representatives of a judge or jury. The representatives will meet with both the parties and respective attorneys. Must read about arbitration atlanta. The purpose is to settle at least some of the legal issues involved in a dispute. This ADR resolution process takes place on a pre-trial basis. The participation of all parties is rather limited. A central focus of settlement conferencing is to narrow issues within a dispute. Doing so increases the likelihood that a resolution can take place. Know what is arbitration in real estate?
ADR Type: Summary Jury Trials (SJT)
This type of ADR functions as an adversarial dispute resolution process. Know more about divorce mediationadr. Through summary jury trials, both sides will present their cases to a jury. But the jury differentiates from the standard jury in US court litigation cases. SJT processes involve a shortened, compact form of a jury. Read more about online mediation. The jury will make a decision that functions as an advised legal opinion. But sometimes parties request that the decision should have legal binding status. So, what is the main point of summary jury trials as a form of dispute resolution? A summary jury trial provides parties with a review of an outcome or potential verdict. This is crucial when parties get involved in a dispute that could go to trial. Summary jury trials can only get accessed within limited jurisdictions. Learn more about arbitration landlord and tenant.
What Is a Special Master?
A special master is a US court-appointed neutral. He or she will carry out a specific action on behalf of a court. Common actions include conferencing cases and overseeing discovery issues. Each special master also specializes in overseeing post-judgment activity. Learn more about face negotiation theory.
The Advantages of ADR
There is a reason why ADR is the number one alternative to standard court litigation. Know about what we do mediation. It's because there are so many advantages associated with ADR. Learn more about class arbitrations. One key advantage is that ADR is best for multi-party disputes. Litigating multi-party disputes can get complicated fast. Speaking of fast, ADR itself is a fast legal process. The speed of settlements is much higher through ADR than litigating in court. Must read arbitral tribunal.
So, why is alternative dispute resolution so fast? One key reason is due to the flexibility of the process. Must read arbitration rules. Court litigation features countless rules and formal processes. Learn more about insurance arbitration. Meanwhile, ADR is more open-ended. It positions parties to discover ideal solutions without process-related limitations. Plus, ADR is much cheaper on average than going through the court system. Parties have more control over the process and discover practical solutions. ADR also focuses on confidentiality and keeping almost all information off public record. Know about odr services.
An Overview of ADR
Alternative dispute resolution helps parties settle disputes outside of a courtroom. It most often involves arbitration or mediation. But negotiation, conciliation, and neutral evaluation are also popular. Due to burgeoning court queues, the costs of litigation continue to rise. As a result, more people in the US are discovering the power of ADR and its programs. Parties enjoy how the process focuses on negotiation instead of hostile arguing. Through negotiation in ADR, parties have a strong chance of discovering a resolution. Then, the parties can experience an official legal settlement with relative ease. Learn more about consumer arbitration demand form.
We Provide Full-Scale Mediation Services
Please keep in mind that ArbitrationAgreements.org provides mediations across the US. Mediation is a top informal alternative to your litigation. All our mediators have undergone significant negotiation training. They know how to bring opposing parties together. This way, the parties can work out a final agreement or settlement. Since mediation is never binding, disputing parties never have to take a risk. Mediation can get exercised for a wide gamut of case-types. These range from divorces to juvenile felonies to business-to-business conflicts. We encourage you to browse our website for more mediation information. Read more about labor arbitration.
Our Association Specializes in All Aspects of Arbitration
Arbitration can provide a long-term, binding resolution to all sorts of legal disputes. It is more formal than mediation but less formal than a traditional court trial. Our association has a roster of over 150 esteemed arbitrators. Know more about arbitration. Each arbitrator is fair, neutral, and has significant industry-related experience. We provide full-scale administrative support to every arbitrating party. Our mission is simple. We want all parties to receive a fast resolution that provides immediate relief. Please browse our website to discover how our arbitration services provide solutions. Must read about class arbitrations.
Do You Need More Information About ADR? Contact Us Now
If you need more information about ADR consulting, do not hesitate to contact our association. You are welcome to pick up the phone and give us a call at any time. Or, you can send out an email or even message us right here on our website. Our ADR experts cannot wait to assist you or your business. Read about arbitration rules. We also encourage you to view other ADR articles on our website. Remember, you or your company do not have to depend on the court litigation process. Instead, alternative dispute resolution can provide you with the solutions that you need. Know more about value conflict.
...