Labor Arbitration
How Our Arbitration Services Can Solve Labor Disputes
Labor arbitration is one of the most popular forms of arbitration. Companies and organizations can use arbitration to solve all sorts of labor disputes. You can find arbitration clauses in countless collective bargaining agreements. Each agreement refers to negotiations between a labor union and an employer.
The basis of this form of arbitration often has to do with hours, wages, or working conditions.
Oftentimes, labor negotiations take place on an annual basis. That's because arbitration has a reputation for solving problems. And unresolved grievances are a common problem when it comes to labor. Our association provides all labor stakeholders with arbitration solutions. Sure, we assist employers, union officials, and human resources executives. But our arbitration team also works with labor attorneys and other legal experts. Why? Because our organization is always looking for dispute resolution solutions.
Do you want to learn more about labor cases that our association has assisted?
If so, please contact us today. We can also supply you with a 2021 Labor Arbitration Statistics Infographic.
What Is Labor Arbitration?
Do you know Arbitration Meaning ? Arbitration involving labor refers to disputes between labor unions and management. Through arbitration, an impartial third party resolves a dispute. That third party's known as the arbitrator. Sometimes one arbitrator presides over a dispute. Other times, a panel or tribunal of arbitrators oversees arbitration hearings. Arbitration often functions as the final legal step within each collective bargaining agreement. Say that parties have undergone unsuccessful measures to reach a settlement. That's when a party turns to arbitration as a legal dispute resolution outlet.
How Does Arbitration Work in Labor Negotiations?
How much Arbitration Cost ? The arbitration process functions as a form of ADR: alternative dispute resolution. Say that a party gets involved in a legal dispute with another party. They must agree that the ruling of an arbitrator will resolve the dispute. This is a common situation across any unionized workplace.
Arbitration is the best outlet for resolving labor disputes.
The disputes often take place due to different interpretations of an agreement. In this case, it's almost always a collective bargaining agreement at the forefront. An employer and union must settle their collective bargaining differences. And arbitration is the easiest and most cost-effective solution for doing so.
What Are the Classes of Labor Arbitration?
Two common varieties of arbitration focus on labor. There's rights arbitration and interest arbitration . Rights arbitration often refers to the legal concept of grievance arbitration. Through this form of arbitration, an allegation must first take place. The most common allegation is that a collective agreement got violated. Or, that a collective agreement got misinterpreted. Parties within an agreement can work with an arbitrator to find a binding resolution.
The interest arbitration process focuses on arbitration contract negotiations.
Sometimes certain issues cannot get resolved during contract negotiations. This often happens between a union and an employer. That's when the union and employer agree to arbitrate. They can present their cases before an impartial arbitrator. The arbitrator will then provide a resolution with binding status.
Know about the techniques of Conciliation .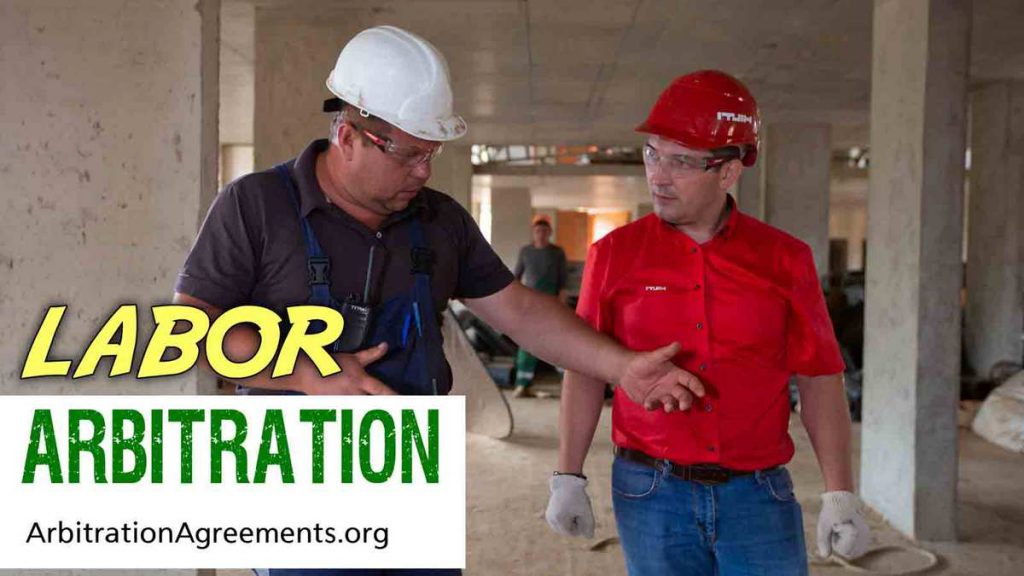 What Is the Difference Between Employment Arbitration & Labor Arbitration?
The arbitration meaning and basics. Labor arbitration is a specific form of arbitration. This type of arbitration addresses problems with a collective bargaining agreement. Or, arbitration serves to resolve issues within negotiations. Employment arbitration is a different subset of the arbitration process. It focuses on issues related to individual employment contracts. But that's not all this form of arbitration is good for. It also addresses non-union company policies.
Employment arbitration even focuses on pre-dispute or post-dispute agreements.
This concerns arbitration that applies to certain statutory rights. Do you need more information about the employment arbitration process? If so, please let our organization know through a phone call or online message. Many arbitrators in the US also work as labor arbitrators. The majority of these arbitration specialists can perform employment arbitration. Arbitration service providers like our association compile arbitrator rosters.
We have a roster of arbitrators for labor arbitration.
And we also have a roster for arbitrators within employment arbitration. The admission standards for each arbitrator roster are different. Please let our association know if you need information about arbitration rosters. We can direct you to labor arbitration and employment arbitration specialists.
The Labor Grievance Process of the Arbitration Agreement Association
Is your party considering using our association to resolve labor disputes through arbitration? If so, there are many options for you to consider. Your party can proceed with our standard arbitration services. If so, you can refer to our general Labor Arbitration Rules . Otherwise, we can provide more specific arbitration services for labor disputes. Our arbitration experts created a list of expedited arbitration procedures.
These arbitration procedures can apply to our Labor Arbitration Rules.
This way, your party can get on the fast-track toward resolving your case. And we can help you through the entire process of arbitration. Common example of Mandatory Arbitration Provisions. Please let us know if you need certain information about labor resolution procedures. We can even supply a party with emergency scheduling procedures to resolve disputes. Of course, this refers to labor disputes. Are you considering resolving your labor dispute using documents only procedures? If so, our arbitration association is standing by to assist.
The Two Binding Labor Processes
When it comes to binding labor issues of arbitration, there are two main processes.
The first arbitration process is "high-low arbitration."
An agreement for high-low arbitration takes place before the first arbitration hearing . In fact, that's when parties create an official agreement. The agreement must state that parties agree to accept the arbitration decision of an arbitrator. (No matter what the arbitrator decides.) The parties agree to a maximum amount for the potential Arbitral award payment. Then, the parties agree to a minimum amount for a potential award payment. Both parties have to accept whatever the final award amount is. That's where the arbitration term, "high-low," comes from.
The second binding labor arbitration process refers to "late best offer" ( offer arbitration ).
Sometimes this legal concept gets called "baseball arbitration." The terms of baseball arbitration aren't that different from high-low arbitration. But there's one main difference. An arbitrator can only select one final offer that a party provides. The arbitrator cannot adjust the total financial figure in any way.
We Provide Labor Grievance Mediation Services
Our association provides many different types of ADR arbitration services. One of them gets referred to as labor grievance mediation services. We provide the services to parties that have unique terms within agreements. In most cases, the type of agreement is a collective bargaining agreement. Some of these collective agreements feature clauses or provisions about mediation. (Mediation is a non-binding ADR process for resolving some labor disputes.) We can supply parties with access to either formal or informal mediation services. The services can apply to many different forms of labor grievances.
Keep in mind that not every collective bargaining agreement mentions mediation, But go ahead and read the terms within your signed agreement.
If it features language about mediation, our association is standing by. You must know about Arbitration vs Litigation . We can supply many different forms of labor grievance mediation services. Oftentimes, mediation serves as a step to take before arbitration. If mediation cannot solve the labor dispute, that's when arbitration can begin.
What does a mutual arbitration agreement to arbitrate claims do?
Arbitration for Pension & Welfare Disputes (ERISA)
Arbitration is an ideal dispute resolution technique. It can solve all sorts of legal and labor disputes. And pension and welfare disputes are no exception. Arbitration can resolve almost any type of disagreement. One common disagreement involves the terms of a pension plan. Joint labor management boards can administer each plan and all terms. Arbitration also solves disputes involving a plan sponsor for a multi-employer plan.
Labor arbitration for welfare and pension disputes refers to ERISA. (The Employee Retirement Income Security Act.)
It's a federal law from 1974 that private American employers must adhere to. ERISA established labor standards related to retirement, such as pension plans. The arbitration law also focuses on welfare benefit plans and other health related services. Most employers have to meet certain ERISA standards. Otherwise, an employer cannot protect its employees. In fact, ERISA also protects each employer and all plan sponsors. Please let our association know if you need a list of arbitration and labor rules. There are labor rules that govern the administration of ERISA policies.
Why Arbitration Is Superior to Litigation, Arbitration Advantages .
Arbitration Rules for Employee Benefit Plan Claims
Our experts specialize in multi-employer labor-management employee-benefit trust funds. These labor related funds originated from the Taft-Hartley Act in 1947. The act ensures that employees receive pensions once they retire. It also helps families and dependents receive pension. Pensions must get administered through boards of trustees.
Labor and management must both have representation when interacting with trustees.
Boards do more than receive contributions. They also distribute funds to employees. The funds function as legal benefits. Benefits must get received in a manner that reflects terms of contract arbitration provisions . This refers to US law related trust agreements and collective bargaining. Please contact our association now for a list of arbitration rules. We can supply a party with exact labor rules related to employee benefit plan claims.
Is There a Difference Between a Non-Binding & Binding Arbitration Clause ?
Our Labor Services Cover All Aspects of Arbitration With Binding Status & Collective Bargaining
If you're in need of labor services, you're in the right spot. Our arbitration experts are ready to help you resolve any type of labor dispute. The Arbitration Agreement Association specializes in every aspect of arbitration. Through binding arbitration , you and other parties can discover long term legal solutions. We have a division of legal experts who concentrate on collective bargaining disputes. Our arbitration organization can do it all. From helping an employer create an agreement to recommending a panel of arbitrators. The arbitration services at our association always go the extra mile. We've worked with countless employers and labor unions. No matter the problem, our team has used arbitration to provide a long term solution.
Contact Us About Our Arbitration & Labor Services Today
Definition of Arbitration in Economics. Do you have questions about our labor arbitration services and patented processes? If so, please give us a phone call right now. Or, you can send our team an email and also message us here on this website. Within minutes, our arbitration experts can assess your unique labor situation. We can then provide you with tools and resources to get your case resolved ASAP. Our team won't rest until your collective bargaining problem gets solved. You're also welcome to contact us about any other services related to arbitration. We're passionate about arbitration resolving problems for individuals and companies.