What We Do: Class Arbitrations
ArbitrationAgreements.org specializes in administering class arbitrations.
We do so for cases where an underlying agreement makes certain specifications. The specifications relate to an agreement that endorses arbitration as a resolution. Plus, each agreement is silent about class claims, consolidation, and joinder of claims. Know about The Standard Arbitration Process & Procedures.
Oftentimes, our Arbitration Agreement Association must keep a small part of the administrative filing fee.
That will happen if a party files an incomplete arbitration demand. Or, if a party does not meet specific filing requirements listed in our Rules. A fee might also get provided if a deficiency cannot get corrected in a realistic time frame. Read here Common Mandatory Arbitration Criticisms.
ArbitrationAgreements.org Is Your Partner in the Resolution of Arbitrated Disputes
Our association provides the best level of quality, efficiency, and integrity. These characteristics apply to all aspects of our dispute resolution services. We can distribute seasoned arbitrators, mediators, private judges, and referees.
Each key player will have a proven track record showcasing arbitral success.
Our top neutrals have specialized experience in all aspects of civil litigation. They can apply that experience toward class arbitration procedures. The Two Types of Arbitral Tribunal Proceedings in US & International Law.
We're ready to administer flexible dispute resolution solutions for you today.
This way, we can fit your unique class arbitration needs. Client service always comes first to us. That's why we work hard to provide state-of-the-art case management technology. We can even apply virtual meetings toward class proceedings. What Is Pre Dispute Arbitration for a Customer?
We Can Help You Resolve Large, Complex Legal Disputes
Our association is a leading ADR provider across the US. And ArbitrationAgreements.org staff members have a wealth of experience. They have resolved many large, complex disputes. These disputes include class actions and mass torts. Many of us even have multi-district litigation (MDL) experience. Our respected neutrals can provide their expertise toward any form of arbitration. And class arbitration is no exception.
In ADR, many administrative details are complex and substantial.
They demand that legal experts get involved who have a strong array of skillsets. And that's why our association exists. We have the knowledge, tools, and resources to handle all types of cases. (Even if your case features hundreds of parties and big groups of lawyers.) It does not matter how many jurisdictions get involved. Our dedicated team is going to fight for your immediate and long-term success.
Our Association Can Provide Class Action/Mass Tort Mediators & Arbitrators
Are you and other parties in need of dispute resolution professionals? If so, you've come to the right place. ArbitrationAgreements.org features a diverse roster of mass tort/class action professionals. Some are mediators, some are arbitrators, and others are dispute resolution legal experts. Through their dedication, parties can experience ideal outcomes and success.
Every year, many courts and lawyers recognize our neutrals for their contributions.
The neutrals of our association make the ADR process simple and cost-effective. They know how to optimize class outcomes through common sense procedures. These procedures influence the settlement and distribution plans of every party. Our neutrals always focus on due process and business considerations. Plus, we ensure that they show respect for all parties.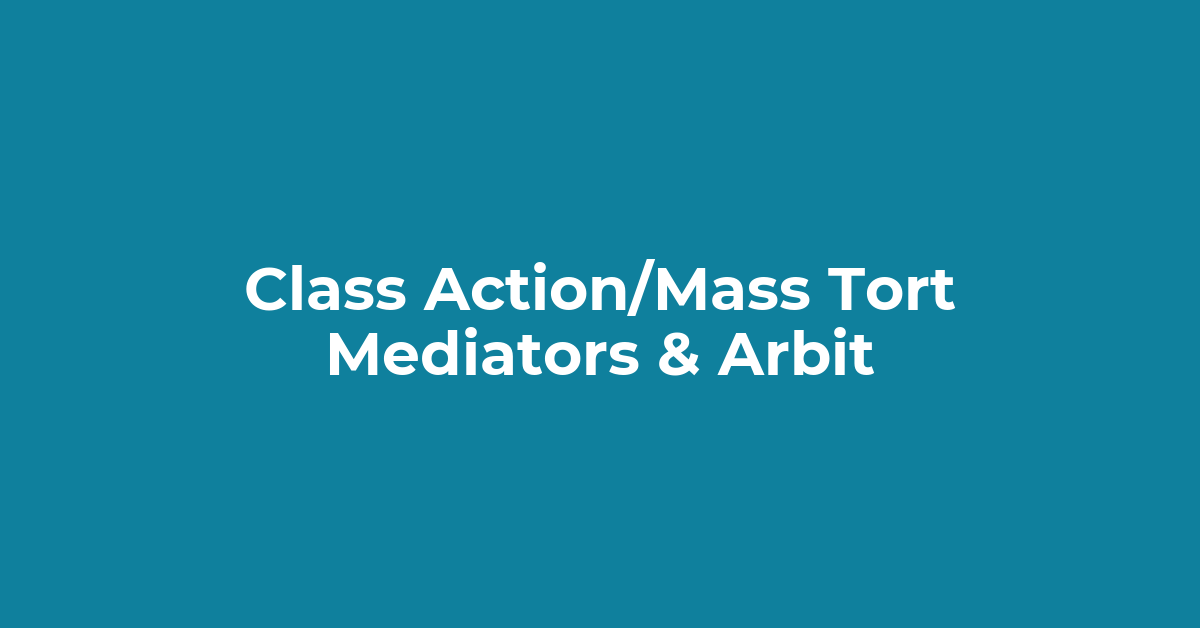 We're a Team of ADR Professionals With a Tailored Approach
Our class action and mass tort divisions provide customized, comprehensive services. ArbitrationAgreements.org has set the standard amongst ADR providers. Why? Because of our dedication to designing a process that meets the needs of parties. In fact, like we meet parties' needs, we also meet all unique requirements within each case.
We have experienced case managers and neutrals standing by.
They're ready to assist you with your class arbitration goals at any moment. Our team can address almost all issues arising throughout complex litigation. Sure, that includes case management, the discovery process, and settlement. But our experts also focus on post-settlement process design and claims administration.
No matter the breadth or size of your class arbitral case, we've got you covered.
We'll provide you with neutrals who have the right experience and background. This way, they can make the most out of your case with ease. No other association provides the level of centralized administration that we do. Do you need a neutral that specializes in mass torts or class actions? If so, please give our organization a call today.
The Best Resource for Class Arbitration in the USA
Are you in need of any form of multi-party dispute resolution? If so, then it's time for you to consider our class arbitration services. This type of arbitration has experienced serious growth in recent years. This shouldn't come as too much of a surprise. After all, class litigation has been a common legal procedure for decades. But today, class action disputes are extending into all forms of arbitration. Read here Arbitration vs Litigation.
The benefits of arbitration speak for themselves.
Arbitration saves parties time and money while providing a convenient schedule. Do you want to reap those benefits? If so, ArbitrationAgreements.org services are your best bet. No other arbitration resource can compare. Our ADR experts have tremendous class arbitration case experience. They come from a variety of other major US arbitral institutions. And they're ready to apply deep knowledge and expertise to your class action case. What Is the Purpose of Arbitration in Law?
We Can Provide a Class Arbitration Roster of Arbitrators
Don't waste time looking for class (arbitration) arbitrators. Instead, allow our association to supply you with a list of qualified arbitrators. We can help you appoint a class arbitrator from our roster at any moment. If parties cannot agree on the arbitrators, our team can step in and provide solutions.
Sometimes parties can't even come to an agreement about the number of arbitrators.
No matter the situation, a party can put our association's official arbitral rules in place. This way, a resolution for your legal dispute won't get delayed any longer. You're welcome to refer to the Supplementary Rules listed on our website. They contain information about the process of appointing class arbitrators. What is Forced Arbitration?
Arbitration Clause Construction
Do you or your organization need help drafting an arbitration clause? If so, our experts can assist you in creating a clause with a provision for class arbitration. Our ADR experts have a great deal of legal and arbitral knowledge.
They're ready to apply that knowledge today.
This way, you can complete your contract or agreement ASAP. We can draft your clause whether it permits or goes against actions of class arbitration. Please contact us right now if you're ready to begin the clause construction process. How the Arbitration Decision Process Functions?
Ongoing Case & Discovery Management for Class Disputes
ArbitrationAgreements.org features an expert-level class dispute management team. The neutrals can convene scheduling hearings at the outset. Plus, they can execute mechanisms for maintaining consistent communication. That communication applies to both counsel and the courts. Our neutrals manage the class discovery process in a sophisticated manner. They even use patented eDiscovery techniques for faster outcomes. Check out Insurance Arbitration.

Post-Settlement Work Beyond Arbitration Hearings
Our association is proud to provide post-settlement arbitration and class ADR services. The neutrals can distribute settlement proceeds toward all claimants. While doing so, they will adhere to all state and federal laws. This way, you can rest easy knowing that you will receive the settlement that you deserve.
All our neutral have tons of experience in executing post-settlement work.
In fact, our association even uses patented management and design processes. These processes are efficient and can benefit parties once arbitration hearings conclude. Check here Federal Arbitration Act.
Class Action Waiver Services
ArbitrationAgreements.org also provides class action waiver services. A waiver functions as arbitration provision written inside an arbitration agreement. The waiver will state that a party agrees to resolve a dispute through arbitration. Then, the waiver will state whether class arbitration's allowed.
This is commonplace when it comes to employment agreements across the US.
Our association can take care of any key action you need related to these waivers. We can draft one on your behalf, help you interpret a waiver, and so much more. Please call us if you need help with anything related to class action waivers. How an Arbitration Contract Functions: The Basics of Contracts & Arbitration Agreements
How Do I Become a Class Arbitrator with ArbitrationAgreements.org?
We welcome anyone in the US to consider becoming a class arbitrator for our organization. If you're interested, please send us a formal email. Your email should explain why you think you'd operate well as a class arbitrator. But first, you might want to view the roster of our current arbitrators.
This will give you an idea of the skillset and qualifications that we're looking for.
The email should also contain a recent copy of your CV or personal resume. We do not want your email to appear brief. Please go into detail about your willingness to represent our association. How Does the Interest Arbitration Process Function?