Arbitral Tribunal
Arbitral Tribunal Basics: How a Tribunal Benefits Arbitration & Arbitral Processes
An arbitral tribunal functions as a panel of unbiased adjudicators. Their role is to convene and sit in on assigned arbitration hearings. This way, they can make decisions that resolve disputes in arbitration. An arbitral tribunal refers to the exact same concept as an arbitration tribunal. In fact, there are many terms for an arbitral tribunal.
Some refer to the tribunal as an arbitration commission.
Others call it an arbitration council or arbitration committee. If you need help finding a tribunal to oversee a dispute, please contact our organization. In the meantime, let's continue going over the basics of an arbitral tribunal. You're also welcome to learn more about the arbitration process .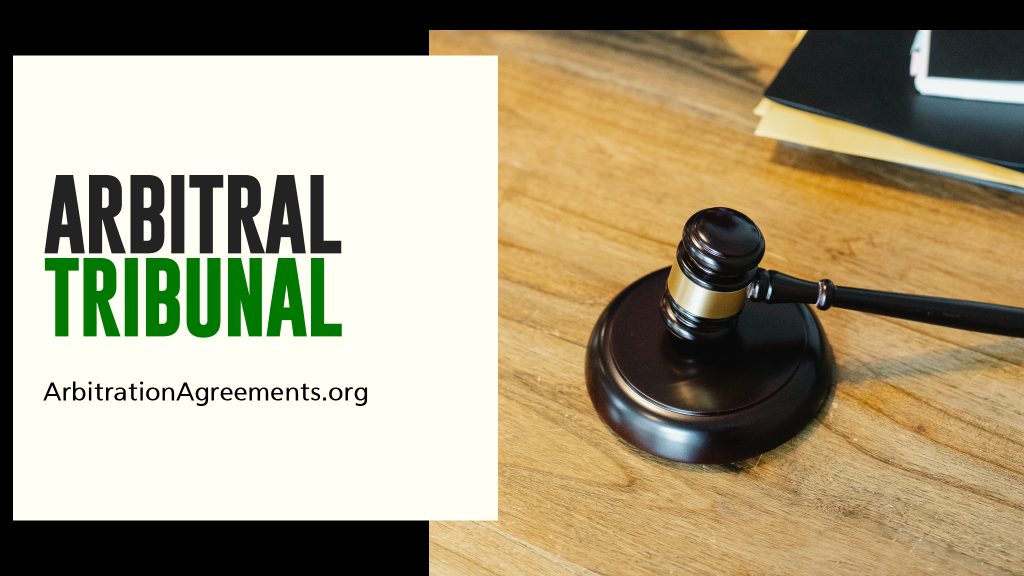 What Is an Arbitral Tribunal?
Many arbitral tribunals consist of three arbitrators on a panel. But sometimes a tribunal refers to only one or two arbitrators. Say that there's more than one arbitrator on a tribunal. One of the arbitrators then carries the deciding vote in an arbitral dispute. That person can get referred to as an umpire or chairperson. Oftentimes, arbitrators get selected by parties to serve on an arbitration panel.
These are professionals with experience in both law and ADR.
ADR stands for alternative dispute resolution. Arbitration is the most popular form of ADR. The other common type of ADR is mediation. An arbitrator often gets assigned to a dispute based on industry knowledge. Say that a dispute is between a construction company and a former employee. Having an arbitrator with construction industry knowledge will help the dispute get resolved. it also helps to learn more about mediation and arbitration .
Parties that agree to arbitrate can decide the number of arbitrators in a tribunal.
Of course, certain jurisdictions might have specific arbitration rules in place. Most disputing parties have already signed an arbitration agreement. Or, a contract featuring an arbitration clause or provision. Through this process, parties agree to certain terms related to an arbitral tribunal. One agreement might state that only one arbitrator can preside in a tribunal. Another agreement could demand the use of three arbitrators with industry experience. This goes to show why learning about mandatory arbitration is important.
The Two Types of Arbitral Tribunal Proceedings in US & International Law
There are two general types of proceedings for arbitral tribunals. The first type gets referred to as ad hoc arbitration. This is when arbitrators get appointed by parties without a supervising institution. (Our own organization functions as a supervising institution for arbitration.) Through ad hoc arbitration, the parties rely on agreed-upon arbitral rules. Or, the parties refer to rules and laws of courts close to where the arbitration happens.
Institutional arbitration is the basis of the second type of arbitral tribunal.
Through institutional proceedings, arbitrators get appointed to arbitrate a dispute. In fact, that is one major role that our organization plays. We can help disputing parties use local arbitrators with certain qualifications. If you'd like to learn more about our arbitration services, please call us at any time. Some parties want arbitration institutions to supervise arbitral proceedings. Others do not.
Once again, the exact terms of arbitration refer to what's inside an agreement to arbitrate.
Or, what's placed inside an arbitration provision or clause. So, why is institutional arbitration important? Because it positions parties to receive arbitral involvement using local laws and procedures. This relates to both the appointment and authority of arbitrators on a tribunal. Our experts encourage you to learn about the basics of interest arbitration .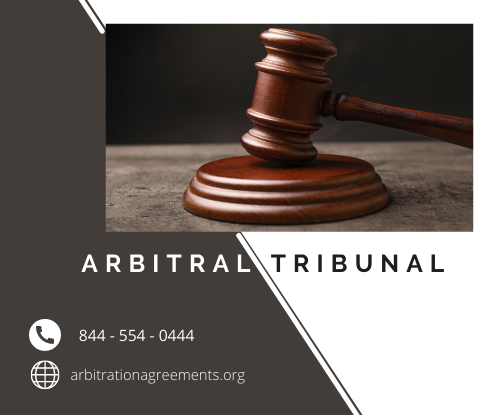 What Does Arbitral Tribunal Mean? (Legal Definition of a Tribunal)
Let's now go over a comprehensive definition of "arbitral tribunal." A tribunal refers to arbitrators that get appointed on behalf of disputing parties. The purpose of the appointment is to resolve a legal dispute or disagreement. Sometimes a tribunal consists of only one arbitrator. But most tribunals feature a panel of three arbitrators. Think of an arbitrator as a judge in a courtroom. The arbitrator provides a binding legal decision as a judge does. That decision gets upheld in all state and federal courts across the US. You're welcome to learn more about how forced arbitration functions.
The focus of an arbitral tribunal is to resolve a dispute based on sole arbitration.
Most tribunals with more than two arbitrators have an umpire or chairman. Parties within any dispute have some freedom to decide the composition of a tribunal. They often do so when drafting a contract with an arbitration clause or provision. That's where it might state how many arbitrators will serve on a tribunal.
Sometimes two appointed arbitrators will decide who the third arbitrator is.
That third arbitrator then serves as the tribunal chairman. This way, a deadlock gets avoided when reaching a final decision. There are two types of arbitration proceedings. There is ad hoc arbitration and institutional arbitration. Some states have unique definitions of what an arbitral tribunal is. Here is an example of how California state law defines a tribunal. The law states that a tribunal functions as either a sole arbitrator or panel of arbitrators. An arbitrator must keep in mind the basis of each pre-dispute arbitration clause .
Why Is an Arbitral Tribunal Important Under US Law?
The key purpose of an arbitral tribunal is to apply US laws when making a binding decision. Once a decision gets reached, the arbitral committee provides an arbitral award. The award often refers to a dollar amount to settle a dispute. Every arbitration award has finalized binding status. Very few circumstances exist to challenge an arbitral award in a state court. Exceptional evidence must exist that an arbitrator engaged in fraud or misconduct. Read here about making an arbitration decision .
What Is an Example of Arbitration & an Arbitral Tribunal's Power?
Let's now go over a common example of arbitration. Say that a construction company employee gets fired. And that employee signed an employment contract with the company before working. Plus, the contract featured an arbitration clause or agreement. Once the person signed the contract, he agreed to give up the right to have a court trial. (This refers to the basics of the Federal Arbitration Act .)
Fast forward two years. The employee gets fired by the construction company.
He believes that wrongful termination took place that violates state law. That person cannot sue the construction company. Instead, he has to arbitrate with the company, per the contract he signed.
In the example above, say the contract featured a provision about ad hoc arbitration. This means that the person must work with the company to find arbitrators for a tribunal. Then, arbitration hearings can take place to resolve this employment dispute. You can learn more about mandatory arbitration provisions on our website.
Who Appoints the Arbitrator?
A mutual agreement must exist about how arbitrators get appointed. This applies to every dispute. A clause or provision will state the terms of appointing arbitrators to a tribunal. Sometimes parties agree to take part in ad hoc arbitration. This way, they can choose arbitrators without the involvement of an association.
Otherwise, institutional arbitration takes place.
That's when an association like ours steps in to appoint arbitrators before hearings. Either way, parties must ensure that each arbitrator isn't biased. In fact, that's a specialty that our organization provides. Please contact us if you'd like our experts to help you find potential arbitrators. We have some of the best, top-ranked arbitral databases in the United States. Our team can ensure that your dispute gets presided by high-quality panelists. You can read a binding arbitration definition on our website.
What Is the Jurisdiction of an Arbitral Tribunal?
An arbitral tribunal gains jurisdiction through the agreement that parties sign. You can find an arbitration agreement inside many business and personal contracts. Agreements often go inside provisions and clauses related to arbitration.
The jurisdiction of a tribunal applies to the legal theory of party autonomy.
Here is what this legal arbitral theory states. Say that two parties have the legal right to settle a dispute amongst themselves. (Which almost every party in the United States has.) The parties can then provide jurisdiction to a third party for settling the dispute. This legal, arbitral concept gets upheld by both US state and federal courts every day. Considering visiting our Arbitration vs Mediation vs Litigation page.
Let Us Know If You Need Access to an Arbitral Database of Qualified Arbitrators
Are you a member of a party considering settling a legal dispute through arbitration? If so, our organization is here to assist. We can provide you with any arbitral service that you need. One of our specialties is helping disputing parties find qualified arbitrators. These local arbitrators have years of relevant experience. Our team can even help you find arbitrators within a specific business industry. This way, your arbitral panel will understand the terms of your dispute. The best way to find an arbitrator is to use our arbitral database. Please contact us right now if you'd like to receive access to the database. It's crucial for you to know about arbitration vs litigation .
Is Your Dispute With Another Party Going South? Our Experts Can Help You
We're ready to show you how to resolve your dispute with another party. Our experts know arbitration law better than any other organization. We can go law by law to ensure that you and your attorney can settle a disagreement. If you need forms with information about the arbitral process, let us know. Our team recognizes what every arbitral tribunal's looking for. Each tribunal wants all parties to adhere to US law. Otherwise, a tribunal will not provide you with an award to settle your claims.
That's why you need arbitral experts that you can trust.
We know how to resolve disputes better than any other organization. You might have even seen us helping customers with claims on the national news. Or, you might have read about our firm in an online news article. Why do news outlets share information about our arbitral services? Because we have a national reputation for getting disputes resolved ASAP. Our arbitral services apply to both individuals and commercial businesses.
There's no arbitral process that our law-minded experts do not excel at.
They practice first-rate arbitral services that get results. Each team member stands united behind every customer that we have. Our arbitral experts won't rest until a customer has the right arbitral solution. You might not feel used to using our services. Most arbitral organizations go through the motions. They abandon their customers when things go south. But not us.
Our arbitral team accesses the best arbitral data and information every day.
No matter what a customer will order, our arbitral services are next level. We can supply you with high-quality tools and resources. We'll do so even if you need arbitral information to practice with. Every customer has a bright future in store when they use our arbitral services. We always stand united with our clients, no matter what.
Let Us Know if You Have Questions About International Arbitration
Our law-minded experts know all about international arbitration. In fact, they helped an international shipping company resolve a dispute last year. This international dispute was between companies in South Korea and the Philippines. It took place on the South China Sea.
Both international companies turned to ICSID for help.
But that organization let them down. Their team didn't have enough international knowledge about arbitration. That's when both international companies turned to us. Our international law experts helped get the dispute taken care of. And that's no surprise. A recent international survey ranked us as one of the top organizations. We help our international customers get first-rate results every day. And we're ready to help you right now.
Do you have questions about the international laws of arbitration?
If so, do not hesitate to reach out to our organization. Our international arbitral experts can assist you at any moment. No matter where your international dispute is, our team will go the extra mile. They can supply you with international tools, resources, and services. This way, you can get your cross-border dispute resolved ASAP.
Contact Us About Our Arbitral Tribunal Services Any Time
Our association provides top-rated arbitral tribunal services for customers in every state. We're one of the most sought-after arbitration associations in the country. When it comes to preparing for arbitration, we can do it all. From drafting your arbitration agreement to helping you find local, qualified arbitrators. There's no limit to the arbitration services that we provide. To find out more information, please call us right now.
Our phone numbers listed at the bottom of this page.
You're also welcome to message us on this website or send us an email. No matter your arbitration problem, we'll help you find the best solution. We look forward to serving as your resource for arbitration and arbitral services.
Our Cookies Policy
Here's our official cookie policy. We do not use cookies to compile the data (or IP addresses) of site visitors. Instead, this website uses cookies to make browsers function faster. But you're welcome to opt out of using cookies at any time.