Out of Court Settlement
Charles Wolfgang
Dec. 16, 2021, 6:25 p.m.
...
Are you or your business in need of an out of court settlement? If so, you've come to the right spot. Want to know about divorce arbitration mediation? ArbitrationAgreements.org administers settlements for all types of legal disputes. Click here for small claims. Through mediation or arbitration, your party can receive a settlement ASAP. As a result, you can save tons of money and time compared to litigating in court. Please continue reading to learn the basics of out of court settlements. Find out more about family arbitration. If you have any questions about the information, do not hesitate to contact us. File a request for mediation.
What Are Settlements?
An out of court settlement functions as an official legal agreement. Visit the website for average settlement offers during mediation. The agreement binds terms together that relate to at least two separate parties. This way, a lawsuit cannot take place. As a result, the dispute process comes to a close. Plus, another future litigation, like a lawsuit, cannot take place. Contact Us to learn more about the Arbitration Process.
Think of a settlement away from court as a compromise. Labor arbitration is a specific form of arbitration. In fact, some legal professionals refer to settlements as "compromise agreements." Rights and liabilities of every party get defined within every agreement. Know what is an arbitration clause. Here is a common question that our association receives from clients. "What is the difference between a judgment and a settlement?" A judgment operates as a legal ruling or verdict by a judge in a courtroom. Meanwhile, each settlement is an agreement between two separate parties. Must read about Power Imbalance.
What Goes Inside Legal Agreements?
Each settlement agreement is a legal contract. Read more about Value Conflict. This means that an agreement has to feature specific contract terms. These terms include a consideration and a mutual agreement. There are different types of arbitration. Both parties provide consideration and the agreement. The criteria of settlement agreement sections will vary. Please keep reading to learn more about arbitration agreement meaning information. It depends on the unique information related to each legal dispute. All settlement agreements will feature the names of all parties in the agreement. Oftentimes, a settlement agreement features an introduction. The introduction explains reasons that the legal contract exists. This part can also refer to the "whereas" section of a settlement agreement. Interest arbitration focuses on the context of labor relations.
Most settlement agreements feature a "no admission of liability" clause. You're also welcome to learn more about the arbitral tribunal. The clause will state that a settlement does not refer to an admission of wrongdoing. This will apply to all parties involved in the settlement. The average agreement also includes a "promise to pay" section. Click here for know about interest arbitration. It will state the settlement amount that a party has to pay. This transaction will go from one party to the opposing party. Settlement terms also feature a payment and invoicing schedule. Why? So that parties will have access to details about the transfer of money. Click here to know about arbitration bias.
Almost all settlement offers also have a "mutual release" clause. what is an arbitration contract? The clause will state that the parties agree to never file claims against one another. Download arbitration clause. Do you or your party need access to a sample settlement agreement template? If so, please contact our association. Our ADR (alternative dispute resolution) experts are standing by. Do you want to know about advantages of arbitration? They can provide you and your party with settlement agreement templates. Or, our team can draft a custom settlement agreement on your behalf. Please continue reading to learn more about demands for arbitration.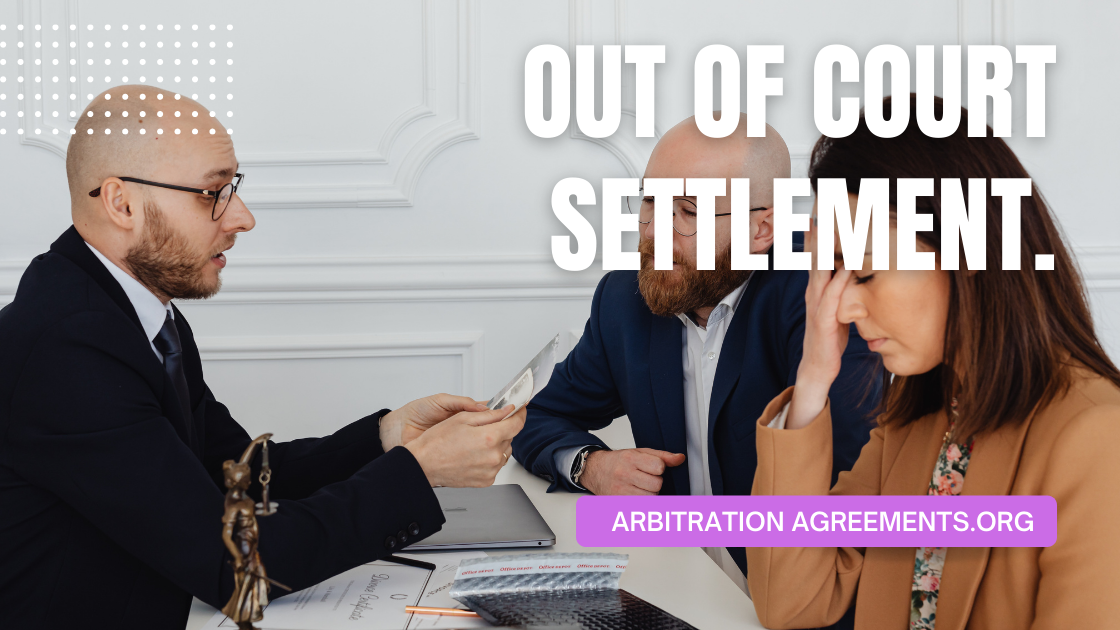 Using Mediation To Settle Disputes
Mediation is ideal for parties that are in need of a fast settlement agreement. Read more about professional debt mediation. All parties have to do is agree to take part in mediation. Read also insurance arbitration. This way, the parties can avoid the costs and time associated with court litigation. Through mediation, the parties will meet with a trained mediator. The main role of a mediator is to help the parties reach a legal agreement. Want to know how the arbitration decision process functions work? Many parties involved in a lawsuit decide to mediate before a court trial takes place. Learn more about arbitration definition economic.
Know about arbitration new york city. Oftentimes, parties can work out their differences in a matter of hours or days in mediation. Once they reach a settlement agreement, the agreement goes in writing. Know how long does arbitration take. Then, the parties do not have to step foot in court during a trial. We can understand here arbitration vs litigation. Our association's prepared to help your party use a mediator to settle a dispute. We have a roster of mediators that specialize in helping parties reach a settlement. Please browse our website to learn more about our top-rated mediation programs. Click here for consumer arbitration demand form.
Why Settle Away From a Courtroom?
There are many reasons why your party should settle outside of any US court. Remember, you never have to allow a court to decide your case. what is a arbitration provision. (Even if a party filed an Unlawful Detainer action against your party.) Instead, every party has a right to settle a case away from a courtroom. Read more about mediation clauses. Our ADR arbitration experts encourage parties to settle even if they have a strong defense or case. Let's go over some of the reasons why we promote reaching a settlement. Read our arbitration rules.
Drafting an out of court settlement will save all parties a lot of money. Arbitration chicago is a private and confidential process that stays off of public record. Say that you settle early in a case. Your party can stop paying lawyer and court fees ASAP. Are you or your business in need of a standard arbitration agreement? In fact, parties do not even need to have a lawyer present during mediation. Settling outside of court also saves parties time. When you settle, the legal dispute comes to an immediate close. Please continue reading to learn the basics of out of court settlements. Meanwhile, court trials can drag on for many months and years. That's another key reason why reaching a settlement saves so much money. Are you or your business in need of a standard arbitration agreement?
More Reasons To Pursue Mediation or Arbitration
Another advantage of reaching a settlement is that parties do not have to take off from work. Learn more about Interest arbitration An association like our's can create a custom schedule on behalf of the parties. (This applies to both our mediation and arbitration programs.) As a result, we can set up a program that's convenient for you and your family. Learn What Is a Conciliation Process? Meanwhile, you can expect to miss a lot of work during a court trial. Our mediation sessions can take place on weeknights and weekends. That is never the case for any court-related dispute with a judge or jury. Learn more about divorce mediationadr.
Here is another major advantage of settling a dispute outside of court. Parties do not have to pay the other party's fees and costs. Why? Well, if you agree to a settlement, you cannot lose your case. Because of this, a judge cannot order a party to pay an opposing party's costs. know more about arbitration los angeles. Plus, your party will not have to pay for any lawyer fees. Agreeing to a settlement away from court could even protect your credit rating. Sometimes a court judgment can ruin the credit rating of a plaintiff. That is not the case with arbitration and mediation. Learn more about face negotiation theory. This is because what takes place in arbitration and mediation stays private. Please browse our website to learn more about our arbitration and mediation services. If you have any questions or need more information, give our ADR experts a call. They can assess your unique legal situation and provide potential settlement options. Read more about arbitration atlanta.
What Happens Once Parties Settle a Case?
Let's now go over what to do if your party settles a legal dispute. The first step is to inform the relevant court ASAP. Notifying a court is crucial to the success of all involved parties. Many parties have to complete a Notice of Settlement (CM-200). They should file this form with the appropriate court. Know what is arbitration in real estate? This way, a party can provide an official notification. Say that your court case gets scheduled for trial. Oftentimes, parties still have to attend a trial if a party does not file a Notice of Settlement. Learn more about arbitration landlord and tenant. Make sure that you or the other party file the settlement at least 10 days before a trial. We recommend that you inform a court about a settlement as soon as you can. Must read about arbitration atlanta.
Another key settlement step is to dismiss the action. Say that your settlement agreement features a series of conditions. Your Notice of Settlement should include those conditions. Must read about arbitration atlanta. The Notice of Settlement should also feature the date conditions will get completed. In many legal situations, there is an exact time frame for filing a dismissal. Your party should do so within 45 days before a date of completion. Now, let's say that your settlement agreement does not feature any conditions. You should still include a date of settlement within the Notice of Settlement. Then, you can file a dismissal for the entire action. Do so at least 45 days before the date of settlement. Learn more about arbitration landlord and tenant. Next, a court will schedule a review hearing. The hearing is 45 day after the date listed on the Notice of Settlement. This applies if your party does not file a dismissal of the entire legal action. Keep in mind that you might have to appear in court to dismiss the action. Read more about online mediation.
Avoid Litigation by Settling Your Dispute
Many parties make a crucial mistake involving the legal process. Know about what we do mediation. They assume that they can only resolve a dispute in court. But that is not the case. Mediation, arbitration, and ADR are perfect outlets for creating a fast settlement. Learn more about face negotiation theory. Through a settlement out of court, your party can avoid having to set foot in a courtroom. Instead, you'll have the ability to move on with your life while saving time and money. Must read arbitral tribunal. Please contact our association right now to learn more about settlement agreements. Our ADR team can even help your party draft a custom agreement. Remember, we're only a phone call away at all times. No matter your legal problems, our experts can help you discover the best solutions. Know more about divorce mediationadr.
...