Consumer Arbitration Demand Form
Why? Because we provide state-of-the-art consumer arbitration. Our ADR experts can begin facilitating arbitration for you today. All you've got to do is fill out the form below and pay the $59.00 application fee. Then, one of our arbitration agreement association professionals will get to work on resolving your dispute.
Why Have ArbitrationAgreements.org Handle Consumer Arbitration?
Our association prides itself on providing fair administration of all consumer disputes arbitration meaning. Sure, we assist US consumers. But we also help businesses, government agencies, education institutions, and arbitration provision more. The goal of ArbitrationAgreements.org is simple.
We want every party to receive a fast, cost-effective legal solution.
That's why we encourage all parties to avoid spending time and money on court litigation. Speaking of arbitration vs litigation, we recommend that you withdraw your case from court. Why? So that you can move it to binding arbitration definition and get the dispute settled fast. Doing so could save your party years of having to sit around and wait on the US court system.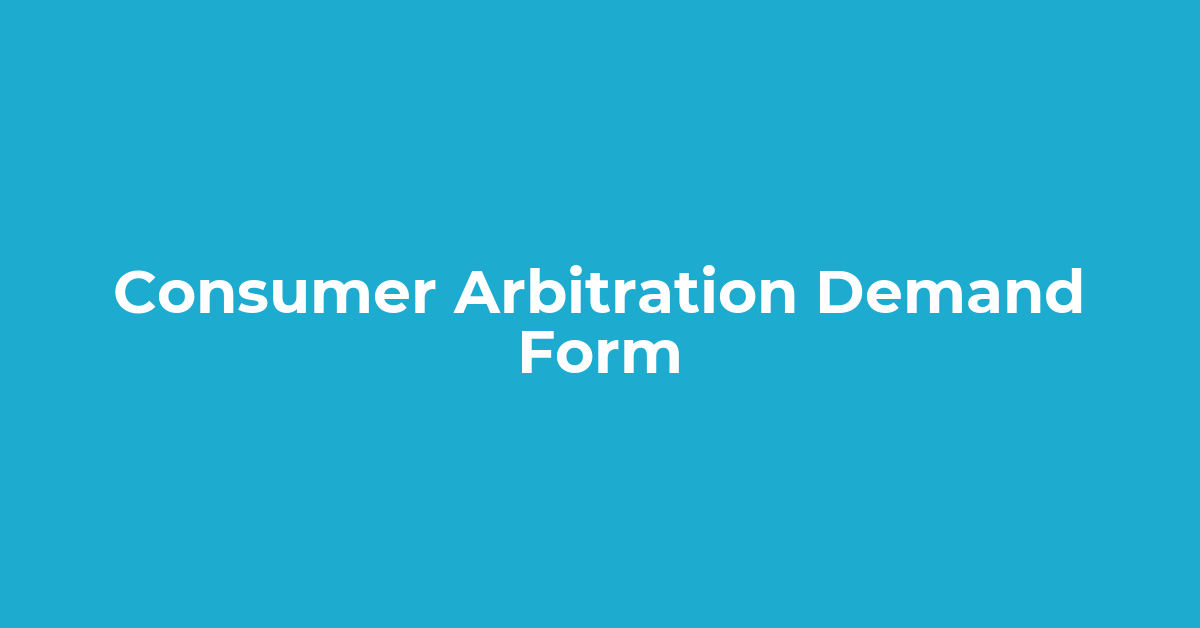 We Assist Consumers & Businesses in All Industries While Using Our Own Arbitration Rules
ArbitrationAgreements.org encourages every party to browse our official rules. Reading the Consumer Arbitration Rules will help you understand how our services function. If you have questions about federal arbitration act, do not hesitate to contact us.
These rules help ensure evenhandedness when administering any ADR resolution.
The majority of these disputes involve a service/product for household/personal use. Please complete the form below and pay the $59.00 fee to get forced arbitration started.
Let Us Know if You Have Questions About Consumer Arbitration
The ArbitrationAgreements.org team is standing by to answer all your questions. You can call them, message them on this website, or even send an email. We can also provide contract review services in reference to any insurance arbitration agreements. In fact, we will need a copy of your consumer contract to facilitate your case. Say that arbitration's court-ordered. Our association will need a copy of the court order.
Consumer Arbitration Demand Form
Please leave a box blank or write "n/a" if you are unsure about any of the following information.
-Which party, the consumer or business, is sending us filing documents?
-Please describe the basics of the commercial dispute:
-If any, what is the amount of money related to the dispute?
-Are you seeking any other relief (attorneys fees, arbitration costs, etc.)?
-Say that an in-person arbitration hearing takes place. What is the requested city and state of the hearing?
-Consumer Name:
-Consumer Address:
-Consumer City:
-Consumer State:
-Consumer Zip Code:
-Consumer Phone Number:
-Consumer Fax Number:
-Consumer Email Address:
-Name of Consumer Representative:
-Firm of Consumer Representative:
-Address of Consumer Representative:
-City of Consumer Representative:
-State of Consumer Representative:
-Zip Code of Consumer Representative:
-Phone Number of Consumer Representative:
-Fax Number of Consumer Representative:
-Email Address of Consumer Representative:
-Name of Business:
-Address of Business:
-City of Business:
-State of Business:
-Zip Code of Business:
-Phone Number of Business:
-Fax Number of Business:
-Email Address of Business:
-Name of Business Representative:
-Firm of Business Representative:
-Address of Business Representative:
-City of Business Representative:
-State of Business Representative:
-Zip Code of Business Representative:
-Phone Number of Business Representative:
-Fax Number of Business Representative:
-Email Address of Business Representative:
-Date of Consumer Arbitration Demand Form Submission: