Arbitration Definition Economics
How To Define Arbitration in Terms of Economics
Let's begin with a brief arbitration definition within economics using a dictionary. Arbitration functions as a legal mechanism to resolve disputes. Many of these disputes take place between brokers and investors. But sometimes the disputes are only between brokers.
There are three types of arbitration disputes that apply to economics.
There's an industrial dispute, a commercial dispute, and an international dispute. International arbitration disputes can concern either trade or legal issues. Let us know if you need a dictionary definition of any term. Or, we can supply you with a definition that's much more detailed than the dictionary.
Many US economic arbitration disputes get overseen by FINRA.
It stands for the Financial Industry Regulatory Authority. But sometimes other arbitral organizations oversee economic and commercial disputes. All arbitration decisions are final and cannot get appealed. In fact, an arbitration award and decision holds official legal binding status. You can learn more about the standard arbitration process on our website. We also have information about the differences between mediation and arbitration .
Arbitration is a form of ADR: alternative dispute resolution.
So is mediation, but mediation is very different from arbitration. That's because mediation decisions are never binding unless parties agree to them. Arbitrated decisions hold binding status even if one party's dissatisfied.
Arbitration is different from filing an investor complaint.
That complaint involves an investor accusing a broker of wrongdoing. But the investor chooses not to engage in a direct dispute with the broker. You can seek damages through an investor complaint. Or, you can seek claims for damages through arbitration. Please check out the website of our Arbitration Association for more information.
An Introduction to the Arbitration Process of Resolving a Dispute
Think of engaging in arbitration like filing a lawsuit. These two legal concepts are not that different. Though their two main differences do stand out. Arbitration almost always limits costs and time frames for all involved parties. Say that a broker or investor has a dispute with a broker registered through FINRA.
The broker/investor can file an arbitration claim with FINRA.
The claim will state the alleged misconduct that took place. It will also showcase the exact amount of money that the person seeks in damages. Then, FINRA will appoint an arbitration panel. The panel will consist of three financial industry professionals. A party might request that arbitrators cannot work in the securities industry. This is to prevent bias from clouding the decision of the arbitrators. Say that one of the parties suspects that an arbitrator on the panel has bias. The party can request a change of arbitrators. You can learn about interest arbitration on our website.
Once again, arbitration is different from filing an official investor complaint.
It's also considered an ideal option compared to filing a lawsuit. Why? Because arbitration is cheaper than courtroom litigation. It also saves companies and individuals a lot of time. Say that a dispute involves less money than $50,000. This means that in-person arbitration hearings do not have to take place. But say the claims range from $50,000 to $100,000. In this case, an in-person hearing must happen. A single arbitrator will preside over that hearing. Keep in mind that there are many differences involving arbitration vs litigation .
How the Definition of Arbitration in Economics Applies to Hearings
Parties can submit written materials to a single arbitrator if claims total less than $50,000. This means that an in-person binding arbitration hearing doesn't have to take place. The single arbitrator can preside over the case on a remote basis. These terms differ when dispute claims total $50,000 to $100,000. This is when in-person hearings with one single arbitrator are common. Now, say that dispute damages exceed $100,000. In this case, it's standard to have three arbitrators preside over each hearing. Otherwise, a binding decision cannot take place.
Arbitrators never have to explain an arbitration decision.
Parties that file for arbitration are welcome to represent themselves at any hearing. But many people choose to hire an attorney. When it comes to arbitration panels, they're less formalistic than the US court system. This means that investors have a decent chance of achieving success. This applies even when investors represent themselves. Keep in mind that there are some fees when filing for arbitration. Plus, there are time and travel expenses. Investors should keep this in mind when considering arbitration.
Special Considerations by a Tribunal in Arbitration
Arbitration panels do not have to award the entire amount that a party seeks in a dispute. Here is an example. Say that an investor files a claim against his broker for $42,000. Sure, the arbitration panel might rule in favor of the investor. But the panel might only award the investor with $10,000. Remember that arbitration decisions are always binding. They're never subject to the appeal process in a US court. (Except under very limited or rare circumstances.) This is not the case when it comes to FINRA's mediation process. Their mediation process is never binding unless both parties accept the settlement.
FINRA's arbitration division has received some criticisms in recent years.
The Public Investors Arbitration Bar Association stated that FINRA lacks diversity. That association found that FINRA's specific arbitration panels need more diversity. Plus, the association discovered that FINRA has poor safeguards against bias. This also applies to conflicts of interest during arbitration hearings. FINRA argues that these arbitration criticisms are not valid. You can learn more about the arbitration process on our website,
Many brokers include arbitration language inside their terms of service.
Why? So that investors have to agree to potential mandatory arbitration . Brokers prefer arbitration for settling all sorts of potential disputes. The average broker does not want to go to court. Keep in mind that FINRA almost has a big monopoly over the economic arbitration process. Thus, most investors have no choice but to proceed with FINRA's arbitration panels. Let us know if you have questions about creating a mandatory .
What Is Arbitration & a Tribunal in Simple Terms?
Arbitration functions as a private dispute resolution process. It's where disputing parties agree to let one or several people make a decision. That decision (by the arbitrators) concerns resolving the dispute. But first, the arbitrators receive evidence and listen to arguments. Almost all forms of arbitration have binding status. An arbitration decision by a tribunal is final. It gets enforced by every US court on an immediate basis. Most of the time, a party cannot appeal an arbitration decision. Let us know if you have questions about what an arbitral tribunal is.
What Is the Definition of "Arbitrator" in National & International Arbitration?
Here is a legal definition of "arbitrator." An arbitrator is an impartial individual or group that resolves a dispute. The disputing parties allow an arbitrator to hold legal decision-making authority. An arbitrator makes a binding decision that provides a party with an award. Please contact our organization if you need a more detailed definition. Our experts can go definition by definition with any arbitration-related word. You're welcome to refer to this resource: Arbitration vs Mediation vs Litigation .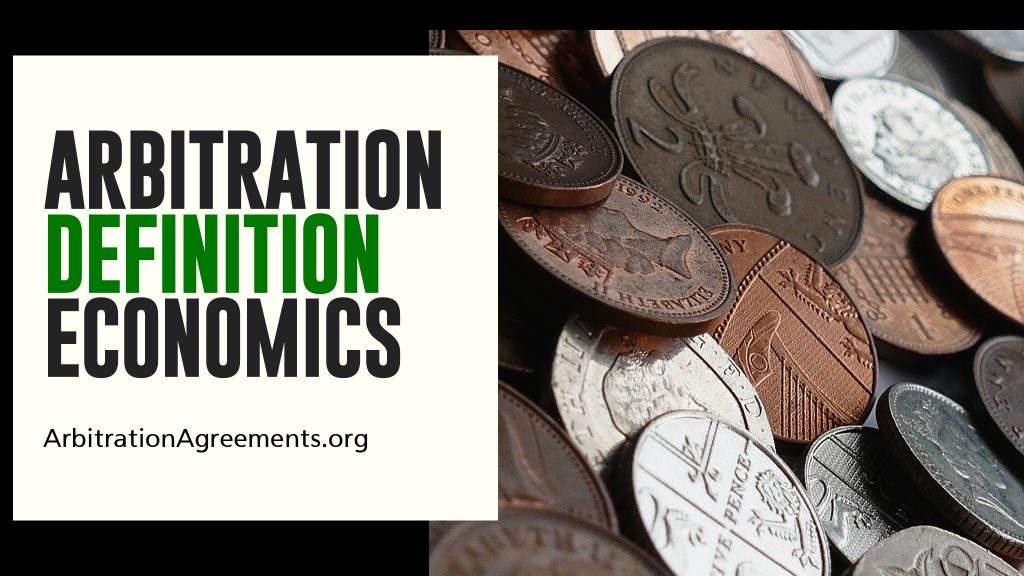 Who Chooses an Arbitrator?
Parties almost always get an equal say in choosing an arbitrator. Say that there is an employment dispute. The worker and employer should select the arbitrator on a mutual basis. Say that the employer and worker can't agree on who the arbitrator is. That's when a US court might step in and appoint an arbitrator. Or, a third-party arbitral provider might help select the arbitrator. Organizations and services like ours maintain a list of approved arbitrators. Please contact us to receive a list of arbitrators near you.
Can I Sue After Arbitration?
No, you cannot sue once arbitration is over. Why? It's simple. Arbitration awards and decisions have binding status. Say that you signed an arbitration agreement. This means that you agreed to not pursue legal action in a US courtroom. Many employment contracts feature arbitration clauses and provisions. Let us know if you need help drafting an arbitration provision .
What Is Pendulum Arbitration?
Here is a brief definition of pendulum arbitration. It's when the arbitration panel examines both sides of issues during a debate. Then, the arbitrators figure out which side has the correct position. Most arbitrators do not split a verdict. Instead, they assess that one side's right and the other side is wrong. Pendulum arbitration originated from baseball arbitration in the 20th century. Baseball players demanded better wages from the owners of teams. Today, the MLB still uses pendulum arbitration to resolve contract disputes. It's a type of forced arbitration .
The Advantages of National & International Economic Arbitration
Let's go over the main advantages of economic arbitration. These advantages apply to both investors and brokers. First of all, economic arbitration has a reputation for saving time. This can make protracted disputes come to a conclusion in an efficient manner. Say that union strikes are taking place and a company is losing money. Arbitration can make those strikes come to an end. The arbitration process also lowers the cost of negotiating. This is crucial for many businesses. Also, arbitration is a private dispute resolution process. This means that companies can keep their settlements out of the public eye. Contact us if you have questions about forced arbitration .
The Economic Arbitration Trade Functions Through a Consensual Process
Arbitration only happens when both parties agree to resolve any type of dispute. Say a dispute takes place over a business contract. The parties must analyze every arbitration clause in the contract. You'll find arbitration clauses inside all sorts of contracts. Most disputes get arbitrated because one party signed an arbitration agreement. The arbitration process is always binding. This means that parties can't withdraw from a dispute. Instead, parties have to proceed with arbitration from beginning to end. They must refer to terms within the Federal Arbitration Act .
Arbitrating Parties Choose Arbitrators
Sometimes disputing parties desire only one arbitrator to lead the hearings. This is when parties select an arbitrator together. This concept applies when parties need a three-person tribunal of arbitrators. Every party then appoints one arbitrator. Next, the parties must select the third (and final) arbitrator. The parties have to agree on who the third arbitrator is. Sometimes parties cannot decide who serves as the third arbitrator. This is where a neutral arbitration organization (like ours) steps in. An arbitration organization can help select the third arbitrator. This way, arbitrating parties can have their arbitral tribunal in place for hearings. They can refer to terms of either federal arbitration or state arbitration.
Our Organization Is the Definition of Arbitration Success Through First-Rate Services
When it comes to arbitration, no one knows the subject better than our organization. Sure, we can provide you with a definition of any arbitration word or legal concept. (You could start out by viewing our Arbitration Meaning article.) But that's not all our experts can do. Our team can supply you with arbitration tools and resources at any time. All it takes is one message, email, or phone call. Next thing you know, we can take your arbitration abilities to new heights. This applies to all forms of contracts related to arbitration. From economic arbitral disputes to employment disagreements. No matter your situation, our dedicated professionals are here to assist. We look forward to serving as your number one resource for arbitration. Do you need a binding arbitration definition ? Our team can supply you with nay definition that will help you succeed.
We Provide Arbitration Services That Get Results
Sure, we've defined arbitration in terms of economics. But our organization can do so much more for you than give you a definition of arbitration. You see, our business doesn't focus on how to define words. Anyone can use a dictionary or law guidebook for that. Instead, we concentrate on helping parties resolve disputes outside of court. This way, parties can present their cases before an arbitrator. Why does using an arbitrator matter? Because making the decision to use an arbitrator provides so many benefits. Each arbitration decision has binding status. So, why's binding status crucial? It means a decision gets upheld by all courts. Court after court will enforce that one party gets a binding award. This is the case for both national and international law disputes. And our organization has the services to make parties of all types succeed.
Our association makes the arbitration process simple and easy.
We can help any business or individual resolve a dispute outside of court. How so? By providing parties with law-related resources that get results. This way, you or your business can thrive once a binding decision gets put in place. With arbitration, you won't have to worry about dealing with complicated treaties. This can apply even if your dispute involves international arbitration. In most cases, our firm can help to dispute parties reach a binding agreement. Why does a binding agreement matter? It means an agreement must stay in place under United States law.
This applies to contracts in the US and an international agreement.
Business after business depends on the tricks of the trade our organization uses. You can read more about those tricks of the trade below. We can help you with any convention related to arbitration. From finding an arbitrator to resolving many healthcare cases at one time. All you've got to do is call our law-minded professionals. They can get to work ASAP on helping all parties in your dispute reach an agreement.
Contact Us To Learn Tricks of the Trade About Arbitration
Are you ready to learn crucial tricks of the trade about arbitration? If so, disputing parties can give us a call at any time. Our experts are ready to assist you. They can help whether you're in a domestic or international dispute. Either way, our mission is to keep cases out of the courts. Why? So parties can find a binding solution that saves time and money.
Other organizations only help customers in big cities like New York City.
Not us. We can assist people and cases almost anywhere on the globe. Our international arbitration team's standing by. They're ready to help you resolve any dispute. (Whether it's about contracts or something else.) A recent CH study ranked us as the number one arbitration organization. It found that we help get cases resolved in a binding manner ASAP. But don't take the word of a study. Please give our arbitration team a call right now. They're ready to help you discover a binding resolution for your dispute.