Voluntary Arbitration
Nitin Paul Harmon
March 25, 2022, 7:12 a.m.
...
Voluntary Arbitration
Voluntary arbitration is when two parties agree to arbitrate their legal dispute. This way, the parties will not have to endure the costs and time of US court litigation. Do you want to know how arbitration defined? The dispute will get resolved by an arbitrator in relaxed hearings. Each arbitrator will provide a binding decision to resolve the dispute. Read more about Arbitration Agreement Association. Please continue reading to learn the basics of arbitration on a voluntary basis. Keep in mind that ArbitrationAgreements.org provides full-scale arbitration programs. We're standing by to help you resolve any civil legal disagreement ASAP. Do you want to know who pays for mediation?
What Are Arbitrations?
Arbitration involves two disputing parties settling their legal differences outside of court. An impartial third party, the arbitrator, will listen to arguments and view evidence. Then, the arbitrator will provide a final decision. The legal decision always functions as the arbitration award. Arbitration takes place between parties on either mandatory or voluntary basis. Know how mediation defined? Please read below to learn the differences between voluntary and mandatory arbitration. Keep in mind that arbitration holds many advantages over standard court litigation. It is faster, cheaper, and protects privacy for parties within the arbitral hearings. Learn the best workplace solutions for solving problems.
How Can Parties File To Arbitrate a Dispute?
Parties begin the arbitration process by contacting our arbitration association. This applies to both voluntary and mandatory arbitration. Voluntary arbitrations start out with an official dispute submission. Then, our association will help both voluntary parties select the arbitrators. Mandatory status arbitration involves US courts. A court procedure or statute will state that mandatory arbitration must take place. Next, the parties will contact our association to set up mandatory hearings. Read about labor arbitration process.
The Basics of Volunteered Arbitrations
Let's now go more in-depth about what voluntary/volunteered arbitration is. As the term represents, parties volunteer to move their legal dispute to arbitration. This is a common process for avoiding United States federal/state court litigation. The voluntary parties will create a formal, written arbitration agreement. (Our association can draft an arbitration agreement on your behalf.) The agreement will state that both parties give up the right to go to court. Do you want to know how long does arbitration take?
There are two common forms of voluntary arbitration. The most common form is pre-dispute arbitration. This type of arbitration involves a contract between two disputing parties. The contact will often feature an arbitration provision or clause. So, what do pre-dispute arbitration agreements enforce? They enforce that any dispute related to the contract must go through arbitration. Do you have questions about our labor arbitration services?
Here is an example of how voluntary pre-dispute arbitration works. Say that a party signs a contract to buy a car. This contract could state that all future legal disputes will go through arbitration. The party will find a clause in the contract that makes this known. Thus, the contract features an official voluntary pre-dispute arbitration clause. Learn about arbitration agreement purpose.
The second most common form of voluntary arbitration is post-dispute arbitration. It involves parties entering into an agreement once a dispute has taken place. Then, the parties can resolve the dispute on a voluntary basis through arbitration. Do you want to know what is the difference between arbitration and mediation? Keep the following legal notion in mind. Your contract could feature an arbitration provision making arbitration mandatory. But the act of arbitration will still get classified as voluntary arbitration. Why? Because parties entered into the contract on a voluntary basis. Learn more about mandatory arbitration clauses.
Now, here is an example of how voluntary arbitration functions in post-dispute arbitration. Let's once again say that a party decides to buy a car. Must know about hearing process parts. But this time, the agreement does not feature a clause for arbitration. Say that a legal dispute arises in the future. The party and the car salesperson can enter into an arbitration agreement. This way, they will not have to involve any aspects of US court litigation. Instead, both parties can resolve the dispute through arbitration on a voluntary basis. Know what is the meaning of arbitration in law?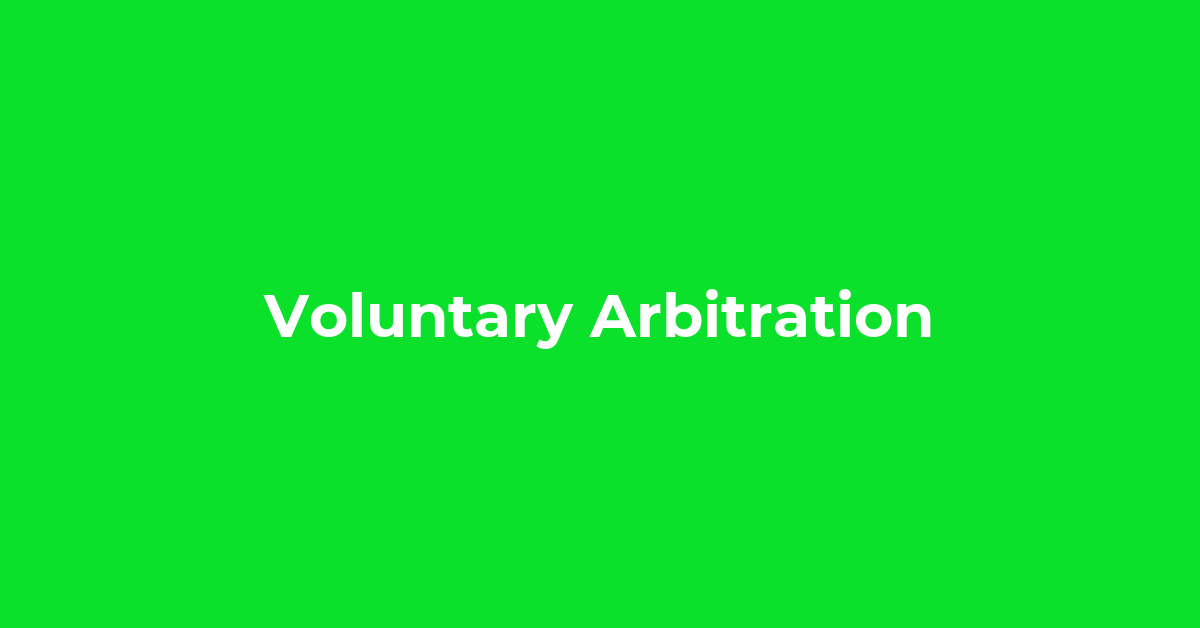 The Basics of Mandatory Arbitrations
So, what does mandatory arbitration mean? It is a form of arbitration that some federal and state laws enforce. The laws demand that parties have no choice but to arbitrate their legal disputes. Mandatory arbitration can also apply to a statute that a court provides to two or more parties. Arbitration at the mandatory level is common in some technical sectors of law. Know is the arbitral award in a contract?
Here is an example of arbitration in a mandatory format. Some financial industry violations lead to mandatory arbitration. The amount of damages or type of dispute can determine if arbitration is mandatory. Think arbitration on a mandatory level in the following manner. When US law requires arbitration, then mandatory arbitration must take place. Do you want to get arbitrator or mediator?
Why Arbitrate a Legal Dispute?
There are many advantages associated with both voluntary and mandatory arbitration. One key advantage is that arbitration is fast. It can only take a month or so to resolve legal disputes. Meanwhile, court litigation cases can drag on for many months and even years. Plus, arbitration provides parties with an informal setting for resolving their disagreements. Do you want to know advantages of arbitration over litigation?
Another advantage is that arbitrators receive training at the professional level. Say that your voluntary dispute is within the construction industry. Our association can connect you to an arbitrator with ample construction experience. Keep in mind that arbitration awards have legal binding status. This means that parties cannot waste months and years appealing decisions. Every arbitration award will get enforced in court at both the state and federal level. Know what is final offer arbitration (FOA)?
Preparing a Case for Arbitrations
Every individual party must present its own case at an arbitration hearing. Plus, parties have to provide copies of all relevant documents. Do you want to learn more about arbitration vs mediation vs litigation? Our association often assists clients in preparing for voluntary arbitrations. Please let us know if your party needs guidance in executing the arbitral process. It is up to each party whether it chooses to hire an attorney for arbitration. If a party hires a lawyer, it must incur all related expenses. Some parties decide to have formal representation by counsel. Others choose to present their own cases without attorney involvement. Do you want to know how ADR methods work?
Keep in mind that voluntary case preparation is crucial. Parties have to arrive at arbitration prepared to prove their case. Do you want to know what happens after the arbitration decision? That's why they should provide relevant evidence. Arbitration evidence includes contract documents, photographs, and proof of damages. Parties should continue arbitration preparation by reviewing all submission forms. Learn more about arbitration agreement meaning information. Plus, they must also assess voluntary hearing notices. This way, the parties can understand all key issues within a legal dispute. Please contact our association if you have questions about gathering relevant evidence. Do you want to know why is a mandatory arbitration provision important?
How an Arbitral Hearing Functions
Most arbitration hearings take place inside a professional office setting. The purpose of each voluntary hearing is to expose relevant facts in a case. More about arbitration & the types of arbitration. Each party will present claims, bring in witnesses, and provide evidence. The second party that takes these key actions is known as the "respondent." A respondent has an equal opportunity to present witnesses, evidence, and claims. Are you part of a company or organization in need of interest arbitration services?
Once again, representation by legal counsel is voluntary for each party. Say that your arbitration hearings get administered by our association. Learn more about arbitration definition economics. In this case, both parties must adhere to our official arbitration rules. The rules state that parameters for how voluntary hearings get conducted. You are welcome to browse those arbitration rules right here on our website. Know when do People & consumers encounter binding arbitration agreements?
Say that the voluntary hearing process gets completed. Your arbitrator has thirty calendar days to prove an arbitration decision. But most arbitrators do not wait that long to provide a decision and award. An arbitrator has legal authority to rule on each asserted claim. Do you want to know advantage of insurance arbitration? Then, the arbitrator can award financial damages to one or both parties. There are certain civil remedies that arbitrators do not have the authority to rule on. Know what is mandatory arbitration?
The Arbitral Award
Each award presented by an arbitrator in voluntary hearings is binding and final. All parties have no choice but to abide by arbitration award terms. Say that a party decides not to adhere to the terms of an award. The opposing party can petition a court to confirm the award. Do you want to know what is forced arbitration?
All courts have the legal power to enforce arbitration awards as civil judgments. Arbitration award enforcement stems from US Code of Civil Procedure section 1285. Know how the federal arbitration act applies to both federal and state courts. Say that an appeal does not get filed about an arbitration award. Award compliance on behalf of all parties must take place within thirty days.
Are You Considering Arbitrating Your Legal Dispute? Call Us Right Now
Our association is ready to help your party get a voluntary arbitral process started. Please give us a call right now to set up a customized program. Know how arbitration vs litigation is a common dispute resolution talking point. Want to know arbitration clause & provision? We have state-of-the-art tools and resources that can help you succeed. You're also welcome to message our arbitration team on our website or send out an email. Our legal professionals look forward to helping you resolve your legal dispute. Do you want to know how non-binding arbitration works?
...