Forced Arbitration
Understanding the Basics of Mandatory Arbitration
Think forced arbitration is only a myth? Think again. Forced arbitration is real. In fact, you can find forced arbitration fine print in tons of consumer contracts. The contracts range from cell phone contracts to credit card documents. Plus, forced arbitration clauses exist in many employment contracts. So, is this good or bad for most people? Let's find out.
What's Forced Arbitration & Mandatory Arbitration?
Forced arbitration refers to the specific actions of a company or employer. It takes place when a company ensures a dispute gets resolved through arbitration. In this case, arbitration takes the place of all US courtroom litigation scenarios. Forced arbitration for an employer almost always has a binding outcome. This means that the arbitration award/decision cannot get appealed. Keep in mind that forced and mandatory arbitration refers to the same concepts.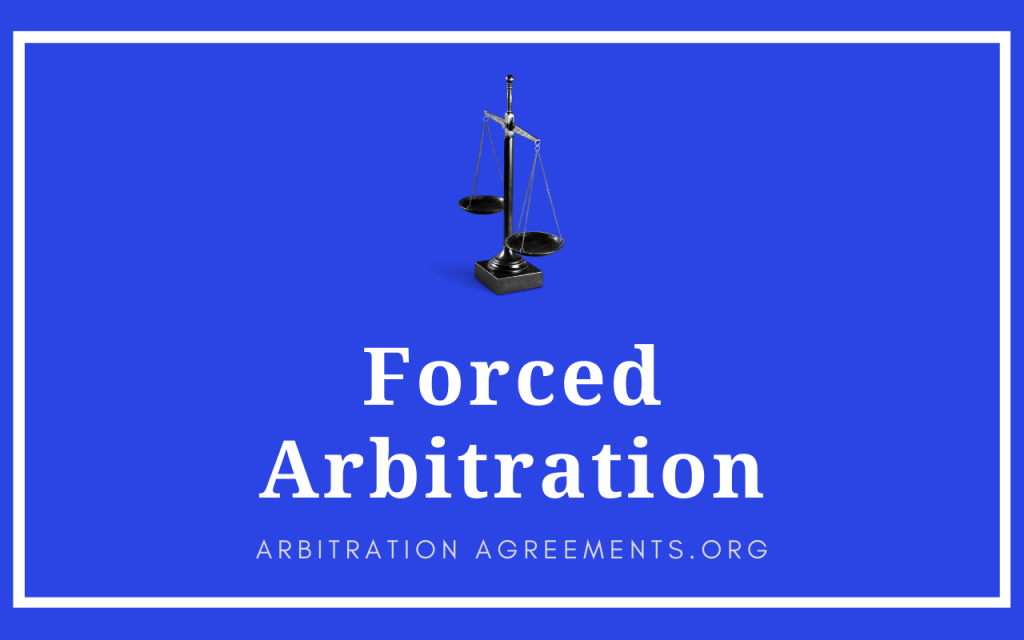 Through forced Interest arbitration , a consumer or employee forfeits the right to sue. That party also gives up the right to take part in a class-action lawsuit. (Let us know if you need more information about class action law.) Even appeals get forbidden in almost all forced arbitration cases. Forced arbitration is a mandatory process in which the outcome is never made public.
Common Forced & Mandatory Arbitration Cases (They Affect More Than Employment Contracts)
Forced arbitration association terms get placed inside many contracts and agreements. The popularity of forced arbitration has risen over the last decade. Here is a list of the eight most popular types of contracts that feature forced arbitration:
1. Employment contracts and agreement arbitration.
2. Insurance contracts and agreement arbitration.
3. Home building contracts and agreement arbitration.
4. Car lease and loan contracts/agreement arbitration.
5. Credit card contracts and agreement arbitration.
6. Retirement account contracts and agreement arbitration.
7. Investment account contracts and agreement arbitration.
8. Nursing contracts and agreement arbitration.
Is It Easy To Locate Forced Arbitration Clauses in Contract Paperwork?
No, it is often difficult to notice forced arbitration clauses. They often get stuffed deep within the fine print of contracts. (Or, the fine print of forced agreements.) Here is a shortcut for finding forced language in contracts and agreements. Keep in mind that these refer to only arbitration decision that's forced. Search each document that you have for the following four terms:
1. Binding mandatory arbitration meaning .
2. Arbitration.
3. Mandatory arbitration.
4. Dispute resolution mechanism arbitration.
5. Arbitration clause.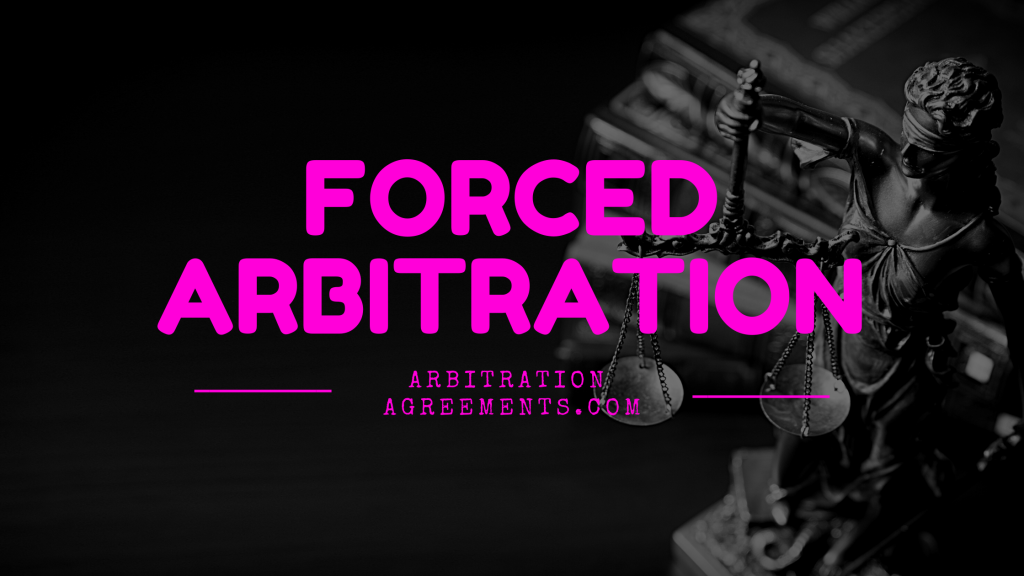 The Definition of Voluntary Arbitration
Voluntary arbitration refers to the opposite concept of arbitration that's forced. Through voluntary arbitration, both parties in a disagreement volunteer one key action. It is that they 100 percent agree to put their dispute through an arbitration process . This way, they have the opportunity to resolve a claim outside of US court proceedings. That's so parties still hold the option to resolve disputes in the courts.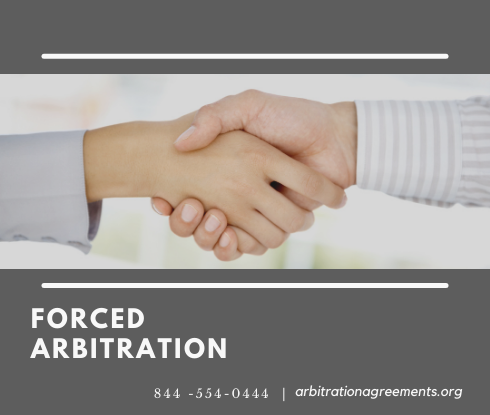 Do Companies Take Part in Forced Arbitration During Disputes With Separate Companies?
No, most companies do not use arbitration (forced) when dealing with separate businesses. In fact, there is some legislation that forbids this from happening. Here is an example. Let's rewind to the beginning of the 21st century. Car dealers felt scared to interact with Pre Dispute Arbitration Clause scenarios. (Like those that get force on consumers.) This refers to their disagreements with car manufacturers.
The dealers soon spent millions trying to lobby the US Congress to pass a federal law. This law would stop car manufacturers from requiring arbitration (forced) in disputes. This served in relation to car dealership franchise contracts. In 2002, the law passed through courts and remains in effect to this day. You would not believe how many times people have tried to overturn cases like this. But court after court enforces this law every day. Read here Mediation and Arbitration
Why Some People Dislike Forced Arbitration: 6 Factors
Many companies prefer using arbitration in a forced manner. But that doesn't mean that employees like it. Some employees and consumers cannot stand the entire concept of Arbitral Tribunal . Why? Well, for one, they don't like getting forced to do anything. Let's go over six key factors. Here are the most common problems that people have with this style of arbitration. Also read about Federal Arbitration Act
Forced Arbitration Factor #1: Some People & Workers Aren't Aware That They've Agreed to It
That's right- some people do not realize that they've signed off on arbitration that's forced. Many Americans accept terms of contracts containing forced arbitration clauses. Some of them do not read the fine print found buried in paperwork. This is an example of why people should read their contracts word-for-word.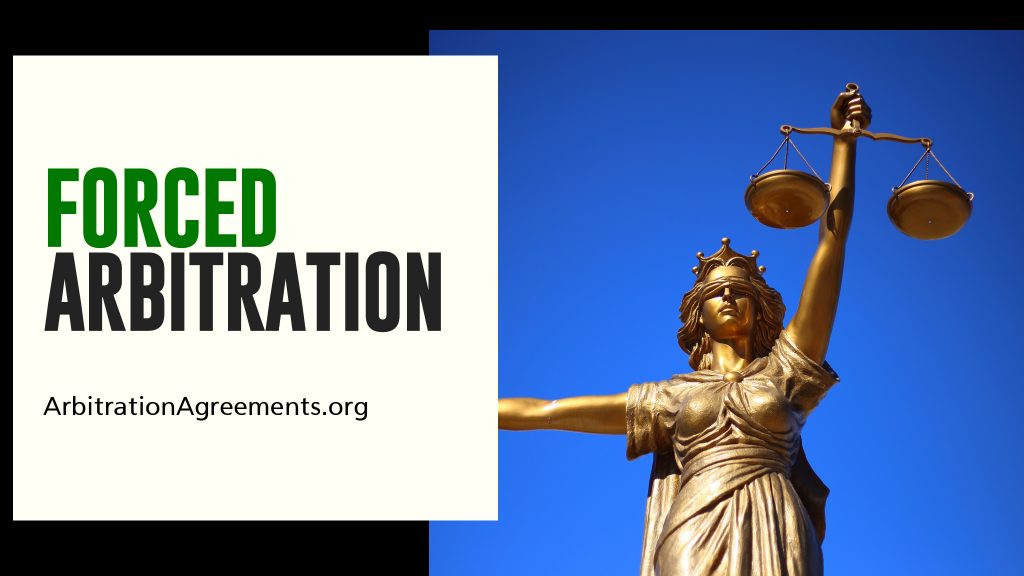 Forced Arbitration Factor #2: It Limits Dispute Resolution Options Like Going to Court
Some arbitration critics argue that it limits consumer options when customers get forced. This applies to all sorts of disputes that must get resolved. If you sign an arbitration clause (forced), you're locked into only one resolution option. Many contracts even name a certain Mandatory Arbitration Provision company that parties will go through.
Forced Arbitration Factor #3: The Clauses Often Bind Consumers & Workers
In arbitration clauses, it's the consumer that receives forced binding status. Not the company. This way, businesses hold onto the right to move any type of complaint to US court. Meanwhile, the customer is stuck. He or she can only take part in arbitration. Remember- once you sign an arbitration clause, you cannot back out of it. Sure, many people try to back out of arbitration through court cases. But that almost never works, that's why you should understand Arbitration vs Mediation vs Litigation .
Forced Arbitration Factor #4: Arbitration Is Private
Arbitration (forced or not forced) works within a private system. There is no jury, judge, or the right to appeal. Arbitrators do not have to take laws and legal precedents into account. (This applies to the final award/decision.) Most people cannot seek a public review or appeal after decisions get announced.
Forced Arbitration Factor #5: Some Employees Cannot Sue for Discrimination & Harassment
Arbitration can limit how US laws affect the workers of companies. Many people believe that exceptions should get put in place for civil rights laws. Arbitration can limit crucial laws like the Equal Pay Act and Civil Rights Act. (We're referring to arbitration that's forced.) This can lead to employees losing protections. These are protections that they assumed they would always have.
Forced Arbitration Factor #6: Consumers Can't Sue for Scams, Negligence, & Defective Products
Say that a customer buys a product. He or she does so under certain arbitration terms and conditions. (They refer to arbitration that's forced.) By buying the product, the consumer has lost the right to sue. This can apply even in a dangerous situation, like a retirement account disappearing.
An arbitration clause can prevent consumers from going to court. Of course, this once again refers to arbitration that's forced. A company would never want a consumer involved in arbitration that's not Binding Arbitration Definition .
Do Some Companies Not Use Forced Arbitration?
Yes, not all companies use arbitration forced on a consumer to protect themselves. Companies with few customer complaints are less likely to take part in arbitration. (Especially arbitration that has binding and forced status.) But keep in mind that arbitration is continuing to become more widespread.
This surge applies to tons of mainstream industries in the US. Many cell phone, insurance, and credit card companies take part in arbitration. But they do not accept arbitration that isn't binding. Instead, they desire forced outcomes when consumers buy products. Visit also Arbitration vs Litigation
How Does Forced Arbitration Affect the Average Employee?
Many employees do not like arbitration. That's because they don't want to get forced to do something. They also believe arbitration deprives them of their constitutional rights. How so? By preventing them from using the US public court system. Denying access to court can make many employees feel trapped and hopeless.
Is Forced Arbitration Legal in California?
California's Governor, Gavin Newsom, signed AB 51 into law in the fall of 2019. AB 51 serves as California's ban on most mandatory arbitration agreements. It prevents organizations/companies from applying arbitration (forced) to employment disputes.
Can You Refuse Arbitration?
Yes, you can refuse arbitration. (As long as you haven't already signed an arbitration agreement.) Say that your employer requests you to sign an agreement. You can refuse to sign it. But keep in mind that you might lose your job because of this. Employers often rescind employment offers when people refuse to sign agreements. Plus, employers can fire at-will employees that refuse to sign arbitration agreements.
We're the Number One Resource for Arbitration in the US
When it comes to arbitration, whether mandatory or forced, our team is number one. We help each member of our organization learn about arbitration every day. (Please contact us if you want to become an Arbitration Agreement member.) Our arbitration services have ensured the success of many corporations and people.
How so? We provide both corporations and consumers with arbitration tools. Some of the tools function as legal protection through court precedents. Others perform a large number of important arbitration services. From helping consumers complete arbitration to researching US Supreme Court cases.
No matter what you need related to arbitration law, our team can supply it. We provide world class arbitration services. And more of them than almost any other arbitration workers on the planet. Our organization isn't only at the top of its class. We're in an arbitration class of our own.
Both consumers and each employer depend on our organization for analysis and action. They realize that we get the job done when it comes to all arbitration procedures. (Whether the arbitration gets forced or remains non-binding.) We know each mandatory arbitration law better than anyone else. And that applies to the rights of workers and consumers all across the country.
We understand how stressful it feels having to work while dealing with arbitration. Whether it's forced or not, it can cause a lot of anxiety about one's labor. But that's where the Arbitration Agreement Association steps in. You need a world class team that can help you.
We can go over your rights (and any mandatory arbitration law) within minutes. Our team knows how frustrating it is to get denied access to court. But we handle arbitration cases in as great a manner as a lawyer handles court cases. Speaking of courts, you're also welcome to contact us if you need court information. Our knowledge of the law extends far beyond arbitration.
We Won't Rest Until Your Arbitration Needs Get Taken Care Of
Our team never rests until all workers and consumers have successful arbitration strategies. Without them, it's difficult these days to complete so many activities. From starting new jobs to filling out information on loans. In fact, our team can even go job to job with you. We can help you find a job that doesn't contain arbitration (forced) waivers.
US labor law continues to support each employer when it comes to arbitration rights. That's why our arbitration experts are here to help. We're more than the home of first class arbitration help. We're the home of arbitration rights and protection.
And we won't rest until you get the arbitration protection that you deserve. Our experts know all about the law. From Supreme Court cases down to local law after law. Decades of work positioned our experts to help every user of our program succeed.
Even if you're in a state far away, our experts will work close to you. We're always one phone call or message away from giving you the key action that you need. Whether you're an employer or consumer, we can assist you ASAP. Even if you don't have much court knowledge, do not despair.
Our team knows all about court cases, laws, and legal rights. We apply that world class knowledge to our arbitration services every day. Arbitration is more than our job or work. It's our passion. And you would not believe how passionate our arbitration professionals are. They've experienced all sorts of arbitration cases. When it comes to your arbitration case, they won't rest until a solution gets found.
Do You Want To Learn More About Forced Arbitration? Contact Us Today
Do you have specific questions about arbitration, whether forced or non-binding? If so, our experts are here to help you out. You're welcome to message, email, or call our arbitration provision team at any time. They can walk you through any scenario involving arbitration. Our team knows all about arbitration, whether it's forced or isn't binding. If you need legal advice, we can direct you to a network of potential advisors. We look forward to taking care of all your arbitration-related needs.