Full Scale Arbitration Services
Our Association Provides Full-Scale Arbitration Services
Our organization provides wide-ranging arbitration services to parties all across the US. Many of our services even extend to international arbitration. Through our services, parties can resolve disputes without having to go to court. This way, all parties can save time and money. Must visit Pre Dispute Arbitration Clause . Basics of Arbitration vs Litigation . Many legal experts say that arbitration functions as the best alternative to litigation. And we provide service after service that makes this viewpoint a reality. Please read below to learn more about many arbitration services at our association. If you have questions about a service, please do not hesitate to contact our staff. They'll go the extra mile to help you find a solution to any sort of legal dispute. Also know about Arbitration vs Mediation vs Litigation .
What Is Arbitration & How Does It Work?
Arbitration is a form of ADR: alternative dispute resolution. It's a private process where disputing parties make an agreement. They decide to allow one or several individuals to preside over a dispute. This refers to the arbitrators. An arbitrator will make a final decision about each dispute. But first, the arbitrator will review evidence and listen to arguments. Then, an arbitrator provides a final, binding decision and/or award. The decision and award cannot get appealed except under rare circumstances. All binding arbitration decisions get enforced by state and federal US courts. Learn about Forced Arbitration .
What Are Arbitration Services?
As an arbitration association , we provide wide-ranging arbitral services. These services apply to every aspect of the arbitration process . From finding neutral arbitrators for parties to drafting an arbitration agreement . There's no limit to what our organization can do when it comes to arbitration. Our experts know that the advantages of arbitration can benefit any party. All you've got to do is call us at any time and tell us the services that you need. Then, we can go service by service to help you or your business succeed. This way, you'll save time and money through first-rate arbitration services.
Register for Free on Our Website To Access Any Service ASAP
You're welcome to register your party on our website for free. This way, you can access arbitration or mediation services with ease. Our site is secure and it doesn't take long to register. You can choose a password and username when registering. We use industry standard secure encryption to protect accounts. You don't have to worry about unauthorized users accessing your information. Visit our Arbitration Agreement Association .
We Can Help a Party File a Claim
Is your party ready to file a claim? If so, please contact our association today. We can help you file your claim for binding arbitration or mediation. These are effective mechanisms for resolving disputes in a private manner. This way, you won't have to bother entering a courtroom. We've even developed a state-of-the-art cloud-based system. The system will allow you to complete the claims process online.
Our Experts Can Assign an Arbitrator or Mediator to Your Dispute
What is Sample Arbitration Clauses ? Do you and the opposing party in need of an arbitrator or mediator? If so, our experts can get one assigned right away. Or, we can assign a panel or tribunal of arbitrators . Our association has its own arbitrator database. The database lists countless qualified arbitrators and neutrals. Each arbitrator has a great deal of legal experience resolving disputes. We do not allow cases to go to unqualified arbitrators. Instead, cases and claims go to qualified professionals. Each professional has a wealth of knowledge and experience. Visit Insurance Arbitration .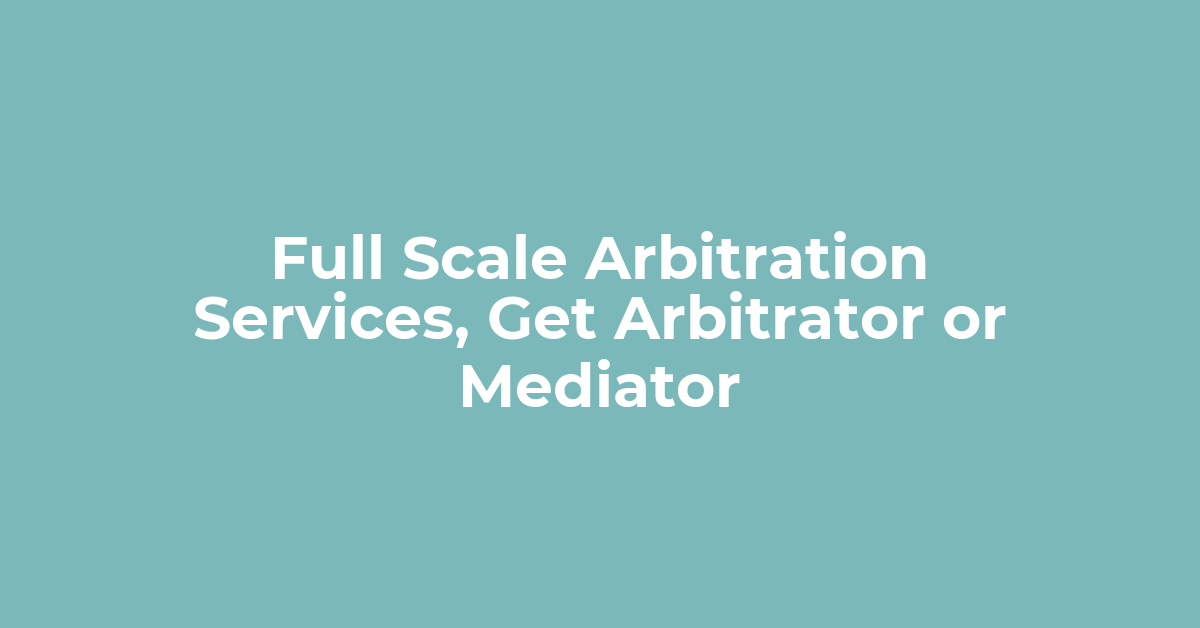 We Help Resolve Disputes Between Individuals & Businesses
Know about Interest Arbitration Services . Many disputes between individuals and businesses focus on transactions. Say that an individual's dissatisfied with a transaction. This can lead to a disagreement that could cost that person a lot of money. Likewise, the business at the opposite end could have to pay a lot of costs. That's a key reason why arbitration with binding status is so crucial. It prevents individuals/companies from having to pay a fortune during court cases. Instead, arbitration can resolve disagreements between businesses and people. Read about Insurance Arbitration .
Resolve Disputes Between Businesses Using Arbitration
Arbitration is the number one resource for resolving business to business disputes. This relates to receivables and outstanding claims. Both can have a crucial effect on the financial health of a company. Oftentimes, smaller business disputes never get resolved. That's because of the time and costs associated with litigation. (And other alternatives of dispute resolution.) Through our services for businesses, companies can discover the right solutions. And those solutions will function in a cost-effective and simple manner. No matter what service your business needs, our arbitration team's ready to assist. They won't rest until your company resolves the dispute or disagreement. What Is Mandatory Arbitration ?
Premier Online Dispute Resolution Service
Our association can provide any party with an online dispute resolution service. We partner with the leading legal technology providers in the US to make this happen. Through our service, remote appearances can take place throughout arbitration. Other organizations cannot execute a simple online dispute resolution. But not us. We have the resources and technology to give disputing parties high-quality options. Parties can send cases to online arbitration and mediation services. Check out Arbitration Provision 101 .
Virtual Arbitration Hearings
As technology progresses, more and more arbitration hearings will take place online. Our organization knows this better than anyone else. We've spent years developing a virtual online arbitration hearing service. This way, parties can have a convenient option for resolving their disputes. Visit How To Use Arbitrate in a Sentence .
Our COVID-19 Resource Center
Were your arbitration/mediation plans or proceedings interrupted by the COVID-19 pandemic? If so, you're welcome to access our COVID-19 Resource Center. The service contains recent information and updates that might apply to your dispute. You're also welcome to contact our arbitration specialists for more information.
In-Person, Hybrid, & Virtual Arbitration Services
We know how important it is to resolve disputes ASAP. The longer a dispute lasts, the more money a business or individual must pay. That's why all our arbitration services are time-sensitive. Our mission is to help parties reach a binding resolution without any delays. You can access many of our services on an in-person or hybrid level. Or, you can even use our virtual services. Each service provides a crucial advantage over standard litigation in US court. Know about Binding Arbitration Clause . Our association is one of the largest private ADR providers on the planet. We administer countless arbitration cases each year. Sure, many cases are in-person. But more and more cases are getting conducted online. This applies to simple disputes and multi-party, complex arbitrations. Our experts have spent over a decade refining the arbitration process . They're committed to providing each party with a fast and fair resolution. We want you to receive the reasoned award that you deserve. And that applies to any type of legal dispute. What is Mandatory Arbitration Provision ?
Create Your Own Custom Arbitration Service
Arbitration Definition Economics . Arbitration through our organization gives any part plenty of decision-making power. We can allow a party to select its own neutral form our database. That neutral will have industry-specific expertise. Our mission is for each party to define its own process for resolving a dispute. And the experts in our association can assist every step of the way. They can help set up custom rules, appeal procedures, and discovery protocols. Keep in mind that virtual dispute resolution is becoming more popular each year. This type of arbitration provides convenient scheduling flexibility. Plus, we can provide a large pool of arbitrators that a party can choose from. Know about The Types of Arbitration .
We Can Connect You to Skilled Neutrals
First read about What is Arbitration in Law ? If you're in need of skilled neutrals, you're in the right spot. We only work with neutrals that have major credentials related to business and the law. Our team welcomes any party to view our panel of countless retired judges. These judges have excelled at either the federal or state level. There are also many attorneys with tremendous accomplishments in our panel. These arbitrators come from diverse personal and business backgrounds. Their decades of experience qualify them to resolve the disputes of parties. They've handled case after case using our organization's arbitration rules. After all, we're one of the major arbitral institutions across the world. Please contact us to learn more about our commitment to neutrality. We'd love to give you more information about our extensive disclosure process. Know about the meaning of The Federal Arbitration Act .
ADR Case Management That Goes the Extra Mile
All our case managers have extensive knowledge about arbitration and ADR . After all, they receive ongoing arbitration training every year. That's the main reason that they receive such high ratings from parties and attorneys. Each ADR service that we provide is efficient, responsive, and friendly. We've spent many years adjusting every service to fulfill the needs of our customers. Know about Arbitration Decision Process .
Do You Need Access to a Managed Arbitration Service? Contact Us Now
Please contact us right now to access any managed arbitration service. You're welcome to call our phone number listed at the bottom of the page. Or, you can email us or even message us here on our website. We're ready to answer any questions you have about our arbitration services. Our team can go service by service with you so that you have a complete understanding. We can even create a custom arbitration service for you or your business. When it comes to arbitration, you can depend on our association for first-rate results.