Odds of Winning Summary Judgment
Nitin Paul Harmon
April 24, 2023, 11 a.m.
...
Odds of Winning Summary Judgment
Let's jump right in and go over the odds of winning summary judgment. The success rate for winning a summary judgment varies depending on the type of case. In Title VII and employment cases, 49.2% of proceedings resulted in an outright grant of summary judgment, 23.3% resulted in a partial grant, and 27.5% were denied altogether. Learn more about arbitration agreements meaning information
The exceptionally high rate of granting summary judgments in discrimination and employment cases is an anomaly, as most such cases are usually too complicated to be resolved through summary judgment due to the requirement to prove discriminatory intent. Some commentators believe that plaintiffs in these cases are at a disadvantage, evidenced by the fact that 41% of favorable summary judgments granted on appeal have been overturned.
Despite reaching a peak in the number of summary judgments, only 4% of cases are now being resolved this way. This is a significant drop from the 7.8% that were decided by summary judgment fifty years ago. Rules have been relaxed to give judges more discretion when deciding on summary judgment rulings, however this does not appear to have had much effect on overall trends. Read more about Arbitration Agreement Association.
More Statistics Related To Summary Judgment
When it comes to personal property torts-related cases, summary judgment motions are granted in full around 48.6% of the time, partially approved 19% of the time, and denied 32.4% of the time. On matters concerning property rights, the approval rate is lower - whole approvals stand at 33.7%, partials at 24.5%, and denials at 41.8%. Know how arbitration vs litigation is a common dispute resolution talking point. Know what is mandatory arbitration?
The likelihood of success on summary judgment motions has a significant influence on the cost and effort involved. Knowing that there is a high probability of total or partial success, it comes as no surprise that these kinds of motions are most common in Title VII and employment cases. Do you want to know why is a mandatory arbitration provision important? It's likely that there is a strong connection between the statistics regarding the chances of winning summary judgment and how often such motions are filed for any given category of cases. However, to date, no empirical study exists to validate this notion. Learn more about arbitration definition economics.
What Are Some Settlement Issues Related to Summary Judgment?
It may be hard to understand why settlement and engagement go hand-in-hand, especially when so much effort has been put into getting the case dismissed. However, it makes perfect sense – more than half of summary judgment motions are settled without ever going to a hearing. Know is the arbitral award in a contract? This demonstrates just how effective engaging with the other party can be for resolving disputes quickly and amicably. Settlement discussions are a powerful tool that should not be overlooked when attempting to resolve civil matters. Do you want to learn more about arbitration vs mediation vs litigation?
The costs of litigation, be it trial or arbitration proceedings, or even large-scale discovery efforts, are often substantial. This financial risk can help to focus both parties on the potential gains and losses of continuing down the litigation path. Right before summary judgement may be an opportune moment for considering settlement discussions or mediation as a way to avoid further costs and possible loss. Know what is final offer arbitration (FOA)?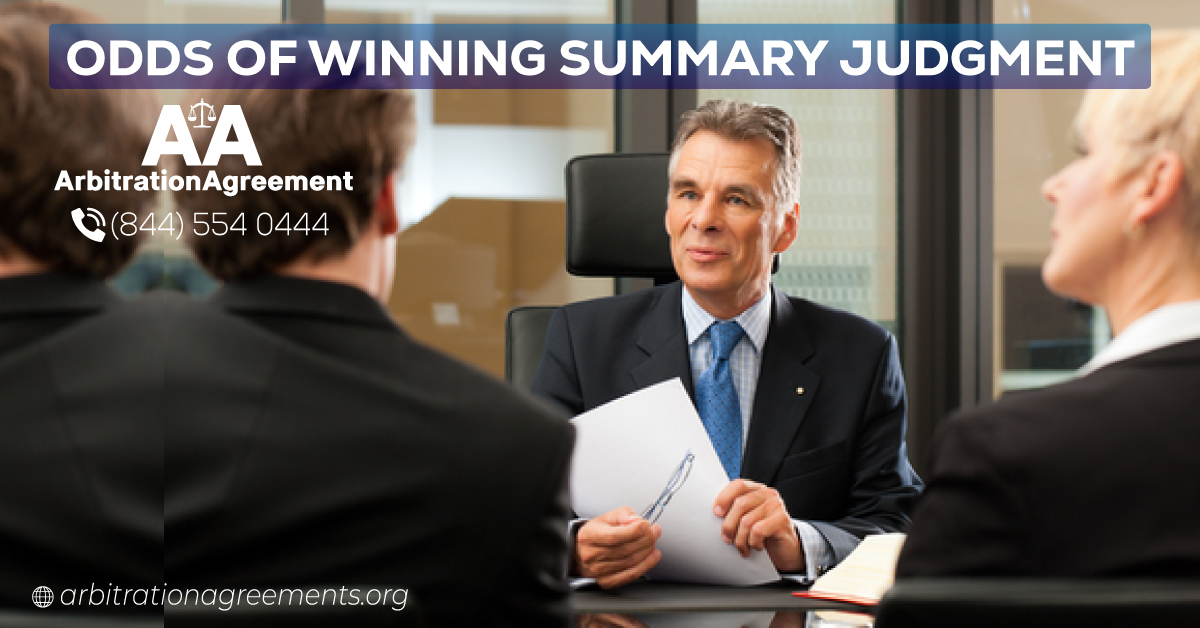 More Information About Settlement Issues Related to Summary Judgment
After the initial filings, both parties in a dispute will have their strengths and weaknesses revealed. This offers an opportunity for resolution of the case. If summary judgment is denied - meaning that a court sees potential for either side to win - then research shows that the settlement amount can be two to four times higher than initially proposed. In certain cases, it may even be much more. Do you want to know the advantages of arbitration over litigation?
If a summary judgment of the right to punitive damages is denied, it could mean that up to nine times the amount of the initial settlement offer may be imposed by a jury. This significantly alters the calculations for any parties involved in the dispute. While some of them may disagree with being liable for such damages on principle, they should consider all potential outcomes before finalizing their decision. Learn more about mandatory arbitration clauses.
While negotiating from a place of strength is always ideal, if a motion for summary judgment is granted against you, it does not have to be the final decision. If you believe the ruling was wrong, there are options such as filing a motion for reconsideration or even requesting a new trial. Must know about hearing process parts These are serious steps that come with their own risks and costs, but they may be worth pursuing if you deem that the judgment was unfair. Additionally, the ruling could potentially be reversed on appeal in some scenarios. Know what is the meaning of arbitration in law?
Parties that have been recently victorious may be difficult to work with, unless they are willing to engage in a constructive dialogue. Having an impartial third-party weighing in on the merits of their case and the probability of success on appeal can prove invaluable when attempting to negotiate a settlement. Do you want to know who pays for the cost of arbitration? It is important to note that even with such assistance, overcoming an adversarial attitude can still be challenging. Therefore, it is wise for parties to take into account the sophistication and pragmatism of those involved before deciding whether or not to pursue a settlement offer. Do you want to know what is the difference between arbitration and mediation?
What Is a Motion?
When presenting a motion to the court, it's important that the filing party is clearly identified in the heading. The body of the motion should not be longer than two pages as well. After you have filed your summary judgment motion, the other party will then have an opportunity to respond with their own opposition or response motion. Do you have questions about our labor arbitration services?
This process allows both parties to present evidence and arguments supporting their case while allowing the court to make an informed decision. It's essential that all content in either the original or ensuing motions are relevant and critical to achieving a favorable ruling from the court. Know employment arbitration rules & procedures.
If the non-moving party feels they need more time to prepare their material facts, they can ask the court for a continuance. The court will then examine the request and decide whether it should be granted. After both sides have filed their paperwork, including any motions and responses from the non-moving party, a hearing is held in which both parties are given an opportunity to present their proof of facts before the judge. Learn the best workplace solutions for solving problems.
During this hearing, each side has a certain period of time to make their arguments known and share any relevant evidence or documents that supports their case. Ultimately, it is up to the judge to decide which set of facts best aligns with what happened in the situation at hand. Do you want to know how long does arbitration take?
At a summary judgment motion hearing, there is no need for oral testimony, so it's up to the lawyer and their client whether to attend the hearing. Know how mediation defined? The judge will ask questions and then make a decision on whether to grant or deny the motion. This decision may take days or weeks after the hearing has taken place.
What Are the Risks Associated With Summary Judgment Motions?
Bringing a summary judgment motion before the discovery cutoff can come with significant drawbacks and risks. Not only is there the potential for hard-fought appeals, but also settlement premiums that could spell serious financial burden. It's important to consider these risks when deciding whether or not to file a summary judgment motion.
Unforeseen discoveries could completely derail a motion to win, as they may require the complete reworking of the motion. Even if discovery has been closed, there may be a successful argument to reopen it in certain cases; especially when one party is not responding promptly and/or has faced successful motions to compel in the past. However, this will add significantly to the costs of litigation and possibly void any summary judgement motions that have already been made. Learn about arbitration agreement purpose
The summary judgment motion process provides an invaluable opportunity for the moving party to gain insight into their case before it goes to trial. By providing a detailed trial strategy and evidentiary objections, the moving party can anticipate how the court will respond to certain arguments and use this information to their advantage when it comes time for trial. It is important, however, that any defects in the pleadings are not pointed out unless absolutely necessary due to Federal Rule 15 which allows amendments of pleadings both before and after trial if required by justice. This should be taken into consideration when writing a summary judgment motion.
Beware of using summary judgment motions as a scare tactic or economic weapon against less well-funded parties. This approach has the potential to backfire, and can draw a sanctions motion under Rule 11 instead of the desired dismissal or inexpensive settlement. Courts strive to protect their limited time and resources, as well as the integrity of the legal system, so be mindful when making such motions. Also visit the link.
Courts have imposed significant sanctions for summary judgment motions that lack adequate support. If a full motion is not feasible, counsel should consider filing a partial motion if the remaining claims, defenses, or damages are of enough importance to justify the cost and lower likelihood of success. Must know about advantages of arbitration clause.
Take Care of Early Preparation Before Filing a Summary Judgment
It is essential to begin early and stay prepared throughout the case when planning for a summary judgment. Consider the issues that are most likely to be part of the motion, analyze relevant case law, and create discovery requests and deposition strategies in line with these topics. Make use of the discovery process to assemble evidence that will back up your motion. This way, you will have all elements ready when presenting your summary judgment. Read about labor arbitration process.
How Can I Win a Summary Judgment?
For a successful case, expert lawyers must plan for depositions, discovery and expert witnesses. It is important to keep the summary judgment rules in mind throughout all of these preparations, as they are critical to a favorable outcome. When strategizing, focus on the issues that have the highest probability of success; this will ensure the best results in court. With diligent planning and focus on what matters most, attorneys can win their cases with confidence. Must visit the link.
Secure your victory by taking the initiative. Don't wait for the other side to start constructing their case - take control and make sure you have an abundance of evidence in your favor. Time is of the essence, so it's important to ensure that key depositions are taken as early on in the proceedings as possible. This will give you an advantage when trying to catch a witness or counsel unprepared, and may lead to crucial admissions being made before they have time to prepare their defense. By doing this, you increase your chances of winning summary judgement without having to go through the full trial process. Do you want to know how arbitration defined? When crafting a compelling summary judgment strategy, anticipate the questions that the jury may have in your case. Focus on any unresolved matters and strive to provide evidence or arguments that address them. Understanding the relevant jury instructions will help you build an effective record to support your summary judgment memorandum. Anticipating how jurors might perceive your case can help you present it in a more persuasive way. Do you want to know how ADR methods work
When writing a motion for summary judgment, simplicity should be your goal. Focus on the key facts and points of law to make sure you are making an effective argument that stays on track. Avoid straying from the main issues and adding unnecessary details. Remember to tailor your evidence to the facts at hand in order to present a persuasive case. If you're arguing against a motion for summary judgment, concentrate on highlighting any weak points or areas where you can potentially win. It is particularly important to do this if you have a skeptical judge! Do you want to get arbitrator or mediator?
As the defendant, it is important to seek out documents or facts that provide a defense - whether it is complete or partial. If any of these are available to be disclosed during trial, then the claimant cannot make a summary judgment application. It is essential to ensure all possible defenses are made available to your case in order to increase your chances of success. Do you want to know what happens after the arbitration decision?
How Do I Fight a Summary Judgment?
If you're facing a summary judgment, it's highly recommended that you hire a lawyer to help. With their expertise, they can identify any undisputed facts and gather any evidence needed to support your case. The right lawyer will be able to find the best remedy for your situation, and greatly increase your chances of success in the courtroom. Do you want to know advantage of insurance arbitration?
Should I File a Motion for Summary Judgment?
Winning a summary judgment is no easy feat, but it can be highly beneficial if successfully obtained. Though lawyers often use this type of motion as an intimidation tactic, the party requesting a summary judgment will have the case thrown out in their favor if they are successful. The key to obtaining a favorable outcome is finding competent legal representation who understands how to pursue and win this kind of action. If you think that your case could benefit from a summary judgment, contact our association today to learn more about your options. Do you want to know who pays for mediation?
...