Arbitration Agreement
We're the #1 Arbitration Agreement Association in the US
The Arbitration Agreement Association is the top organization for ADR in the US. ADR refers to alternative dispute resolution. We provide services to all sorts of individuals and companies. Our mission is to help each customer resolve conflicts away from court. That's why we administer countless arbitration proceedings every week. We also administer mediation through a separate process. In fact, all someone has to do is ask us about their alternative dispute resolution options. Our experts can then create a custom series of solutions for resolving a legal dispute. We have regional offices in many cities all across the US. This way, we can assist customers with arbitration in any location in the country. In fact, our team can even provide international dispute resolution solutions. All you've got to do is call our organization and tell us your legal goals. We will then get right to work and create a custom game plan for arbitration success. Check out the request for mediation form.
The History of Our Arbitration Association
Our organization was founded years ago with one simple goal in mind. It was to provide first-rate dispute resolution solutions. This way, any individual or company could avoid civil court proceedings. That avoidance is crucial due to the many benefits of ADR and arbitration. Arbitration is almost always cheaper than court litigation. But that's not all. Arbitration is also faster than court litigation. Disputing parties can reach a binding resolution in weeks. Meanwhile, many court litigation proceedings can drag on for years. Plus, arbitration always functions as a private record. Everything presented in an arbitration hearing can stay off the public record. We've packaged these benefits into arbitration solutions for many years.
Our Role in Arbitration & Dispute Resolution
Countless arbitration contracts in the US now name our association within arbitration clauses. Why? Because we can administer arbitration between any two or more parties. Our organization does not itself arbitrate legal disagreements. Instead, we provide world-class administrative support to all kinds of arbitrations. This can take place before one single arbitrator. Or, arbitration can happen in front of a panel of arbitrators. Arbitrators get chosen based on the terms within the parties' arbitration agreements. Also, they can get selected based on our association's official rules. Through our rules, our organization can appoint an arbitrator. This can take place under certain circumstances. Here is an example. Say that two parties cannot agree on who the arbitrator is. Or, one party fails to exercise the right to appoint an arbitrator. That's when our association steps in to assist. We maintain the highest quality database of arbitrators in the US. Please call us now if you would like to receive access to the database.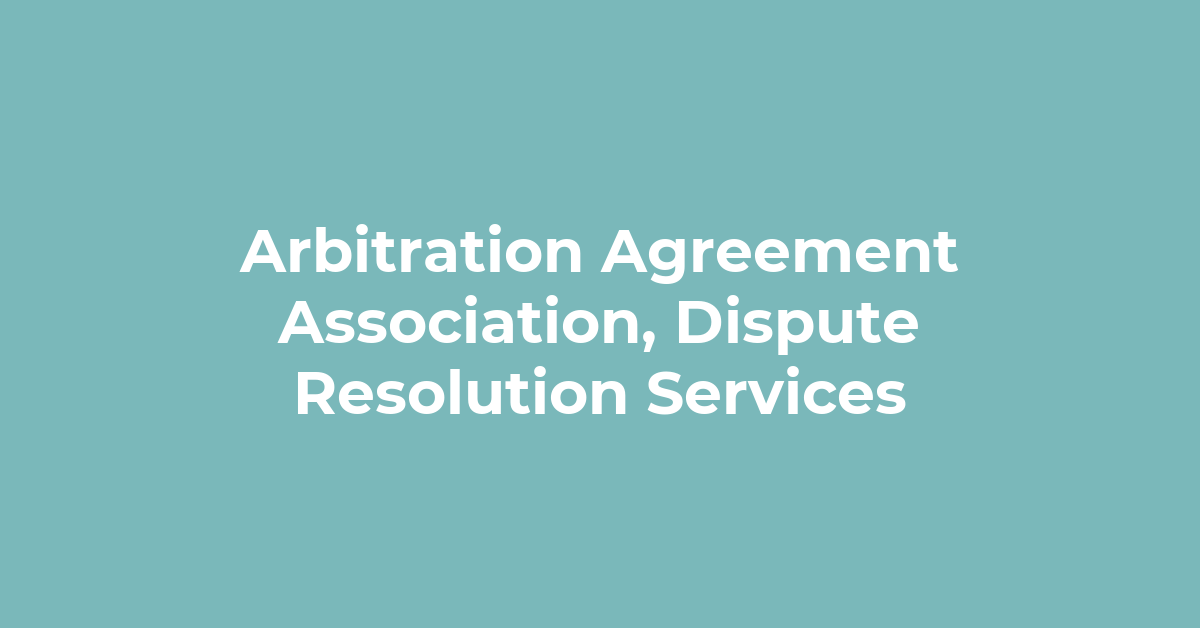 More About How Our Association Contributes to the Dispute Resolution Process
Know about the types of arbitration. Our arbitration professionals play a crucial role in the dispute resolution process. We can administer almost any type of case. From filing to closing- there's no limit to what our arbitration services provide. And we administer services all across the US. We even do so abroad through our international arbitration resources and services. So, what do our administrative services do? Almost anything that contributes to the arbitration process. From helping to appoint arbitrators and mediators to set hearings. We can even conduct cases under UNCITRAL rules. This refers to the United Nations Commission on International Trade Law Arbitration Rules. Our mission is to provide every user with key information and tools. That information can provide all sorts of dispute resolution options. These include the settlement process through mediation. We aim to move cases through arbitration in a fair and unbiased manner. Our experts won't rest until each dispute experiences legal completion. Our Standard Commercial Arbitration Fee for Claims Less Than $75,000.
Arbitration Services That Get Results
Sample Arbitration Clauses & Clause Drafting for Contracts & Agreements. No other association provides the quality of arbitration services that our experts provide. We design and develop winning alternative dispute resolution (ADR) strategies. and systems. All sorts of entities depend on these systems. From corporations to unions to government agencies. Not to mention, courts and law firms also turn to our organization. They know that our arbitration experts will go the extra mile to get results. There's no limit to the arbitration services that our experts can provide. We even focus on education and training for people and companies. This way, the public can gain a complete understanding of alternative dispute resolution. So, why do we promote the use of arbitration and mediation around the world? Because we know the benefits that ADR provides. The ADR process saves time and money while adhering to impartial fairness. There is no organization on this planet that couldn't benefit by way of arbitration. After one phone call to our professionals, you'll understand why.
What Does the Arbitration Agreement Association Do?
Our association focuses on services in all fields of ADR: alternative dispute resolution. We provide tools and resources to organizations and individuals alike. This way, we can help people resolve their conflicts outside of the court system. We also can administer arbitration proceedings at any location in the US. Our team thrives conducting all sorts of international arbitration processes. Visit Mandatory Arbitration Provision
How Much Does Arbitration Cost?
Our fees vary based on the specific arbitration needs of each customer. Keep in mind that we do more than keep our own fees low. We also help customers find low-cost arbitration solutions. But we make sure that quality never gets sacrificed when someone saves money. Do you want to find out how much specific arbitration services cost? If so, please call our association at any time. All you've got to do is tell us what your legal goals are. Within minutes, our experts can give you information about certain services and pricing.
What Is the Difference Between a Mediator and an Arbitrator?
Through arbitration, an arbitrator (or panel of arbitrators) presides over a dispute. An arbitrator examines the legal wrongs and rights of disputing parties. Then, the arbitrator makes a decision. That decision has legal binding status. This means that parties must accept the outcome even if they disagree with it. The role of a mediator is to encourage parties to agree to a solution. But a mediator cannot decide the outcome of a dispute. In fact, a mediation solution never becomes binding unless both parties accept it. Click Pre Dispute Arbitration Clause
Can I Sue After Arbitration?
No, a party cannot sue the opposite party in court after arbitration concludes. The only exception is when parties enter into a non-binding arbitration agreement. But most arbitration agreements feature binding status for arbitral awards. This also applies to contracts featuring clauses or provisions about arbitration. Every US court will uphold an arbitration decision and award on an immediate basis.
More About the Arbitration Agreement Association
Our organization features ADR-related offices all across the US. We have a rich history of working in the field of alternative dispute resolution. Our team prides itself on delivering first-rate arbitration services. We provide them to all interested organizations and individuals. Anyone wishing to resolve out-of-court disputes and conflicts can contact us. When doing so, our experts will go the extra mile to provide legal ADR solutions. This way, any party can avoid the extensive time and costs of court litigations. Learn about Interest Arbitration We play an active role in administering cases throughout the dispute resolution process. In fact, we administer thousands of arbitration cases each month. There's no action that's too complicated for our experts to execute. We handle all aspects of arbitration- from filing to closing. No other association has the administrative resources that we do. Our team even provides international dispute services. These services can apply to well over 130 countries. We can do more than the only asset in the appointment of arbitrators or mediators. Our team can set hearings and provide users with crucial ADR information. No organization can provide more dispute resolution options than we can. This includes all aspects of settlement and mediation. We aim to move both simple and complicated cases to arbitration. And we do so in the most impartial and fair manner in the United States. Also visit Arbitral Tribunal
Contact Our Association for Arbitration Information, Tools, Resources, and Services
How our labor arbitration services can solve labor disputes. You're welcome to pick up the phone and call our association at any time. You can reach us at (844) 554-0444. All you've got to do is tell us what your goals with arbitration or ADR are. Or, you can ask us as many questions as you like. Then, our arbitration professionals will create a custom plan to help you succeed. You can also message us here on this website or send us an email. We won't rest until we give you first-rate arbitration services that get results. While providing our services, we'll focus on saving you time and money. We know how stressful it can feel to deal with a legal dispute. But do not despair. Our experts are here to give you the arbitration support that you need. We have access to the best tools and resources in the entire US. And we're ready to share them with you or your business right now. Visit Arbitration vs Mediation vs Litigation Also, feel free to learn more about our arbitrations services on our website. We have many pages that explore a wide variety of arbitration-related subjects. If you see a service that interests you, do not hesitate to call our offices. Other arbitration associations go through the motions. But not our experts. We're passionate about the countless benefits that arbitration provides. And we're ready to give you access to those benefits at any moment. We look forward to helping you and/or your company succeeds through arbitration today.