Consent Judgment vs Settlement Agreement
Nitin Paul Harmon
April 27, 2023, 11:51 a.m.
...
Consent Judgment vs Settlement Agreement
Here are the basics of a consent judgment vs settlement agreement:
Consent judgment: A court-issued order that requires a defendant to comply with certain conditions and requirements. Learn more about arbitration agreements meaning information.
Settlement agreement: An out-of-court agreement between two parties in which one party agrees to repay the other for an agreed upon sum of money or other compensation. Also visit the link.
Consent judgments have the force of law and can be enforced through contempt proceedings if they are violated, while settlement agreements are only enforceable to the extent they are written into contracts.
Both documents may include terms such as payment amounts owed, deadlines for making payments, additional penalties for noncompliance, etc. Know when do People & consumers encounter binding arbitration agreements?
What Does "Consent Judgment" Mean?
A consent judgment, also known as a consent order or decree, is an agreement between parties that has been approved by a court. This arrangement serves as the final resolution to any dispute and is legally binding on both sides. It is essential to take this order seriously and fulfill all obligations outlined to avoid any consequences. Learn about arbitration agreement purpose.
When a consent judgment is entered in court, it becomes a legally binding agreement between the two parties involved. Both parties are responsible for adhering to the terms of the judgment, and it can be enforced by either party. Know how the federal arbitration act applies to both federal and state courts. If one party fails to comply with the terms, legal action may be taken to require compliance. This could involve filing a petition with the court for an order that mandates the party to abide by the judgment. Such an order is enforceable and legally binding on all parties involved, ultimately ensuring that any agreed-upon outcomes are respected and upheld. Want to know the arbitration clause & provision?
What Does "Settlement Agreement" Mean?
A settlement agreement is an agreement that parties come to outside of the legal system. This type of agreement is a legally binding contract between those involved, though it has not been provided with a court order. Settlement agreements are typically made in writing for better clarity and understanding, though verbal arrangements can also be put in place. Do you want to know how non-binding arbitration works?
Both parties must sign the settlement agreement document, agreeing to its terms. If either party fails to fulfill their part of the agreement, the other may seek legal action in court. For instance, if a creditor and debtor come to an agreement but the debtor doesn't abide by it, then the creditor can initiate litigation proceedings. Know how arbitration vs litigation is a common dispute resolution talking point.
Can Someone Appeal the Consent Judgment?
Both parties must abide by the consent judgment and are bound to its terms. The judge's approval of the agreement means it is binding and cannot be changed afterwards. Should one party have committed fraud or both parties made errors in their arrangement, then only then can a consent judgment be appealed. Otherwise, the settlement must be adhered to as ordered. Know what is mandatory arbitration?
Consent Judgment vs Settlement Agreement
If you're weighing the pros and cons of a settlement agreement versus a consent judgment, it's wise to make the agreement legally binding by presenting it to a judge. A consent judgment is a court-approved settlement that binds both parties and prevents any future disagreements or disputes about the terms. As a result, it's more enforceable than a regular settlement agreement. Do you want to know what is forced arbitration?
Ultimately, the best option depends on your specific situation. But getting legal approval through a consent judgment is often worth considering. Learn more about arbitration definition economics.
How Do Collection Cases and Consent Judgments Work?
Collection cases can be complex and require legal assistance from a qualified collection attorney. Litigation or settlement discussions may be necessary to resolve the case. If parties agree to settle, it is essential that the agreement is legally binding and enforceable. Consent decrees are court orders which provide legal recourse if someone fails to comply with the judgment. In such cases, fewer steps need to be taken to ensure compliance with the court-approved order. Do you want to know why is a mandatory arbitration provision important?
It's possible that settling with your debtor might be a better and more cost-effective option than getting a court judgment. Know what is final offer arbitration (FOA)? Negotiating an agreement could simplify the whole process, helping you to avoid the need for going through the courts. It's important to weigh up all the factors of your particular situation before making any decisions. This includes looking at whether or not they have the capacity to pay, their credit history and employment history, etc. Everyone's case is different and it pays to take this into consideration. Do you want to learn more about arbitration vs mediation vs litigation?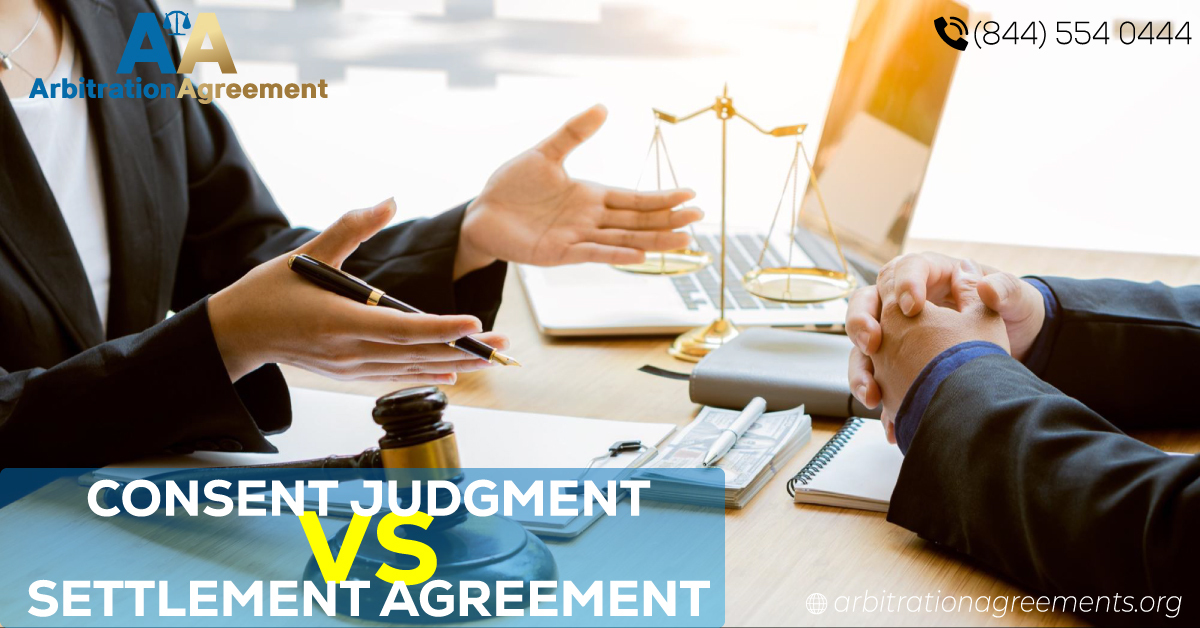 Common Type of Settlement #1: Payment and Dismissal
If the parties have come to an agreement and the defendant is in a position to make payment, there's a straightforward process for settling the matter. The plaintiff will sign off on the settlement agreement and release form once they receive the lump sum payment from the defendant. This officially closes out the case with no judgment included against them. Know is the arbitral award in a contract?
Common Type of Settlement #2: Confession of Judgment
The parties can enter into a settlement agreement that provides for the payment of an outstanding debt. The defendant will sign a confession of judgment, which serves as security to ensure that all payments are made according to the agreed-upon schedule. Upon signing the settlement agreement and confession of judgment, the plaintiff may file a voluntary dismissal in court and end any further proceedings against the defendant. This allows both parties to move forward with confidence knowing that their obligations have been met. Do you want to know the advantages of arbitration over litigation?
If the defendant fails to make payments according to the agreement, the plaintiff can take a straightforward approach: filing a confession of judgment. This allows them to skip any further legal proceedings, such as trials or new complaints. All that needs to be done is for the plaintiff to file the confession of judgment with the clerk's office, which will then be recorded on the books and act as a judgment against the defendant. Learn more about mandatory arbitration clauses.
If, however, the defendant makes their payments in full and on time, then this formality never needs to take place. Instead, it can simply be returned to them without ever being filed by the plaintiff. Know what is the meaning of arbitration in law?
Common Type of Settlement #3: Consent Judgment
In cases where the defendant is unable to pay the agreed settlement amount, a consent judgment may be the optimal solution. This is an agreement between both parties that is sanctioned by the court, providing an efficient means of resolving a case without extended legal proceedings or trials. Do you want to know who pays for the cost of arbitration?
The consent judgment is filed and immediately recorded as a judgment against the defendant. This option is ideal for cases when the debt is admitted but there's no guarantee that payment can be made in the near future. To avoid further litigation costs, the two parties may negotiate and agree on a payment plan whereby the plaintiff won't enforce action if timely payments are made by the defendant. Do you want to know what is the difference between arbitration and mediation?
Common Type of Settlement #4: Creative Solutions and Dismissal
In some cases, money does not have to be exchanged for a settlement to take place. Creative solutions can be used and are often required. For example, the defendant seller may agree to buy back the property from the plaintiff buyer. Know how mediation defined? A contractor might consent to repairing a homeowner's deteriorating retaining wall. Both parties may commit to reconciling their strained business relationship and creating a new agreement in order to settle the dispute. Do you have questions about our labor arbitration services?
After the defendant has fulfilled their end of the bargain, the case will typically be closed. With these types of settlements, both parties come away with an outcome that is satisfactory and meets their needs. These situations demonstrate how effective alternate resolutions can be when tackling complex disputes. Know employment arbitration rules & procedures.
If parties are unable to reach an agreement, the remaining option is trial. Many cases must be tried, and they need to be adequately prepared as if they will go to court. Despite this, a lot of cases still settle without making it all the way through trial. Do you want to know how long does arbitration take?
Taking a case to trial comes with a hefty price tag, and there's no guarantee of success. Not only do you have to trust that your lawyer will make the best case possible for you, but you also must leave it up to a jury - made up of complete strangers - to decide your fate. These people could come from any background with any life experience, so it is impossible for you or your attorney to anticipate how they may view your claims or be influenced by those of the opposition. Read about labor arbitration process.
Why Are Settlement Negotiations Important?
Negotiating a settlement empowers parties to take control of their futures. However, it's commonly believed that even if a settlement is reached, neither party will be entirely satisfied. Is the prospect of having two birds in the bush better than the one in hand? During a settlement, creative solutions can be employed to benefit both sides and ensure that everyone does what's in their best interest, even if it's not ideal. Learn about arbitration agreement purpose.
What Does "Pending Divorce" Mean?
Once a couple has decided to end their marriage, the process of divorce begins. The journey starts when the initial paperwork is filed with the court and continues until a final divorce decree is issued. In between these two stages is what's referred to as a pending divorce, where parties await resolution from the court. Do you want to know how arbitration defined? During this period, various issues such as asset division and alimony may be addressed in order for both parties to reach an agreement on how they will move forward. Must know about advantages of arbitration clause.
What Is the Process for Initiating a Divorce?
The official start to a divorce action is when one spouse files documents that initiate the proceedings. These documents, known as the summons and petition or complaint for divorce, are served on the other spouse in accordance with court rules. Do you want to get arbitrator or mediator? Once this has been done, the litigation process is underway. Even if spouses have been arguing for months or even years, their divorce cannot be considered pending until these important steps are taken. Do you want to know how ADR methods work?
What Is the Process for Terminating a Divorce?
Once the court issues its final judgment or order of divorce and the time for any post-judgment motions or appeals has expired, your divorce is no longer considered to be pending. The amount of time this takes depends on both the jurisdiction in which it's being done, as well as any individual circumstances that may arise. For example, California requires at least a six-month period between filing and final judgement, further extending the amount of time a divorce may remain pending. Do you want to know what happens after the arbitration decision?
What Are Divorce Judgments?
At the close of a divorce, a court document signed by the judge declaring your marriage dissolved will be mailed to each spouse. This document also outlines how property, support and child custody matters were resolved. Having this paperwork in hand marks an important milestone in the journey towards a new life. Do you want to know advantage of insurance arbitration?
Summary: What Is the Difference Between Settlement Agreements and Consent Judgments?
Settlement agreements and consent judgments are both legal documents used to resolve disputes. Do you want to know who pays for mediation?
Each settlement agreement is a contract between the parties in which they agree to settle the dispute without going to court.
A consent judgment is an order issued by the court that formally resolves a dispute, usually based on a settlement agreement reached by the parties. Must visit the link.
The main difference between these two types of documents is that a settlement agreement does not require judicial approval, while a consent judgment does.
Additionally, if either party breaches the terms of a settlement agreement, there may be consequences but it will generally not result in any additional legal action.
...