Mediation Separation
Nitin Paul Harmon
April 1, 2023, 8:27 a.m.
...
Mediation Separation
Here is what mediation separation is:
Mediation separation is a form of alternative dispute resolution (ADR) that allows couples to settle their divorce and family law matters informal, out-of-court setting.
It is a less adversarial courtroom, allowing couples to come up with mutually agreeable outcomes without potentially damaging litigation. What is mediation?
A mediator facilitates discussions between the parties involved, seeking to help them reach an understanding that works for all parties. File a request for mediation
The mediator does not make decisions or offer advice but instead helps couples understand each other's perspectives, identify interests and needs, brainstorm solutions, create agreements, and craft compromises.
Why is Mediation an Ideal Solution for a Separation or Divorce?
Mediation should be viewed as a viable option in the separation and divorce process, especially when compared to attorney-led negotiations or litigation. Who Pays for Mediation? It is an effective alternate dispute resolution method that can bring about creative solutions without the need for costly and time-consuming court battles litigation, couples can make decisions about their divided family in an environment of understanding and collaboration instead of one of hostility and accusation. Want to know about divorce arbitration mediation?
Gone are the days when divorce or separation meant a long and expensive court battle. Mediation is now commonly accepted in the legal community as an effective way for couples to reach a mutually acceptable agreement. Unfortunately, many separated individuals aren't aware of this alternative option and continue to rely on costly litigation. By understanding the benefits of mediation, divorcing couples can settle their disputes quickly, easily, and cost-effectively while preserving relationships with family members. Must know about the advantages of the arbitration clause.
In the majority of divorce cases, a trial will not take place. Instead, a settlement is typically reached after countless court filings. These are often fueled by negative emotions and funded by legal fees. With both parties committing to paying for the litigation and settlement costs, often their retainer funds run out before an agreement can be made. Learn more about arbitration agreements meaning information. At this stage, lawyers are ready to advise their clients to settle, with no guarantee of payment. So, instead of pursuing litigation, it makes sense for most couples to resolve separation issues through mediation. Want to know the arbitration clause & provision?
Can Mediators Wrote Separation Agreements?
Yes. Your mediator can draft and file a separation agreement. Please contact our organization to receive access to a distinguished roster of mediators with a wealth of experience concerning separation agreements. Know what is mandatory arbitration?
Why Use a Separation Agreement?
If you're looking for an easier and cost-effective way to finalize your divorce, a mediator may be the right solution for you. By working with a professional mediator, you can save time and money by avoiding court proceedings while creating a separation agreement that meets both parties interests. Read more about Arbitration Agreement Association.
This agreement can include details regarding asset divisions, child support, debt sharing, and much more. Know how arbitration vs litigation. Once you have written up your contract with the help of your mediator, it's important to bring it to a lawyer to make sure everything is legally binding and accurate. Point blank: mediation is an effective way to come up with solutions while saving money in the long run. Do you want to know how non-binding arbitration works?
Mediation offers a more controlled way to handle your separation. With mediation, you have the power to about how things will be handled - as opposed to leaving it in the hands of a court. This entire process also has the potential to create an amicable relationship between you and your spouse, since it encourages open communication and helps manage any disagreements that could arise. Read about the labor arbitration process. You'll be able to work together cooperatively and come up with solutions that both parties are happy with. Do you want to know what is forced arbitration?
When you're ready to start the process of separation, a mediator can be there to help reduce tension and promote a more amicable relationship. This mediation agreement will not only lessen stress for your children but also set a good example for them on how to handle issues responsibly. Are you part of a company or organization in need of interest arbitration services?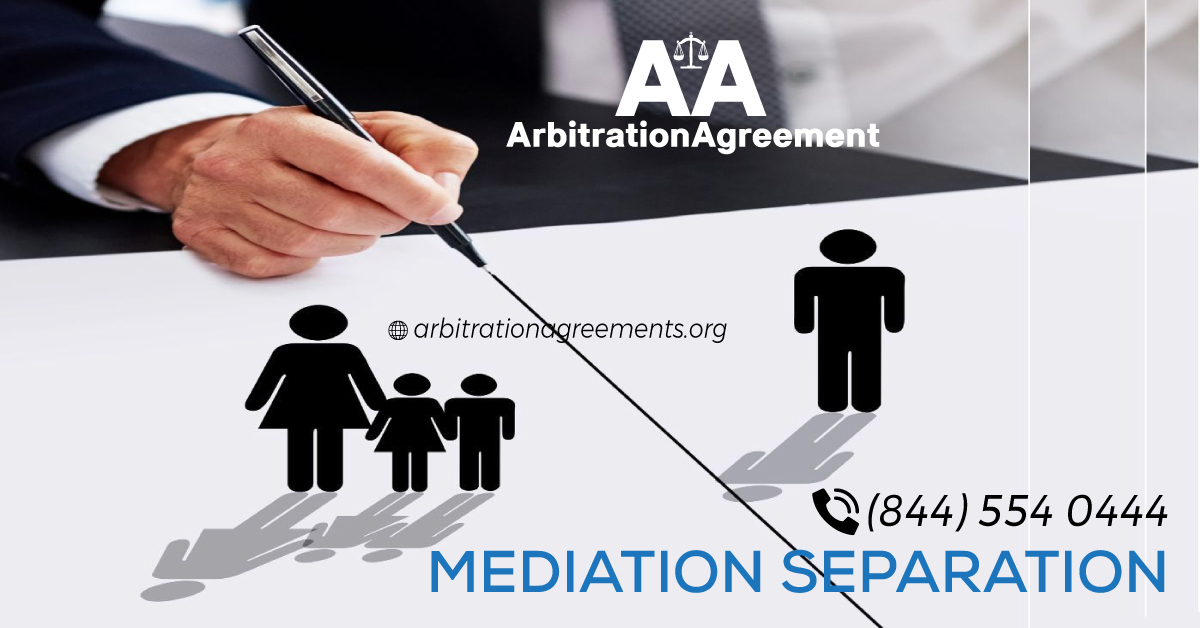 How Is the Mediation Experience Unique?
A mediator is an invaluable resource during divorce negotiations, helping both parties navigate the emotional aspects of the process. Through mediation, you and your spouse have control over the outcome in areas such as child custody, separation agreement, financial settlement, and post-divorce life. Also, mediation sessions can be arranged to suit your lifestyle. Learn more about arbitration definition economics. (Whether that's during regular business hours, evenings, or weekends.) This allows you to create a plan that meets all parties' needs while minimizing disruption to your lifestyle. Do you want to know why is a mandatory arbitration provision important?
When it comes to mediation, you control the associated costs. You can schedule sessions according to your financial capabilities, helping you manage money during a difficult time in your life. Furthermore, you don't sacrifice any of your legal rights by choosing this route. Must know about hearing process parts. If you need to consult with a lawyer, an hour or two of their time is much more cost-effective than providing a retainer and paying for additional expenses when the funds are exhausted. Do you want to know the advantages of arbitration over litigation?
What Is the Difference Between Legal Separation & Divorce?
Legal separation and divorce are two distinct processes. Legal separation is a court-approved arrangement that allows couples to live apart while still being legally married. It is commonly used by couples who wish to remain legally married but have religious or financial reasons for not wanting a divorce. Couples who are legally separated may have their assets, debts, and obligations divided between them in the same way as if they were getting divorced. Know what is the meaning of arbitration in law?
In contrast, divorce is the legal dissolution of a marriage by a court of law. With a divorce, all of the rights and obligations associated with being married are terminated permanently and can never be reinstated unless you remarry each other. After a divorce has been granted, both individuals involved can marry someone else. Know what is the meaning of arbitration in law?
Conclusion
Looking for a way to amicably settle your divorce arrangements? A neutral professional such as a mediator, divorce financial specialist, or parenting specialist could help guide you through the process. Do you want to know who pays for the cost of arbitration?
Scheduling a mediation session concerning separation is the perfect opportunity to learn more about how to find an agreeable separation agreement and make sure all important considerations are taken into account. Do you want to know what is the difference between arbitration and mediation? Don't let stress, unhappiness, or feeling overwhelmed get in the way of making sound decisions. Reach out to our association today and let us support you on your path toward a happy and fulfilled life. Do you have questions about our labor arbitration services?
Summary: What Does Separation Through Mediation Involve?
Separation through mediation involves a facilitator (an independent third party) guiding the parties toward an agreed-upon settlement that meets everyone's needs and interests. Also, visit the website link.
This process has been designed to help couples resolve their differences without having to go to court.
It focuses on building understanding and providing people with the opportunity to make decisions in a safe and neutral environment.
The mediator helps both parties communicate effectively, understand each other's perspectives, identify considerations for agreement, evaluate options for the resolution of issues, and develop creative solutions that meet both parties. Must visit the website link.
Mediation is typically much less expensive than going through litigation or hiring individual attorneys as it eliminates most of the costs.
...