Conciliation vs Mediation
Nitin Paul Harmon
April 17, 2023, 11:11 a.m.
...
Conciliation vs Mediation
Here are the basics of conciliation vs mediation:
The Basic Differences of Conciliation & Mediation
Both conciliation and mediation are key forms of Alternative Dispute Resolution. ADR is a non-adversarial approach to resolving legal disputes which offers several advantages over the traditional litigation process. Want to know arbitration clause & provision? Compared to the time and cost associated with court proceedings, ADR is typically faster and more affordable. It covers methods such as arbitration, conciliation, mediation and negotiation for settling disagreements outside of the courtroom. Learn more about arbitration agreement meaning information.
By choosing an ADR option, parties can often save time and money while avoiding costly litigation fees. Additionally, it provides an opportunity for parties to develop creative solutions that are not available in a court setting. For these reasons, ADR has become an increasingly popular way of resolving legal disputes in recent years. Read more about Arbitration Agreement Association.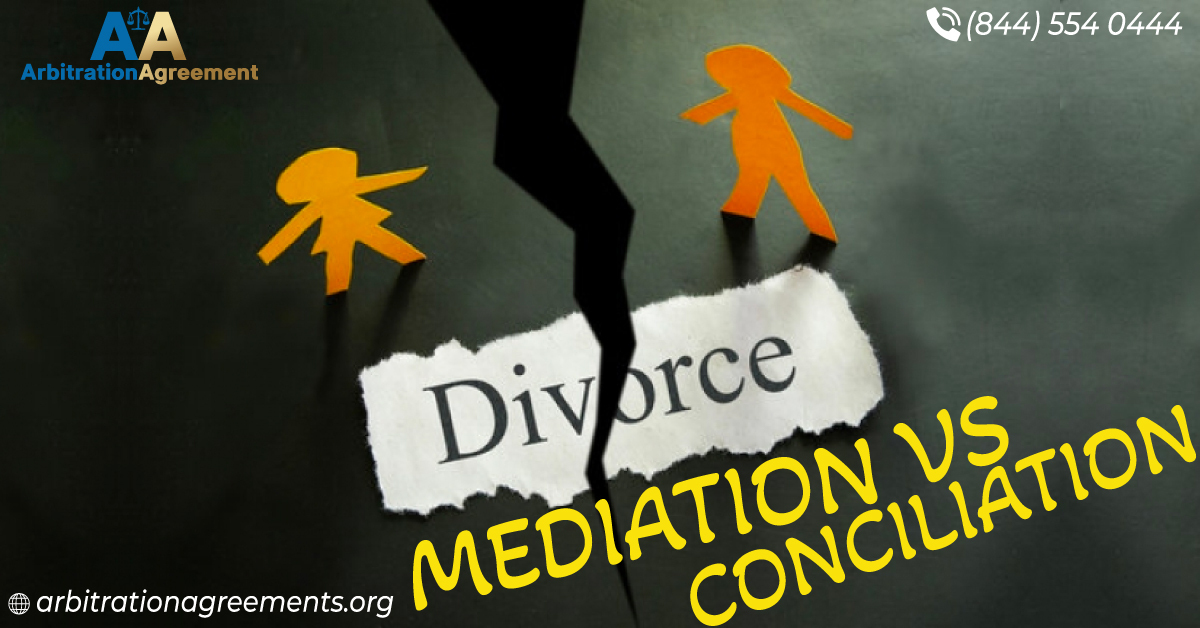 What Is the Definition of Mediation?
Mediation is an effective form of dispute resolution that involves the selection of an independent, unbiased third party to help both parties reach a mutually accepted agreement. The mediator utilizes negotiation techniques to guide them towards the most suitable solution for their dilemma. This process is both organized and interactive, with each party having ample opportunity to have their voices heard. Ultimately, mediation strives to create a lasting and satisfactory outcome for all involved.
As a facilitator, the mediator facilitates discussion and helps to develop an amicable agreement between the parties. Do you want to know how non-binding arbitration works? The outcome of the mediation process is not legally binding like an arbitral award, but can be used as a basis for negotiations or settlements. Mediation offers an effective opportunity for resolution without resorting to traditional litigation in court. It provides an atmosphere conducive to creative outcomes and encourages parties to reach consensus through productive dialogue and compromise. Know how the federal arbitration act applies to both federal and state courts.
What Is the Definition of Conciliation?
The process of conciliation is based on the voluntary agreement of all involved parties. This means that they have chosen to come together and settle their conflict through dialogue and mutual understanding. Know what is mandatory arbitration? Confidentiality is a key component of the process, where nothing discussed during proceedings can be revealed to anyone else. By choosing conciliation as a method of dispute resolution, both sides are looking to arrive at an agreement without taking legal action. Know how arbitration vs litigation is a common dispute resolution talking point.
Conciliators use their unbiased approach to help identify underlying issues and work towards finding solutions that are beneficial for everyone involved. With the right guidance, conciliation can open up opportunities for resolving disputes in a mutually agreeable manner. Do you want to know what is forced arbitration?
Can You Tell Me More About the Differences Between Mediation & Conciliation?
Disputes can be resolved using mediation or conciliation. In mediation, an impartial third party intervenes to facilitate communication between the parties in order to reach a resolution. Whereas, in conciliation, a neutral third party provides potential solutions for the parties to consider and ultimately come to an agreement on. With regards to legal regulation of these processes, mediation is governed by Code of Civil Procedure Act, 1908 while arbitration and conciliation are regulated under the Arbitration and Conciliation Act, 1996.
Mediation and conciliation are both predicated on confidentiality. In mediation, the trust between the parties is paramount when it comes to maintaining confidentiality. In contrast, with conciliation, the law determines the extent of secrecy that can be expected. Mediators take on the role of facilitator in order to help the parties interact with each other more effectively. In comparison, a conciliator takes their role even further by not only helping facilitate communication but also giving expert advice to help find solutions to disputes. Know when do People & consumers encounter binding arbitration agreements?
Summary: The Difference Between Conciliation & Mediation
Mediation is a voluntary process in which an impartial third party, the mediator, helps facilitate communication between two parties to reach a mutually satisfactory resolution. Learn more about arbitration definition economics.
Conciliation is similar to mediation but involves the use of an independent expert who takes on more of a role as an advisor or consultant.
Through mediation, the mediator facilitates communication and encourages both sides to come up with their own solutions. The mediator has no decision-making power and does not provide advice or take sides. Must visit the link to know more.
In conciliation, however, the conciliator provides guidance and may suggest ways for reaching agreement that are acceptable to both sides. They have authority to look at evidence and decide what should happen if there is disagreement.
...