How Long After Deposition Is Mediation?
Nitin Paul Harmon
April 1, 2023, 6:27 a.m.
...
How Long After Deposition Is Mediation?
"How long after deposition is mediation?" is an important question. Here is the answer:
Mediation typically occurs shortly after the deposition, depending on the complexity of the case.
The timeline for mediation can vary depending on court schedules and other factors.
In some cases, parties may agree to enter into an informal settlement process before any formal mediation session. This can happen in situations where both sides are willing to negotiate in good faith.
It is important to note that by law, everything discussed during mediation must remain confidential and cannot be used as evidence in any court proceeding. This helps encourage open communication between the parties involved so that they can work towards an amicable resolution. Do you want to know

what is the difference between arbitration and mediation

?
What Is a Deposition?
If a witness is unwilling to provide testimony during a civil lawsuit outside of court, the attorneys may serve them with a subpoena. This document compels the individual in question to appear at a specific place and time for deposition proceedings. During these hearings, lawyers will ask questions that must be answered under oath, with the responses being transcribed by a court reporter. Witnesses who are essential to the case or linked to one of its parties are usually deposed. Want to know the arbitration clause & provision?
What Takes Place After Deposition?
After the personal injury attorneys (or other types of attorneys) take depositions, they will each receive a copy of the transcript. These transcripts are an important part of ensuring accuracy in establishing how the accident occurred or disputing false information. It gives each party a chance to review and look for any inaccuracies or errors, and if necessary, further witnesses may be deposed to get an accurate picture. Know what is mandatory arbitration?
The defendant may then request an independent medical examination of the plaintiff. This is often done and the physician chosen is typically selected by the defendant's insurance company. Know how arbitration vs litigation. This assessment aims to compare it with any medical records that have been provided by the plaintiff. Though framed as impartial, it should be noted that insurers will always attempt to reduce their liability and identify any discrepancies in the victim's statements. Learn more about arbitration agreements meaning information.
What Are the Potential Reasons for Depositions Taking Place?
Here are common reasons why a deposition might take place:
To witness oral testimony that can be offered as evidence in a court of law
To ensure discovery has been completed, and to obtain additional information related to the case
To assess an individual's credibility before they are questioned under oath in court
To resolve or clarify any issues or facts at dispute between the parties involved in the legal action. Do you want to know how

non-binding arbitration

works?
What Is the Mediation Stage?
If a settlement has not been achieved following the discovery period, the court may request that both parties try to agree to mediation. Mediation involves talking with a neutral and experienced third party who can help the two sides negotiate a resolution. These conversations may take place in an informal setting, or they might happen through a scheduled settlement conference. Either way, mediation is an important tool for resolving disputes without resorting to trial. Do you want to know what is forced arbitration?
How Does the Mediation Process Function?
A mediation conference is typically held at a neutral location that is convenient for all parties involved. This could be a private facility, the mediator's office, or some other mutually agreeable spot. After the initial proceedings are completed, future negotiations between the mediator and the parties may occur over the phone or video conferencing platforms. These sessions will usually require both parties, along with their lawyers and any additional persons they have agreed to include in advance, to be present. Learn more about arbitration definition economics.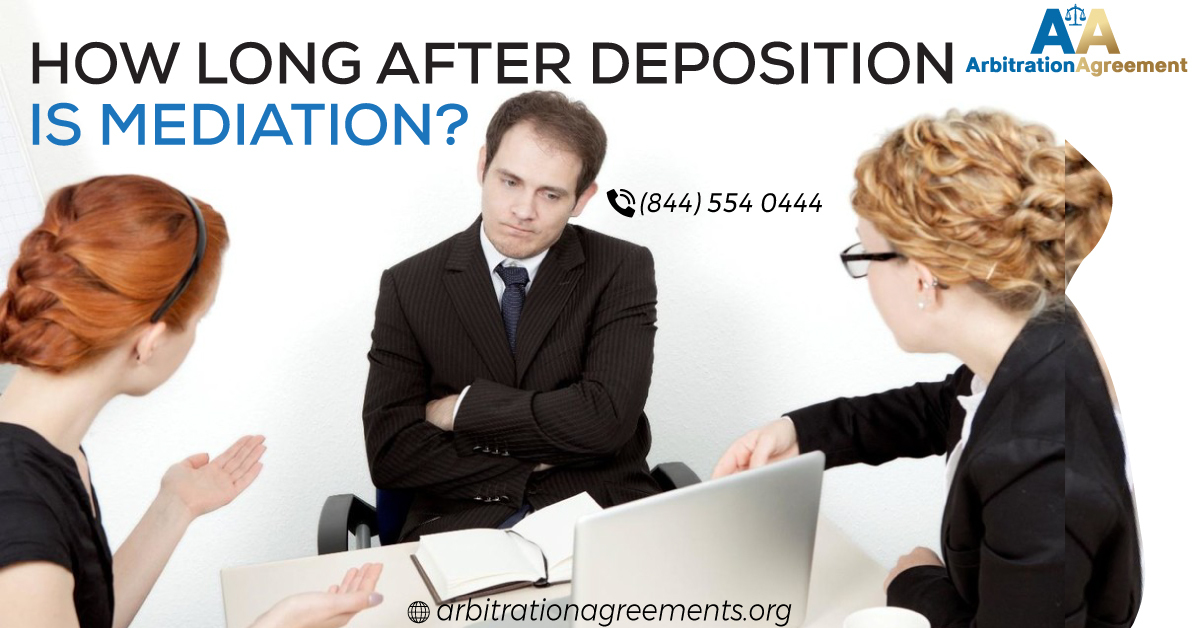 What Happens After Depositions Conclude in a Personal Injury Case?
As the plaintiff in a personal injury lawsuit, you will be asked to answer questions about the accident and your injuries in an out-of-court process known as a deposition. During this process, lawyers for both sides will ask questions to ascertain relevant facts about the case. These could be directed at either party. Learn more about arbitration vs mediation vs litigation.
Your lawyer may also depose and question the defendant during this time. It is important to remain honest and forthright when answering questions during a deposition, as any false or misleading statements will have legal consequences. It is also wise to listen carefully to each question before providing an answer so that you can ensure you are giving an accurate response. Are you part of a company or organization in need of interest arbitration services?
Once depositions are over, these steps typically take place next:
-Preparing the transcript: Court reporters are essential to the legal process, providing crucial documentation of what happened during a deposition. Using their specialized skills and technology such as an audio recorder or stenography device, they record every word that is spoken in the proceedings. Then, they transcribe the recording into a written transcript which can be read and reviewed by all parties involved in the case. Court reporters ensure that nothing is missed or forgotten so that justice can be served accurately and efficiently. Do you want to know why is a

mandatory arbitration provision

important?
-Review of the transcript: Attorneys should always request a copy of the deposition transcripts to review for any inconsistencies or errors that need to be corrected. If you notice something that was transcribed incorrectly, make sure to notify your lawyer immediately. Don't hesitate. Catching mistakes sooner than later could help ensure that the evidence presented in court is accurate and reliable. Do you want to know

the advantages of arbitration over litigation

?
-Evaluating the deposition: Your lawyer can review your deposition transcript to get a better understanding of how the case is unfolding. By examining your performance, they will be able to identify any strengths and weaknesses that may need more attention. Must know about

hearing process parts

. Honesty is essential during this process as it can help you prepare for the trial, as well as decide whether further deposing of other witnesses might become necessary to gain clarity on certain aspects of the case. If so, your lawyer will investigate these further. Know what is

final offer arbitration

(FOA)?
-Court Proceedings: Depositions can be a powerful tool to use in a personal injury lawsuit. They can serve as persuasive evidence, helping to establish the facts of your case and show that you are right in your allegations against the defendant. Your deposition can also be used to disprove or refute any statements made by the defendant during their testimony at trial. Know what is the

meaning of arbitration in law

?
What Are the Benefits of Mediation?
Reduces stress & anxiety levels

Enhances self-awareness

Strengthens communication skills

Improves problem-solving abilities. Must visit the website link.

Facilitates resolution of conflicts

Can help to improve relationships

Encourages more mindful living

Allows for easier identification and release of negative emotions

Helps to boost confidence and self-esteem

Gives individuals the tools to express their feelings in a healthy manner
Summary: How Long After Deposition Is Mediation?
Mediation usually takes place within 1 to 3 months of the depositions. Also, visit the website link.
During this time, both parties work with their attorneys to review the facts and evidence provided during the deposition. Do you want to know who pays for the

cost of arbitration

?
The attorneys then use this information to prepare for the mediation session.
This process can take several weeks or even months depending on how complex the case is.
It is important that both parties are prepared before attending the mediation so they can negotiate in good faith and come to an agreement that works best for everyone involved. Do you have questions about our

labor arbitration services

?
Mediation sessions typically last from one day up to a week depending on how quickly an agreement is reached.
...