Dispute Resolution Clause
Nitin Paul Harmon
April 18, 2023, 11 a.m.
...
Dispute Resolution Clause
Here is what a dispute resolution clause is:
A dispute resolution clause is a contractual provision that outlines the process for resolving disputes between two parties.
It sets out how the parties should proceed if a disagreement arises, and can be tailored to meet individual needs.
The clause usually involves an agreed method of communication such as mediation or arbitration, and may also provide for legal action if necessary.
The clause should be included in any contract that involves negotiations or potential disagreements between two parties.
It is important to ensure that all parties involved understand the terms of the dispute resolution clause before signing any agreements. This will help to avoid misunderstandings and unnecessary delays in resolving issues.
Dispute resolution clauses are beneficial because they encourage the timely resolution of disputes.
What Is the Definition of a Dispute Resolution Clause?
Dispute resolution clauses can help parties avoid costly and lengthy legal proceedings. These contractual terms provide a means to settle conflicts without having to resort to the courts, such as through mediation or arbitration. A valid dispute resolution clause must adhere to the applicable contract laws, including specifying a governing law and properly executing an arbitration agreement. Alternative dispute resolution is often faster and more cost-effective than traditional litigation when dealing with contract disputes. Want to know the arbitration clause & provision?
Without question, you can take the stress out of contract disputes with a dispute resolution clause. These clauses provide parties with the assurance that their disputes will be managed quickly and amicably, without having to resort to expensive court proceedings that become public record. A dispute resolution clause is an invaluable tool for keeping peace of mind in contractual relationships. Learn more about arbitration agreements meaning information.
What Is the Purpose of a Dispute Resolution Clause?
Dispute resolution clauses provide peace of mind that any potential contract breaches are addressed in a timely and cost-effective manner. These clauses help to strengthen business relationships by creating an environment where disputes can be resolved quickly, privately, and with minimal investment. With dispute resolution clauses in place, organizations can have confidence that disagreements will be handled in an appropriate way. Read more about Arbitration Agreement Association.
What Should Dispute Resolution Clauses Feature?
A dispute resolution clause must be carefully crafted in order to be enforceable. It should specify each step of the process, and all details should be agreed upon beforehand. In addition, there can be no ambiguity or any terms that require future agreement between the parties before they are able to proceed. Otherwise, the clause is not valid and cannot be enforced. Therefore, it is essential that the dispute resolution clause is written clearly and precisely in order to ensure its enforceability. Do you want to know how non-binding arbitration works?
In the event of a dispute, the party raising the issue should initiate communication in writing and specify the exact nature of their disagreement. Both parties should then agree upon a timeline for resolving the dispute before it goes to arbitration. This could include meeting face-to-face or employing some other strategy to reach an amicable solution within thirty calendar days. However, if necessary, legal proceedings may still be pursued beyond this point. Know how arbitration vs litigation is a common dispute resolution talking point.
If the initial dispute resolution process fails to yield a solution, the next step is mediation. The mediation clause should indicate who will mediate, or how both parties can select a mediator. It must also specify the timeframe in which they must do this - for example, fifty calendar days from when the dispute was first raised. Any instructions given to the mediator about how to conduct the process should be included. Know what is mandatory arbitration?
In the event legal proceedings become necessary, it is agreed that the applicable jurisdiction shall be determined and any reasonable costs associated with litigation shall be allocated between both parties. Generally, the winning party will recover expenditure from the opposing side. However, if both parties would prefer a different arrangement, this can be set out in a dispute resolution clause within the agreement. Do you want to know what is forced arbitration?
What Are the Benefits of Dispute Resolution Clauses?
A dispute resolution clause is beneficial for both contracting parties, as it gives them control over how disputes are resolved. This helps to save time and money by ensuring that the terms of dispute resolution are already set out in the contract, and not subject to further discussion. It also directs the focus back onto the business-related matters at hand, thus avoiding costly legal proceedings. As such, including a dispute resolution clause in contracts can be highly advantageous for both contracting parties. Learn more about arbitration definition economics.
Agreeing on dispute resolution clauses prior to any disagreements arising is the ideal way for parties to ensure that issues can be discussed and resolved in a respectful, rational manner. Establishing these terms in advance allows for more effective negotiation in an atmosphere of friendly collaboration as opposed to stressful tension brought on by disagreement. Resolving disputes early and collaboratively sets both parties up for success and ensures a healthy, positive relationship going forward. Do you want to know why is a mandatory arbitration provision important?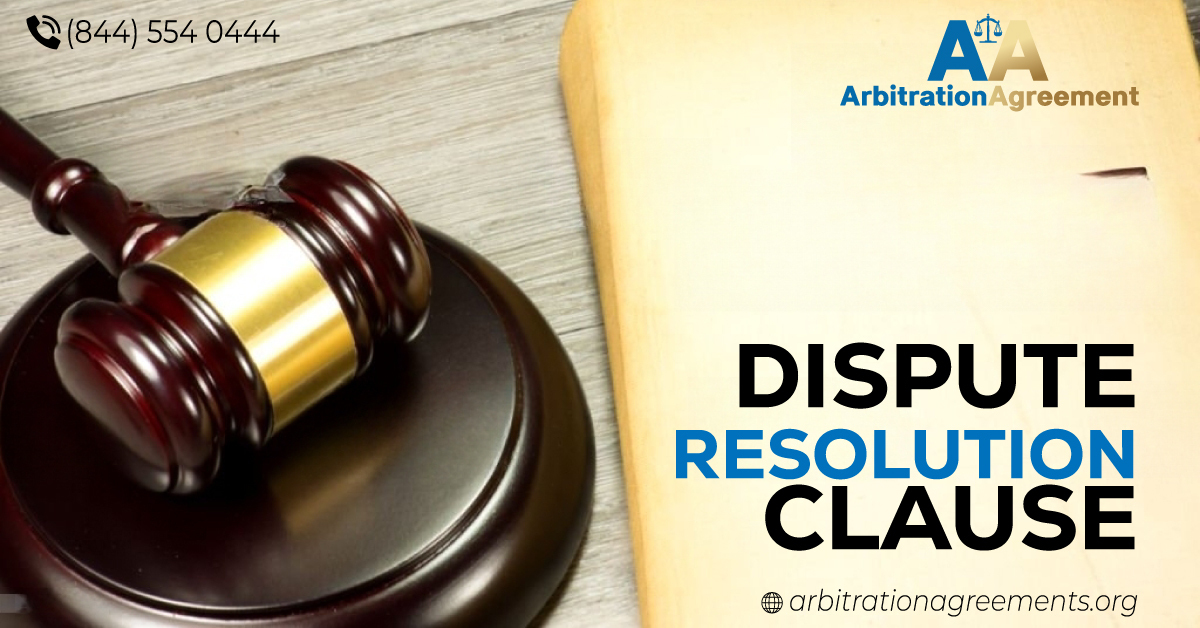 Is it Crucial To Get a Dispute Resolution Clause Right?
It is essential to craft a dispute resolution clause that is clear, succinct and operable. Courts and tribunals are likely to endorse the stipulated methods of dispute resolution, should it be agreed upon by the parties involved. Vague, unclear or overly complex wording of such clause can lead to ambiguity in its application and may cause delay as each party interprets it differently. This can result in time-consuming and expensive satellite disputes. Do you want to learn more about arbitration vs mediation vs litigation?
Point blank: using an ADR clause can make all the difference. Its in the best interest of every party to have an agreement that resolves a dispute. Contract dispute resolution is a complicated process. That is why in the modern world, company after company uses a dispute resolution agreement. Or, dispute resolution clauses that pinpoint exact measures to take. This way, all involved parties will know what to expect, should a legal disagreement of any sort come to fruition. Know what is final offer arbitration (FOA)?
Can You Provide a Sample of a Purchase & Sale Dispute Resolution Clause?
Sure, here is a sample of a purchase and sale dispute resolution clause:
Any disagreement, controversy, or claim related to the interpretation, performance, enforcement or violation of this Contract (and any document executed for its closure) shall be settled at the written demand of any party in this Contract through binding arbitration. This includes any claims derived from contractual duties, civil wrongs and/or laws. Do you want to know the advantages of arbitration over litigation?
The parties must submit any dispute to be resolved through arbitration to the Association of the state in which the Property is situated. They shall strive to appoint one arbitrator from ArbitrationAgreements.org's roster and administer it according to the Arbitration Rules of this association. Learn more about mandatory arbitration clauses.
If either party fails to make a demand for arbitration within 30 days of written notification, the ArbitrationAgreements.org will appoint an arbitrator. The decision of the arbitrator will be legally binding and can be enforced in any court of law. Costs for the arbitration proceedings shall be charged to the non-prevailing party and fees and costs associated with legal representation (including in-house counsel) are also payable by this party.
This Section 13.24 shall not hinder either Purchaser or Seller from applying to a court of competent jurisdiction in the state where the Property is situated for equitable relief on a long-term or temporary basis, such as an injunction, a temporary restraining order or any other similar form of equitable relief, in order to enforce or defend their rights under this Contract. All parties involved hereby agree to the venue and jurisdiction of said court. Must know about hearing process parts.
The court's authority to grant equitable relief related to this Contract is restricted only to the temporary, preliminary or permanent measures requested in the claim. All other matters shall be definitively determined through binding arbitration in line with Section 13.24.
Can You Provide a Sample of an Asset Purchase Agreement Dispute Resolution Clause?
Yes, here is a sample of an asset purchase agreement dispute resolution clause:
Should Buyer and Seller fail to reach a resolution on any Tax matters related to the Purchased Assets (including the Purchased Subsidiary) within sixty days, they must refer the disputed issue or issues to an expert partner of a "Big 4" accounting firm (or another internationally recognized accounting firm) for mediation. Know what is the meaning of arbitration in law? This professional will seek to resolve the conflict according to the position that is most likely to stand up in court if challenged by either party before a judge with jurisdiction over the matter (in the United States this would be a federal income court).
The accounting firm's task is to settle any disputes that arise between Seller and Buyer. Within 90 days of submission, they will provide a final and binding decision on the matter at hand. The costs of employing the accounting firm will be shared by both parties equally. Do you want to know who pays for the cost of arbitration?
The Tax Returns in dispute must be filed by the responsible Party as per this Agreement and amended or re-filed if needed, depending on the accounting firm's findings. Extensions of time to file should be requested to prevent any late submission of Tax Returns. Do you want to know what is the difference between arbitration and mediation?
Can You Provide a Sample of a Share Purchase Agreement Dispute Resolution Clause?
Of course, here is a sample of a share purchase agreement dispute resolution clause:
Any disagreement or discrepancy that arises from this Agreement or its breach shall be exclusively resolved through arbitration in the Hong Kong Special Administrative Region of China. The Parties agree to settle any disputes through arbitration in accordance with the mutually agreed terms. Do you have questions about our labor arbitration services?
The arbitration shall take place in English according to the Rules of Arbitration of the International Chamber of Commerce. Three arbitrators will preside, selected by Purchaser and/or Parent, Sellers, and the first two arbitrators respectively. If the third arbitrator is not chosen within one (1) month of the initial two, they must be appointed in accordance with the International Chamber of Commerce's rules.
A decision of the arbitrators shall be made on the basis of majority opinion. The award resulting from their deliberations is binding upon all Parties and can be enforced in any court with proper jurisdiction. Additionally, either Party has the right to request preliminary injunctive relief at any time during arbitration proceedings, as long as its implementation is subject to a final arbitral ruling. Know employment arbitration rules & procedures.
The cost of arbitration shall be divided equally between Purchaser and/or Parent, and Sellers, unless otherwise decided by the arbitrators. Furthermore, both parties are responsible for their own legal fees and respective expenses associated with the dispute resolution process. Do you want to know how long does arbitration take?
Is a Dispute Resolution Clause Always Enforceable?
Ensuring the enforceability of your dispute resolution clauses is an important step in protecting your interests. Read about labor arbitration process The degree to which they are upheld may depend on where you live, so it's always a good idea to review them with contract lawyers for legal compliance. Courts generally uphold these clauses and will do their best to ensure that both parties adhere to the terms laid out in the document. Taking this precautionary action can help you resolve any issues quickly and efficiently. Know how mediation defined?
What If a Dispute Resolution Clause Isn't in Place?
If there is an absence of a dispute resolution clause, the parties involved in the contract must observe and comply with either the governing law stated in the contract or applicable local contractual laws. Read about labor arbitration process.
Does a Dispute Resolution Clause Survive Termination?
When a contract is terminated, the dispute resolution clause remains intact. This means that even after the contractual obligations have come to an end, parties can still refer to their dispute resolution agreement when resolving any disagreements or misunderstandings that may arise.
Summary: What Are Dispute Resolution Clauses?
Dispute resolution clauses are contractual provisions that set out how conflicts between parties are to be resolved.
They provide a way for the parties involved to resolve their disputes without having to resort to litigation in a court of law. Must visit the link.
They can involve arbitration, mediation, or other forms of alternative dispute resolution (ADR).
Dispute resolution clauses serve as an important tool when negotiating contracts and can help avoid costly and time-consuming legal proceedings.
By agreeing up front on how potential disputes will be handled, the risk of future disagreements is reduced.
It's important to ensure that your dispute resolution clause is clear and well-defined so both parties understand how disputes will be handled should they arise. Also visit the link.
...