Define Mediation
Nitin Paul Harmon
Dec. 4, 2023, 11:05 a.m.
...
Define Mediation - Mediation involves the participation of two parties who come together with the help of a neutral and impartial mediator to negotiate and resolve their disputes.
Before we dive deep into the world of alternative dispute resolution and define mediation, let's lay a solid foundation. So, what is mediation? If you peruse a dictionary, you'll come across a definition akin to: "a process for settling conflicts in which an impartial third party aids the conflicting parties in reaching a mutually agreeable resolution." In simpler terms, mediation is like having a neutral friend step in to help two buddies sort out a disagreement.
Why is Mediation Superior to Court Litigation?
The age-old adage, "Would you rather go to court or make peace?" rings true here. If given a choice between a tedious court battle and a calm, resolution-focused discussion, most of us would probably choose the latter. Know what isArbitration Provision 101 And Arbitration Clause & Provision? That's essentially the difference between court litigation and mediation.
Advantages of Mediation
Flexibility: Unlike the strict procedures and formalities of the court, mediation offers a flexible process. It allows the involved parties to tailor the discussion according to their needs and preferences.
Confidentiality: One major bonus of mediation is the confidential nature of the process. Whatever is discussed in the mediation room stays there, away from public records and prying eyes.
Cost-effective: Mediation typically costs significantly less than a court case. No hefty legal fees or extended court schedules, just the mediator's fees and perhaps some minor associated costs.
Speed: Court litigation can stretch on for months if not years. Mediation, on the other hand, can often resolve issues in a matter of hours or days.
Preservation of Relationships: Litigation is adversarial – it's one party against the other, fighting tooth and nail. This can severely damage relationships, whether they're personal or professional. Mediation, being collaborative in nature, aims to preserve and sometimes even strengthen relationships.
Control Over Outcome: In a legal setting, the responsibility for reaching a verdict lies either with a judge or a jury. Conversely, mediation affords the conflicting parties the authority to influence the resolution, guaranteeing mutual contentment with the final outcome.
Downsides of Court Litigation
Time-consuming: Court cases can be notoriously lengthy, requiring multiple appearances, hearings, and waiting for judgment.
Expensive: Hiring lawyers, paying court fees, and the sheer length of litigation can rack up a sizeable bill.
Stressful: The adversarial nature of litigation can be immensely stressful for the parties involved, not to mention the unpredictability of the outcome.
Public: Court proceedings are usually a matter of public record. This means your dispute and its details can be accessible by anyone, which may not be ideal for personal or sensitive matters.
Relationship Strain: As mentioned earlier, litigation pits one party against the other, often resulting in strained or completely broken relationships.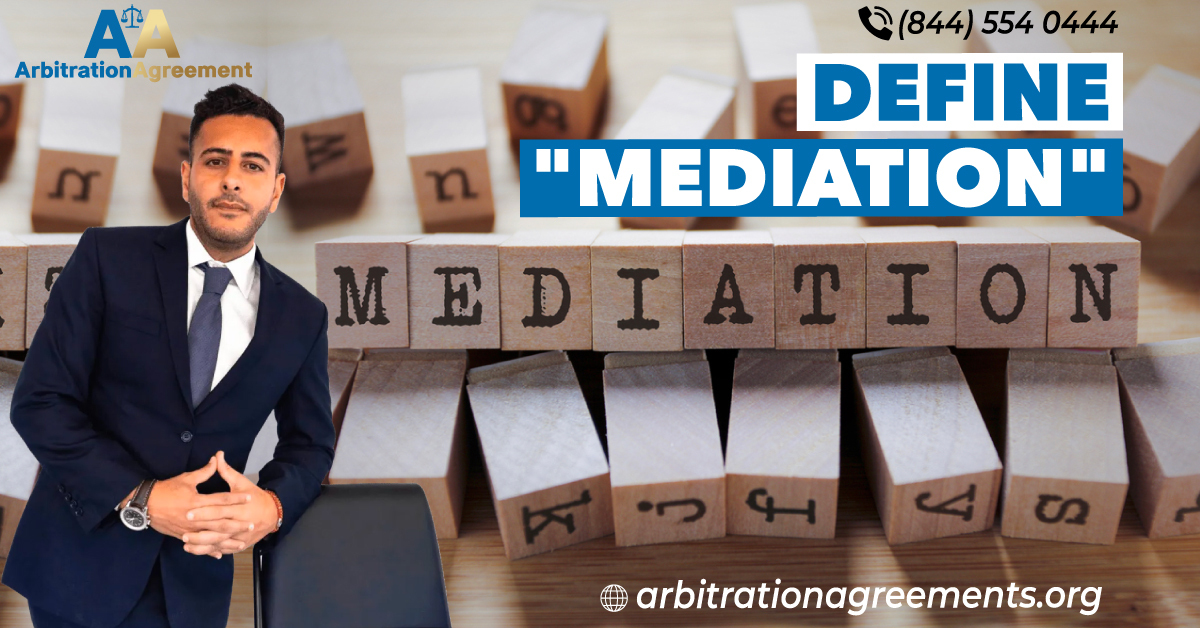 How Can Mediation Save Time and Money?
Now, you might be thinking, "All of this sounds great, but how exactly does mediation save me time and money?" Let's break it down.
Mediation, by its very nature, is streamlined. Read more about the Arbitration Agreement Meaning & What is Arbitration Law. Instead of waiting for court dates, dealing with layers of legal bureaucracy, and navigating a maze of formal procedures, mediation brings the involved parties straight to the table for a focused discussion. This direct approach considerably speeds up the resolution process.
Financially speaking, the quicker resolution time in mediation directly translates to fewer expenses. There's no need to pay lawyers for extended court appearances or deal with escalating court fees. Also, let's not forget the indirect costs saved – like time off work or potential lost business opportunities during prolonged litigation.
Exploring the Heart of Mediation
At its core, mediation is about communication, understanding, and finding a middle ground. It's an acknowledgment that while disagreements are natural, there are better ways to resolve them than by battling them out in a courtroom.
The Human Element in Mediation
One of the most significant aspects of mediation is the human touch. Mediators are trained not just to understand the legal or technical details of a dispute but also to appreciate the emotions and perspectives of the individuals involved. By acknowledging and addressing these emotions, mediation can often unearth underlying issues that might not be immediately evident. Know more about arbitration agreement associations and arbitration legal experts. This holistic approach ensures that solutions aren't just superficial but get to the root of the problem.
Strengthening Bridges, Not Walls
Where litigation often ends with a winner and a loser, mediation strives for win-win solutions. By focusing on collaboration rather than confrontation, it encourages parties to work together to find resolutions. Know about Arbitration Definition Economics. This collaborative approach often leads to more innovative and satisfying solutions than a strictly legal judgment might provide.
When Should You Consider Mediation?
Now, it's essential to understand that while mediation offers many benefits, it might not be the right fit for every dispute. But it's perfect for situations where:
The parties have an ongoing relationship they wish to preserve, be it business partners, neighbors, or family members.

Confidentiality is crucial.

The parties desire a quicker resolution without the delays associated with court litigation.

Flexibility in the process and outcomes is preferable to strict legal procedures.
Mediation's Evolution and Growing Popularity
Over the years, mediation has evolved from an alternative dispute resolution mechanism to a primary one for many people and institutions. Its success stories have spurred its adoption in various sectors – from family disputes to corporate disagreements.
Moreover, many legal systems around the world now actively encourage or even mandate mediation in certain cases before they're allowed to proceed to court. Know about The Federal Arbitration Act Meaning. This shift recognizes that a collaborative approach can be more beneficial for everyone involved.
How Does the Dictionary Define Mediation?
Often, when trying to understand a concept, we turn to dictionaries for a concise, clear definition. When it comes to mediation, most dictionaries offer a definition along these lines: "the act or process by which a neutral third party intervenes between parties in conflict to promote reconciliation, settlement, or compromise." While this definition provides a good starting point, as with many concepts, the true essence of mediation goes beyond just these words. What Are the 4 Types of ADR?
How Do Mediators Resolve Conflicts?
Mediators are like peacekeepers, stepping in to bridge the gap between two conflicting parties. But how exactly do they go about it?
Building Trust: Before diving into the main issues, mediators focus on establishing a rapport with the parties involved. Know

How To Use Arbitrate in a Sentence

.

They create a safe and confidential environment, ensuring everyone feels comfortable expressing their concerns.
Active Listening: Mediators listen more than they talk. They pay attention to both the spoken and unspoken, looking for underlying issues and emotions.
Facilitating Communication: They encourage open dialogue, often helping parties articulate concerns they might find difficult to express.
Identifying Interests: Beyond the obvious points of contention, mediators delve deep to uncover the true interests and priorities of each party. It's not just about what the parties are saying they want but why they want it.
Brainstorming Solutions: Once the core issues are identified, mediators facilitate a brainstorming session to come up with potential solutions. They encourage creativity and open-mindedness.
Negotiating and Finalizing Agreements: With various possible remedies under consideration, mediators lead the parties in navigating negotiations, honing the solutions until a consensus that is mutually agreeable is attained.

Non-binding arbitration

. They take care to make certain that the agreement is unambiguous and that both parties have a clear understanding of their respective roles and obligations.
Summary: What is Mediation?
Mediation, in essence, is a collaborative approach to resolving disputes. While a dictionary might define it as a process involving a neutral third party to promote reconciliation, it's so much more in practice. It's about understanding, communication, and finding mutual ground.
Mediators play the crucial role of facilitators, guiding conflicting parties through a journey of understanding and compromise. Learn about the Basics of Arbitration & Litigation. They don't impose decisions; instead, they help parties arrive at their own solutions.
In a world where conflicts are inevitable, mediation offers a beacon of hope. It shows that even in disagreements, with the right approach and mindset, we can find harmony and mutual understanding. Know Quick Guide to Arbitration Law. Whether you're dealing with personal disputes or professional ones, remember that mediation provides an avenue where voices are heard, relationships are valued, and resolutions are collaboratively crafted.
In Conclusion
Mediation isn't just an alternative to court litigation; for many, it's a preferable first choice. Know What is Mandatory Arbitration. Its flexibility, cost-effectiveness, and emphasis on mutually beneficial solutions make it an attractive option for those seeking to resolve disputes in a harmonious manner. Learn about Insurance Arbitration.
In the end, it's about what you value more: dragging out a disagreement in a formal, expensive, and public setting or resolving issues amicably, quickly, and cost-effectively. If the latter sounds more appealing, mediation might just be the path for you.
...