ADR Definition
Nitin Paul Harmon
Dec. 5, 2023, 11:05 a.m.
...
ADR Definition
Imagine a scenario where you've had a disagreement with someone – it could be a neighbor, a business partner, or even a family member. Now, rather than rushing off to court, donning suits, and engaging in long-winded legal battles, what if there was a more relaxed, amicable, and efficient way to resolve your disputes?
Enter Alternative Dispute Resolution, often abbreviated as ADR.
ADR encompasses a variety of techniques and methods that people use to resolve disputes without the need for litigation or going to court. It's like taking the scenic route instead of the congested highway of the legal system. ADR is a wide-ranging term encompassing a multitude of methods, including mediation, arbitration, conciliation, and many more. What is the difference between arbitration and mediation?
Why is ADR Gaining Popularity?
Over the past few decades, there has been a significant shift towards using ADR processes, especially in commercial settings. One of the key reasons is that people have started realizing that disputes, by nature, can be deeply personal, and a "one-size-fits-all" approach offered by the traditional court system might not always be the best.
ADR offers a platform that's more adaptable to the unique needs and intricacies of individual disputes. Know more about the advantages of the arbitration clause. Moreover, it often emphasizes cooperation, communication, and a mutual desire to find a solution, as opposed to the adversarial nature of litigation.
How Does ADR Differ from Traditional Court Litigation?
The primary contrast between ADR and traditional court litigation lies in their approach and methodology.
In court proceedings, there's a strict protocol to follow. Judges or magistrates preside over the case, lawyers represent parties, evidence is presented, and after a series of hearings, a judgment is delivered. This process can be time-consuming, expensive, and often stressful for the parties involved.
On the other hand, ADR methods, like mediation, involve a neutral third party (the mediator) who helps disputing parties communicate and work towards a mutually acceptable resolution. Do you want to know what is mandatory arbitration? There are no strict rules of evidence or procedure, allowing for a more flexible and relaxed environment. It's like having
a guided conversation to resolve differences instead of a structured debate.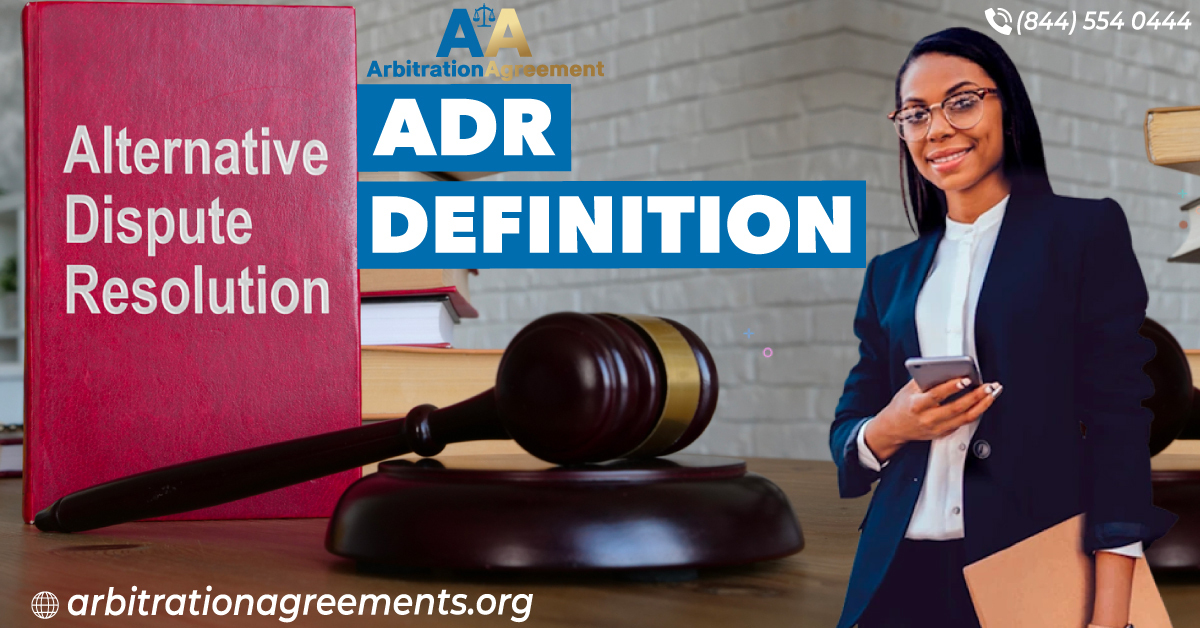 What Advantages Does ADR Offer Over Court Litigation?
ADR isn't just a fad. Its growing popularity stems from the multitude of benefits it offers, many of which aren't present in traditional court proceedings:
Cost-Effective: Court battles can be notoriously expensive, with lawyer fees, court fees, and other associated costs. ADR often turns out to be a more economical choice, especially for disputes where the financial stakes aren't astronomically high.
Time-Saving: Legal cases can drag on for years. With ADR, disputes can often be resolved in a matter of days or weeks, as it doesn't involve the procedural complexities of a courtroom.
Flexibility: ADR is adaptable. Parties have more control over the process, can choose their mediator or arbitrator, set their timelines, and even decide on the location.
Confidentiality: Unlike court cases, which are typically public, ADR proceedings are private. This confidentiality can be especially valuable for businesses and individuals who wish to keep their disputes away from public scrutiny.
Preservation of Relationships: Since ADR focuses on mutual resolution, there's a better chance of preserving relationships post-dispute, which can be invaluable in family disputes or long-standing business partnerships.
Win-Win Solutions: Court decisions are usually win-lose. One party wins; the other loses. In contrast, ADR often emphasizes mutually beneficial solutions where both parties can be satisfied.
Expertise: Especially in arbitration, parties can choose an arbitrator with expertise in the specific subject matter of the dispute. Want to know the

arbitration clause & provision

? This specialized knowledge can be a game-changer in complex disputes.
7 Reasons to Consider ADR
We've delved into the concept of ADR and its advantages over court litigation. But let's distill it further. Here are seven compelling reasons why anyone facing a dispute should think about choosing ADR:
Autonomy and Control: With ADR, parties retain significant control over the outcome, as opposed to leaving decisions entirely in the hands of a judge or jury.
Tailored Solutions: Instead of a one-size-fits-all judgment, ADR can lead to customized solutions better suited to the unique circumstances of the dispute.
Emotional Well-being: The less adversarial nature of ADR can reduce the emotional stress and strain that often accompany court battles.
Speedy Resolutions: Bypass the potential backlog of court cases and move directly toward a resolution.
Cost Savings: Spend less on legal fees and associated costs, saving both money and peace of mind.
Expertise: With methods like arbitration, it's possible to engage experts specifically versed in the subject of the dispute.
Global Application: ADR is increasingly recognized internationally, making it a viable choice for cross-border disputes.
What is Arbitration?
At its core, arbitration is a private, formal method of dispute resolution where an impartial third party, the arbitrator, makes a decision after hearing the arguments and evidence from both sides. Think of it as a more relaxed court proceeding. Parties agree on the arbitrator(s), and usually, the decision (known as an "award") is binding, akin to a court judgment. Know about Divorce Mediation - Alternative Dispute Resolution.
The process can be more informal, and parties have more flexibility in terms of procedures and rules. Another unique feature? Arbitration can be confidential, keeping disputes and resolutions away from the public eye.
What is Mediation?
Mediation is like bringing in a mutual friend to help two buddies settle a disagreement. It's a collaborative process where a neutral mediator assists the disputing parties in reaching a voluntary, negotiated solution. It's essential to note that the mediator doesn't make a decision for the parties but instead facilitates a dialogue, helping them find common ground.
Without question, Do you want to know who pays for mediation? Mediation is particularly useful when parties have an ongoing relationship they want to maintain, like in family disputes or business partnerships. The focus here is on open communication and finding a win-win solution.
What is Negotiation?
Negotiation is a direct dialogue between parties aiming to reach an agreement. Learn more about arbitration agreements meaning information. It's perhaps the most informal method of dispute resolution. Each party, often with their legal representatives, communicates their concerns, interests, and potential solutions. The objective is to arrive at a mutual agreement that satisfies both sides.
The beauty of negotiation lies in its simplicity. There's no third party involved, and it's purely about two sides coming together to hash out their differences and find a shared solution.
What is Conciliation?
Conciliation is similar to mediation but with a subtle twist. In this process, a conciliator assists disputing parties to pinpoint the issues and develop options for settlement. The key difference is that a conciliator might play a more proactive role than a mediator. They can offer suggestions or even propose terms of a potential agreement. It's a flexible, voluntary, and confidential process. Like mediation, it's most effective when parties are keen on preserving their relationships post-dispute.
FAQs about ADR
Navigating the realm of Alternative Dispute Resolution can be daunting, especially if you're new to the concept. Here are some commonly asked questions about ADR to help shed light on this increasingly popular approach to settling disagreements.
1. Is ADR legally binding?
It depends on the method. Arbitration usually results in a binding decision (an "award") akin to a court judgment. On the other hand, Know how mediation is defined. And conciliation leads to agreements that can be made into binding contracts if both parties agree. However, by themselves, they aren't legally binding unless formalized.
2. Can I still go to court after trying ADR?
Yes, if ADR doesn't lead to a resolution (especially in non-binding methods like mediation), parties retain their right to pursue their case in court. However, if an arbitration award has been made and it's binding, typically, the court route might only be available under limited circumstances, such as procedural irregularities or if the arbitrator exceeded their authority.
3. Is ADR always cheaper than court litigation?
ADR is often more cost-effective than going to court; however, it isn't universally cheaper. Factors like the complexity of the case, the duration of the process, and the professionals' fees can influence costs. Do you want to learn more about arbitration vs mediation vs litigation? However, the streamlined nature of ADR usually results in savings both in time and money.
4. How do I choose the right ADR method for my dispute?
It largely depends on your priorities. If you want a legally binding decision without going to court, arbitration might be best. Do you have questions about our labor arbitration services? If you're looking to preserve a relationship and find a mutually agreeable solution, mediation or Conciliation - Alternative Dispute Resolution could be the way. And if you'd rather hash things out directly, negotiation is the simplest route.
5. Are online or virtual ADR processes available?
Absolutely! Especially in our increasingly digital age, our association's ADR professionals can offer online or virtual sessions, commonly referred to as Online Dispute Resolution (ODR). This can be especially useful for cross-border disputes or situations where parties are geographically distant.
Final Thoughts: Is ADR the Future?
While predicting the future is a tricky endeavor, it's evident that ADR has carved a niche for itself in the realm of dispute resolution. Know aboutfederal and state courts. Its user-centric approach, efficiency, and adaptability make it a viable alternative to the often grueling process of court litigation. For anyone entangled in a disagreement or conflict, it's worthwhile to consider ADR. After all, why wage a war when a conversation could suffice?
...