"Conciliatory" Definition
Nitin Paul Harmon
Oct. 1, 2023, 10:05 a.m.
...
"Conciliatory" Definition
Understanding the nuances of dispute resolution requires a thorough grasp of several key concepts. A particularly vital one is "conciliatory," a term used to describe a style or approach that promotes harmony and peace. Do you want to know what is the difference between arbitration and mediation? If you're interested in alternative dispute resolution, a deeper understanding of the conciliatory definition is an absolute necessity.
What Does 'Conciliatory' Mean?
At its most basic, "conciliatory" refers to the actions, attitudes, or behaviors aimed at pacifying, appeasing, or placating. In the context of dispute resolution, being conciliatory means attempting to resolve disagreements by reducing tension and hostility and promoting understanding and cooperation between disputing parties.
The conciliatory approach to conflict resolution is characterized by a willingness to listen to all sides and a dedication to finding a solution that satisfies everyone involved. It requires empathy, respect, patience, and a commitment to mutual understanding and compromise.
Why is a Conciliatory Approach Important in Dispute Resolution?
In conflict situations, emotions often run high, and it's easy for the disputing parties to become entrenched in their positions. Want to know arbitration clause & provision. This can make it difficult to reach an agreement, especially in a contentious setting. This is where the conciliatory approach shines.
By focusing on reducing hostility and fostering understanding, a conciliatory approach helps parties to see past their immediate grievances and work towards a mutually agreeable resolution. It provides a platform for each party to express their grievances, fears, and hopes in a non-threatening environment.
Moreover, a conciliatory approach also encourages parties to think in terms of resolution, rather than winning or losing. This shift in mindset can be transformative, as it emphasizes cooperation and compromise rather than competition and confrontation.
How is Conciliatory Approach Expressed in Alternative Dispute Resolution?
In the realm of alternative dispute resolution (ADR), the conciliatory approach is often embodied in techniques like mediation and conciliation. Know how mediation defined? Both of these methods involve a neutral third party who helps the disputing parties communicate more effectively and work towards a mutually acceptable resolution.
Mediation, for example, is a flexible, informal, and confidential process where a mediator facilitates the discussion without imposing a solution. The mediator uses conciliatory techniques, like active listening and reframing, to help the parties understand each other's perspectives better, manage their emotions, and explore potential solutions.
Conciliation, meanwhile, is a more proactive process. Like mediation, it involves a neutral third party, but in this case, the conciliator takes a more hands-on role in proposing solutions and encouraging the parties to accept a compromise. Do you want to know who pays for mediation? This more directive approach can be especially effective in situations where the parties are deeply entrenched in their positions or where the power dynamics are imbalanced.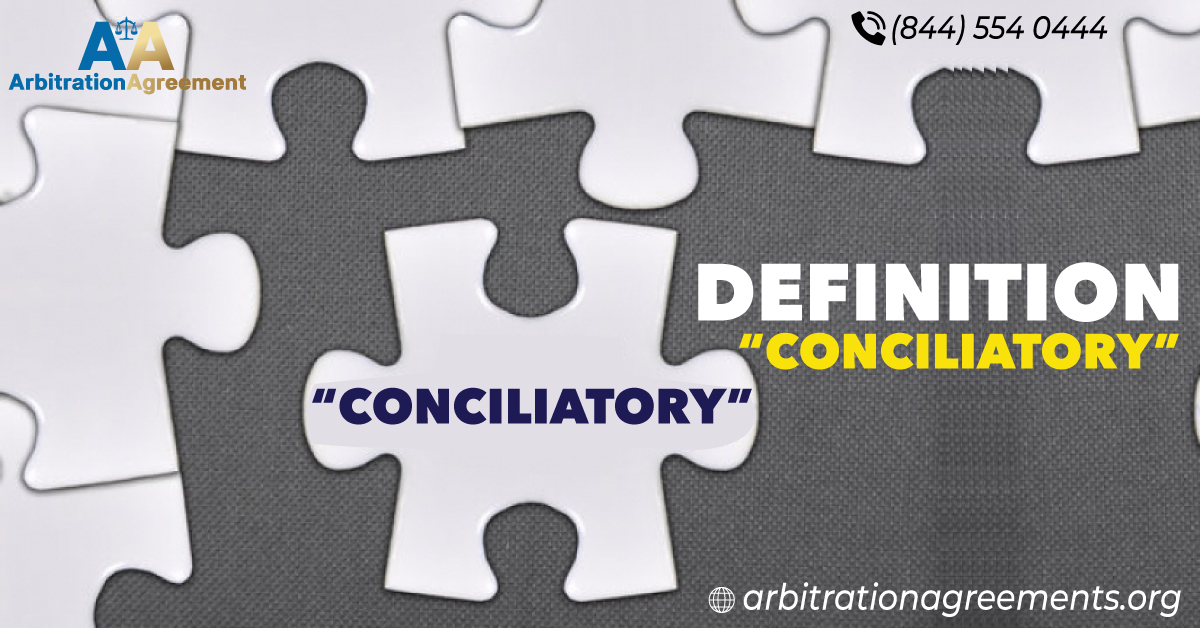 How Can One Develop a Conciliatory Attitude?
Developing a conciliatory attitude takes practice and a willingness to look beyond one's immediate interests. It involves developing empathy, practicing active listening, and learning to see disputes not as zero-sum games but as opportunities for mutual gain.
Cultivating a conciliatory attitude also requires developing a tolerance for ambiguity and uncertainty. It means learning to let go of the need to be right, and instead focusing on understanding the other party's point of view. Know what is mandatory arbitration? It's about prioritizing relationships over victories, and cooperation over competition.
There are many resources available for those wishing to develop a conciliatory attitude, including books, workshops, and training courses. Some people also find it helpful to work with a coach or mentor, particularly one with experience in dispute resolution or conflict management.
What Are the Benefits of a Conciliatory Approach?
The benefits of a conciliatory approach are numerous and varied. For one, it can lead to more satisfactory outcomes for all parties involved, as it emphasizes finding mutually beneficial solutions rather than imposing one party's will on the others.
Moreover, a conciliatory approach can help to preserve relationships. In many dispute scenarios, the parties have an ongoing relationship that needs to survive the conflict – whether they are business partners, neighbors, or family members. By focusing on understanding and cooperation, a conciliatory approach can help to maintain these relationships, even in the face of serious disagreements.
Finally, a conciliatory approach can reduce the stress and emotional toll associated with conflict. It allows for open, honest communication, reducing the likelihood of misunderstandings and miscommunications. Do you want to learn more about arbitration vs mediation vs litigation? By keeping the lines of communication open and promoting mutual respect, a conciliatory approach can make the process of resolving disputes less acrimonious and more constructive.
The Power of a Conciliatory Attitude in Action
To truly grasp the significance of a conciliatory approach, it's helpful to look at its application in real-world scenarios. A conciliatory approach can be the difference between an escalating conflict and a constructive dialogue. It can help bring resolution to a long-standing dispute or help avoid a potential dispute altogether.
For instance, in business negotiations, a conciliatory approach could mean the difference between losing a valuable client and reaching a mutually beneficial agreement. By focusing on understanding the client's needs and concerns rather than simply pushing for your own objectives, you can develop solutions that satisfy both parties, thereby strengthening the business relationship.
Similarly, in the context of community disputes, a conciliatory approach can help maintain harmony. Read more about Arbitration Agreement Association. Whether the issue is a neighborhood disagreement or a broader community conflict, approaching the situation with a conciliatory attitude can help diffuse tension, promote understanding, and ultimately lead to a more peaceful coexistence.
Conciliatory: Not Just a Method, But a Mindset
While the conciliatory approach is often associated with particular dispute resolution methods, such as mediation and conciliation, it is essential to realize that being conciliatory is more than just a technique. It's a mindset, a philosophy of approaching conflicts.
In essence, being conciliatory is about recognizing the humanity in others, even when you disagree with them. It's about understanding that conflicts are a natural part of human relationships and that they can be resolved constructively without resorting to hostility or aggression.
It's about realizing that winning at the expense of others is not really winning at all, and that the most satisfying resolutions are those where everyone feels heard, understood, and respected. Do you want to know how non-binding arbitration works? By adopting this mindset, we can not only resolve disputes more effectively but also contribute to a more peaceful and harmonious society.
The Future of Dispute Resolution: More Conciliatory?
As we look to the future, it is clear that the conciliatory approach has an essential role to play in dispute resolution. With the increasing recognition of the limitations of adversarial methods and the rising interest in alternative dispute resolution, the demand for conciliatory skills is likely to grow.
There is a growing understanding that resolution doesn't have to mean litigation, and that conflicts don't have to be destructive. Instead, disputes can be seen as opportunities for learning, growth, and strengthening relationships. Learn more about arbitration agreement meaning information. They can be occasions for practicing empathy, patience, and mutual respect.
To realize this vision, however, we need more than just techniques and methods. We need a shift in attitude, a movement towards a more conciliatory mindset. By embracing the conciliatory approach, we can transform the way we think about and handle conflicts, turning them from sources of division into opportunities for connection and understanding.
Conclusion: The Conciliatory Approach and Its Significance
In the field of alternative dispute resolution, understanding the conciliatory approach is crucial. However, the importance of this approach extends beyond the formal dispute resolution process.
In our daily lives, whether at home, at work, or in our communities, we encounter conflicts and disagreements. Know how the federal arbitration act applies to both federal and state courts. How we handle these situations can greatly impact our relationships and our well-being. By adopting a conciliatory approach, we can navigate these conflicts more effectively, fostering understanding and cooperation, and ultimately leading to more satisfactory resolutions.
Being conciliatory is not always easy, and it may require practice and patience. But the rewards are significant. Not only can it lead to more effective dispute resolution, but it can also contribute to a more peaceful, understanding, and cooperative society. By striving to be more conciliatory in our approach to conflicts, we can all play a part in creating such a society.
...