Collective Bargaining Training
Nitin Paul Harmon
Sept. 29, 2023, 11:28 a.m.
...
Collective Bargaining Training
In our fast-paced and dynamic business environment, mutual understanding and efficient dialogue between employers and employees have become increasingly essential. Do you want to know what is the difference between arbitration and mediation? This is where collective bargaining, a key element of industrial relations, steps in. It serves as a potent negotiation tool, promoting healthier labor relationships, fair employment terms, and a more harmonious workplace.
The power of collective bargaining, however, is not innate. It is a skill that needs honing through proper training. Effective collective bargaining training ensures that both parties (employers and employee representatives) can navigate negotiations adeptly, resulting in mutual agreements that benefit everyone involved.
What Is the Role of Collective Bargaining in Dispute Resolution?
The essence of collective bargaining lies in dispute resolution. It is a method used by workers (usually represented by a union) and employers to negotiate aspects of employment, including wages, working conditions, and benefits. The primary aim is to reach a collective bargaining agreement (CBA) that resolves differences and promotes workplace harmony.
In a dispute situation, collective bargaining acts as a safety valve, providing an orderly, structured platform to express grievances, negotiate differences, and come to a mutually beneficial compromise. Effective collective bargaining can prevent conflicts from escalating into strikes or lockouts, which can disrupt productivity and destabilize labor-management relationships. Want to know arbitration clause & provision. Therefore, the role of collective bargaining in dispute resolution is fundamental and far-reaching.
How Can Collective Bargaining Training Improve Your Negotiation Skills?
Collective bargaining is an art that requires not only a deep understanding of labor laws and employment terms but also effective negotiation skills. It involves a blend of strategy, communication, empathy, patience, and problem-solving abilities.
Collective bargaining training programs, like those offered by ArbitrationAgreements.org, are designed to foster these skills. They provide comprehensive, interactive, and engaging content that covers every aspect of collective bargaining, from understanding legal frameworks and employment rights to developing effective negotiation strategies and conflict resolution techniques. These programs can significantly enhance your ability to negotiate effectively and reach fair, mutually beneficial agreements.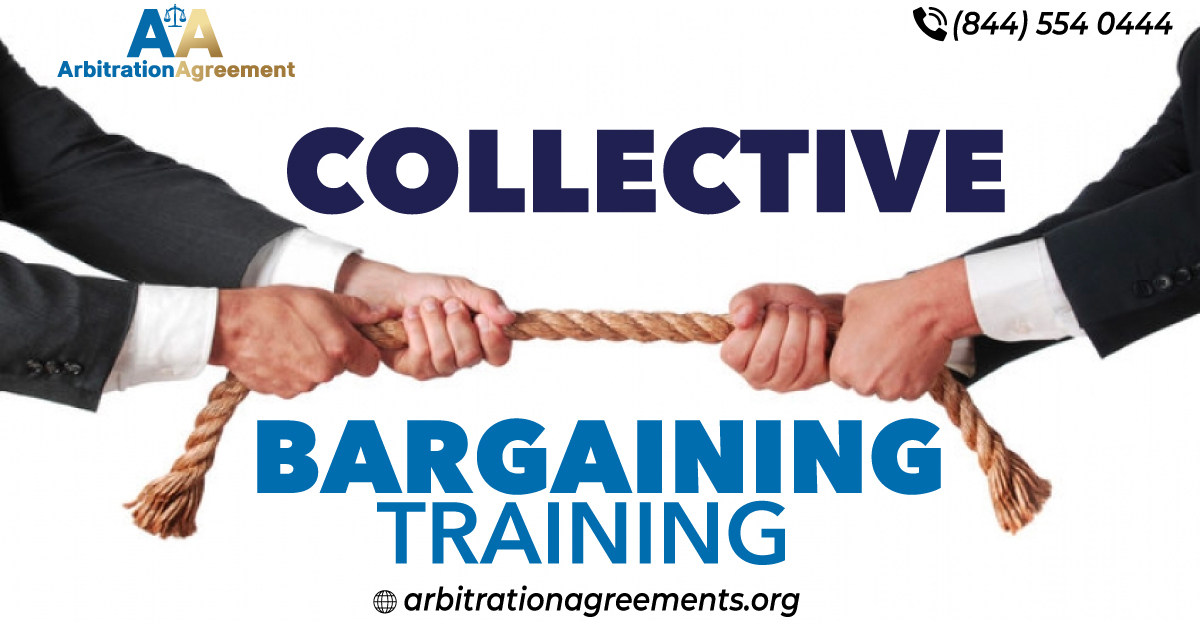 Why Choose Online Collective Bargaining Training with ArbitrationAgreements.org?
In today's digital age, online learning platforms have revolutionized education and training across various fields, and collective bargaining is no exception. Know how mediation defined? Online training offers flexibility, allowing you to learn at your own pace and time. It also provides a cost-effective solution, eliminating the need for physical presence and travel.
ArbitrationAgreements.org stands out in offering online collective bargaining training. With their rich experience in dispute resolution, they provide an exhaustive curriculum tailored to suit both beginners and seasoned negotiators. The platform offers interactive modules, real-world case studies, and expert-led sessions that provide an in-depth understanding of collective bargaining.
Furthermore, ArbitrationAgreements.org's online training ensures participants can access the latest information and trends in collective bargaining and dispute resolution. This continuous learning opportunity fosters growth and development, keeping pace with the ever-changing landscape of labor relations.
How Does Collective Bargaining Promote Workplace Harmony?
Collective bargaining is not merely about resolving disputes; it is about creating a conducive environment for dialogues between employers and employees. Do you want to know who pays for mediation? When parties negotiate on employment terms, they gain a better understanding of each other's perspectives and constraints. This process helps foster empathy, respect, and trust, promoting a culture of open communication.
By ensuring that workers' voices are heard and their interests considered, collective bargaining significantly contributes to job satisfaction, employee motivation, and retention. Likewise, for employers, a stable, satisfied workforce translates into increased productivity and business growth. In essence, collective bargaining is instrumental in building a harmonious, productive, and prosperous workplace.
What are the Future Prospects for Collective Bargaining?
In an evolving world where employee rights and labor laws are gaining more recognition, the role of collective bargaining is projected to be more significant than ever. Rapid advancements in technology, the rise of the gig economy, and shifts in labor markets underscore the need for skilled negotiators who can effectively address these changes through collective bargaining.
To stay ahead of these changes, acquiring professional training in collective bargaining is indispensable. Know what is mandatory arbitration? Institutions like ArbitrationAgreements.org, with their online collective bargaining training programs, are preparing the workforce for these future challenges. With this training, you'll be equipped with the knowledge and skills to navigate the dynamic landscape of labor relations, ensuring fair practices and better work conditions for all.
What Are the Key Elements Covered in Collective Bargaining Training?
Collective bargaining training offers a wide range of topics to ensure a holistic understanding of the process. Here are some of the core components that you can expect to cover in an online training program from ArbitrationAgreements.org.
Understanding Labor Laws and Regulations: Before diving into negotiations, it's crucial to have a sound understanding of the legal framework governing labor relations. Do you want to learn more about

arbitration vs mediation vs litigation

? Training courses familiarize you with key legislation, its implications, and the rights and responsibilities of both parties.
Effective Negotiation Techniques: The heart of collective bargaining lies in negotiation. Training focuses on building robust negotiation skills, including strategies for preparation, effective communication, active listening, persuasive argumentation, and decision making.
Conflict Resolution: Disputes are an inevitable part of the collective bargaining process. Training equips you with various conflict resolution strategies, helping you to diffuse tensions, find common ground, and reach mutually beneficial agreements.
Building Relationships and Trust: Collective bargaining is not a one-time event, but a process that requires building long-term relationships based on trust. Training highlights the importance of empathy, respect, and open communication in cultivating such relationships.
Navigating Complex Scenarios: Real-world bargaining scenarios can be complex and challenging. Read more about

Arbitration Agreement Association

. Training courses often incorporate case studies and simulations that expose you to these scenarios, helping you apply learned skills in a practical context.
How Can Collective Bargaining Training Benefit Your Organization?
The benefits of collective bargaining training extend beyond individual skills development, offering significant advantages to organizations.
Improved Labor Relations: Trained negotiators can effectively address employee grievances and negotiate fair employment terms, leading to improved labor relations. A stable labor-management relationship reduces the risk of strikes or lockouts and contributes to a harmonious work environment.
Enhanced Decision-Making: Collective bargaining training fosters better decision-making. By understanding the implications of various choices, organizations can make informed decisions that benefit both parties and the organization as a whole.
Employee Retention and Satisfaction: By addressing employee concerns and fostering open dialogue, collective bargaining contributes to increased job satisfaction, which in turn leads to higher employee retention rates.
Organizational Growth: A harmonious workplace and satisfied workforce can positively impact productivity and business growth.
How Can You Make the Most of Your Collective Bargaining Training?
Like any learning endeavor, the benefits of collective bargaining training largely depend on your engagement with the program. Do you want to know how non-binding arbitration works? Here are a few tips to maximize your learning experience with ArbitrationAgreements.org:
Active Participation: Engage actively in the learning process. Ask questions, participate in discussions, and share your experiences and insights.
Practical Application: The real test of your skills lies in their application. Use the case studies and simulations to practice applying the theories and techniques learned in real-world scenarios.
Continuous Learning: The field of labor relations is dynamic and evolving. Learn more about

arbitration agreement meaning

information. Keep abreast of the latest developments and trends even after you've completed your training.
Summary
In conclusion, collective bargaining is a powerful tool for dispute resolution and fostering healthier labor relationships. However, its effectiveness hinges on the negotiation skills of the parties involved. Know how the federal arbitration act applies to both federal and state courts. To ensure that these skills are honed to their full potential, comprehensive training, such as the one provided by ArbitrationAgreements.org, is crucial. Whether you're an employer seeking to understand your employees better or a labor representative striving to protect worker rights, mastering collective bargaining could be the key to a more harmonious and productive workplace.
...