Can You Use Text Messages in Court?
Nitin Paul Harmon
Sept. 28, 2023, 11:05 a.m.
...
Can You Use Text Messages in Court?
"Can you use text messages in court?" is an excellent question. In today's digitally-connected world, an increasing amount of our communication happens through text messages. When it comes to legal proceedings, the question often arises: can these digital exchanges be used as evidence in court? Do you want to know what is the difference between arbitration and mediation? To answer this, let's delve into the legal nuances surrounding the admissibility of text messages in a courtroom setting.
How Are Text Messages Classified in Legal Terms?
In the legal arena, text messages are typically classified as electronic or digital evidence. This category of evidence encompasses any information stored or transmitted in digital form that a party to a case may use at trial. Along with text messages, it includes emails, social media posts, digital photographs, and other types of digital data. Importantly, just like any other evidence, text messages need to meet certain criteria to be admissible in court.
What Makes a Text Message Admissible in Court?
For a text message to be admissible in court, it needs to meet the rules of evidence. These rules may slightly vary from jurisdiction to jurisdiction, but they generally hinge on the principles of relevance, authenticity, and reliability.
Relevance: The text message in question must be relevant to the case at hand. Want to know

arbitration clause & provision

. It should have a direct or indirect bearing on the facts being disputed or the points of law being argued.
Authenticity: This involves proving that the text message is what it purports to be, meaning that it came from the alleged sender and wasn't manipulated or tampered with after it was sent.
Reliability: A text message must be proven reliable, ensuring that the technology used to transmit, store, and retrieve the message didn't compromise its integrity. It must be shown that the message was preserved in its original state from the time it was sent to the time it is presented in court.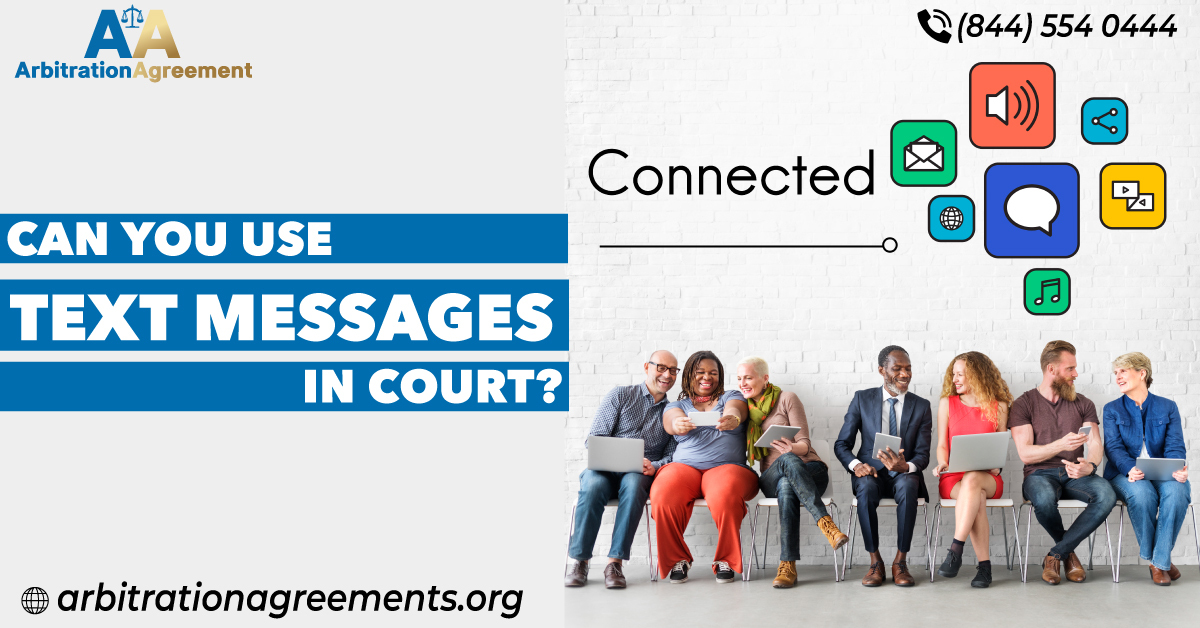 How Can Text Messages be Authenticated?
Proving the authenticity of a text message can be challenging. It requires more than simply presenting a print-out or a screenshot of the message. The court will want proof that the message was indeed sent by the person alleged to have sent it and not altered in any way. This is where digital forensics may come into play.
Digital forensic experts can trace the origin of the text message, validate its content, and verify its transmission path. Know how mediation defined? They use specialized techniques and tools to recover, analyze, and present digital evidence in a court of law. They can also help establish a clear chain of custody, which is essential in preserving the integrity of digital evidence.
In some cases, the content of the text message itself can help establish authenticity. For instance, if the message includes specific details that only the supposed sender could know, it strengthens the case for its authenticity. However, the final decision rests with the judge or jury.
Are There Any Privacy Concerns?
Yes, privacy concerns can significantly affect the admissibility of text messages in court. In many jurisdictions, the law protects individuals against the unauthorized interception or monitoring of their private communications. These protections often extend to text messages.
When a party seeks to introduce text messages as evidence, they must demonstrate that they were obtained legally and ethically. Do you want to know who pays for mediation? If the texts were acquired without the sender or receiver's consent, or if they were procured through illegal methods, the court would likely deem them inadmissible.
However, there are exceptions. In certain circumstances, such as when there's a legitimate threat to public safety or during a criminal investigation, law enforcement agencies may be allowed to monitor and record text messages under a court order.
Can Deleted Text Messages be Recovered and Used in Court?
Deleted text messages can often be recovered using digital forensics. When a message is "deleted," it is typically marked for deletion in the device's storage system but not immediately erased. Until the storage space it occupied is overwritten by new data, the deleted message can often be retrieved. Know what is mandatory arbitration? If these recovered messages meet the admissibility requirements, they may be used as evidence in court.
The Role of Text Messages in Different Types of Cases
Text messages can play a pivotal role in various types of legal cases. Let's explore some of these scenarios:
In civil cases, text messages can be used to prove various elements of a claim. In divorce cases, for example, text messages might reveal evidence of infidelity, neglect, abuse, or financial mismanagement. In contract disputes, text exchanges can serve as evidence of agreements or terms. In personal injury cases, text messages might prove negligence or reveal the extent of suffering or loss.
In criminal cases, text messages can be crucial in establishing guilt or innocence. They can provide evidence of criminal intent, details of a crime, or even an alibi. For example, in cases of harassment or threats, the text messages themselves could constitute the crime. In drug-related cases, text messages might reveal transactions or conspiracies.
In employment law, text messages can be used to prove allegations of discrimination, harassment, or wrongful termination. Do you want to learn more about arbitration vs mediation vs litigation? They can provide a timestamped record of conversations that might be crucial in proving or disproving an employer's or employee's claims.
Potential Pitfalls in Using Text Messages as Evidence
While text messages can serve as powerful evidence, using them comes with several potential pitfalls. First, the onus of proving authenticity is high. Digital evidence can be easily manipulated, making it crucial to ensure that the evidence presented in court is unaltered.
Secondly, context is important. Text messages are often part of a larger conversation, and presenting them out of context could misrepresent their meaning. Read more about Arbitration Agreement Association. Parties must be careful to provide a full and fair representation of the message exchange to ensure that the evidence is not deemed misleading or prejudicial.
Lastly, acquiring text messages should be done in a lawful manner, respecting privacy rights and laws. Failure to do so could not only render the evidence inadmissible but could also lead to legal repercussions for invasion of privacy.
The Future of Text Messages in Court
As we continue to digitize our lives, the legal world must adapt to appropriately handle the influx of digital evidence. Many legal professionals believe that the use of text messages as evidence will increase in the coming years, especially as courts become more familiar with digital evidence and its implications.
Moreover, advancements in digital forensics will likely make it easier to authenticate and preserve text messages, further cementing their place in the courtroom. Do you want to know how non-binding arbitration works? However, alongside these advancements, the courts will need to ensure the balance between the need for truth and preserving individuals' privacy rights.
Concluding Thoughts
As our reliance on digital communication continues to grow, so too does the relevance of text messages in legal proceedings. Learn more about arbitration agreement meaning information. While they can provide valuable evidence, their admissibility in court is subject to stringent rules designed to maintain the integrity of the judicial process and protect individual privacy.
Like all evidence, text messages must be relevant, authentic, and reliable to be used in a courtroom setting. Know how the federal arbitration act applies to both federal and state courts. Obtaining and presenting them in a manner that meets these requirements can be a complex task requiring the expertise of digital forensic professionals.
As digital technology evolves, so will the laws and protocols surrounding its use in the legal world. It is essential for individuals and legal professionals alike to stay abreast of these developments to effectively navigate the digital legal landscape.
...