Arbitration Clause in Real Estate Contract
Nitin Paul Harmon
Sept. 2, 2023, 11:25 a.m.
...
Arbitration Clause in Real Estate Contract
Are you familiar with an arbitration clause in a real estate contract? If not, this article will help you now. Do you want to know what is the difference between arbitration and mediation? When it comes to real estate contracts, there are numerous complex terms and clauses that buyers and sellers alike should familiarize themselves with.
One such component, often overlooked yet incredibly significant, is the arbitration clause. By understanding what an arbitration clause is, how it functions within the context of real estate transactions, and the potential implications for both parties, you will be better prepared to thrive while dealing with the complexities associated with the real estate world.
What is an Arbitration Clause?
At its core, an arbitration clause is a provision within a contract that stipulates that all or certain disputes arising from the agreement will be resolved through arbitration rather than court litigation. Arbitration is a form of alternative dispute resolution (ADR) that works outside the court system, and is often faster and more cost-effective. Know how mediation defined? It involves a neutral third-party arbitrator or panel of arbitrators who listen to both parties' arguments and make a binding decision.
Why is an Arbitration Clause Included in Real Estate Contracts?
Arbitration clauses are commonly included in real estate contracts to provide a streamlined and efficient process for resolving potential disputes. Real estate transactions can be complex and often involve high-stakes. Disagreements may emerge concerning aspects such as property conditions, disclosures, contract terms, or the execution of the agreement.
Having an arbitration clause in place ensures that any disputes can be dealt with in a timely manner, without the delay and expense of traditional court proceedings. The arbitration process is usually confidential, less formal, and often more expedient than litigation, making it appealing to many parties engaged in real estate transactions.
How Does an Arbitration Clause Impact the Parties Involved?
For both the buyer and the seller, the inclusion of an arbitration clause in a real estate contract can have substantial implications. Know what is mandatory arbitration? The primary impact is that by agreeing to the clause, both parties waive their right to a trial by jury or judge if a dispute arises from the contract. Instead, they are agreeing to have their dispute resolved by an arbitrator.
The nature of the arbitration process also impacts the parties involved. The arbitrator's decision is final and binding, and it is typically very difficult to appeal. This lack of an appellate process contrasts with court proceedings, where a party can often challenge a judge's or jury's decision if they believe it to be erroneous.
Additionally, the arbitration process can have financial implications. While arbitration can be more cost-effective than going to court, it can still be expensive. Do you want to learn more about arbitration vs mediation vs litigation? The parties typically share the cost of the arbitrator, and they also may need to pay for legal representation. Moreover, if the arbitration clause is one-sided (favoring one party more than the other), it could potentially lead to unfair outcomes.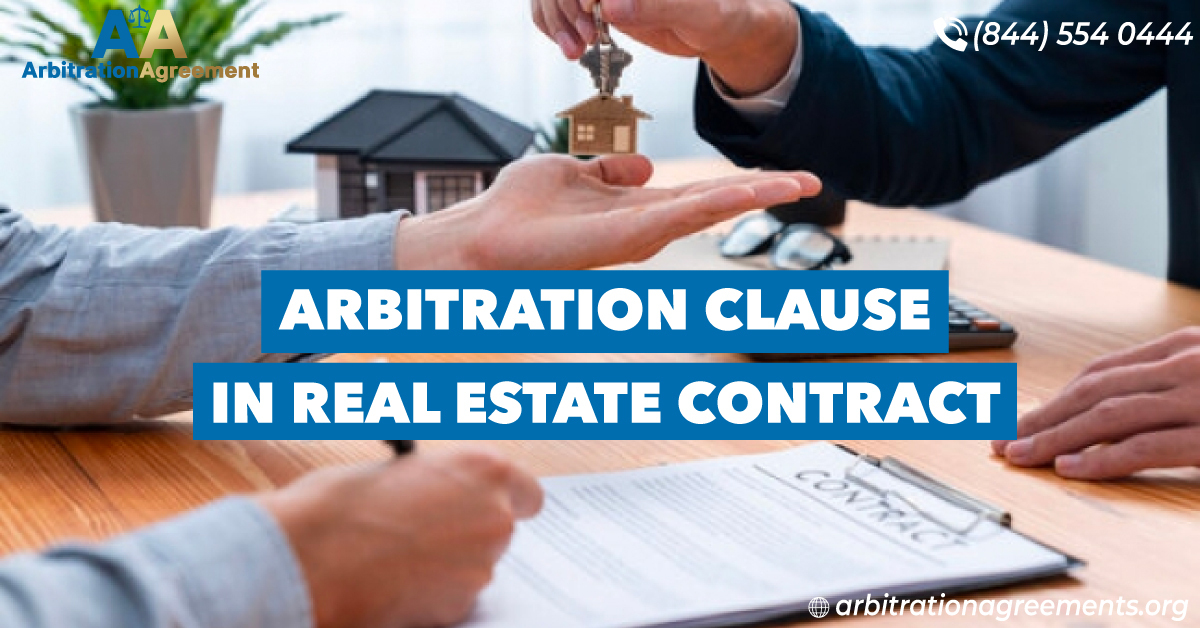 When Should a Party Consider Agreeing to an Arbitration Clause?
Agreeing to an arbitration clause is not a decision to be taken lightly. It is critical to consider the potential implications and consult with a legal expert before making a decision. Some key considerations include:
The nature of the transaction: If the real estate transaction is relatively straightforward and unlikely to lead to significant disputes, arbitration might be a more efficient resolution mechanism.
Cost: The cost of arbitration can be lower than litigation, but it can still be substantial. Consider whether you are prepared to bear these costs should a dispute arise.
Time: The arbitration process is typically quicker than court proceedings, which can be beneficial if you desire a speedy resolution.
Finality: The arbitrator's decision is usually final. If you are comfortable with this level of finality and the inability to appeal, then arbitration may be suitable.
Navigating the Complexities of Arbitration Clauses in Real Estate Contracts
The arbitration clause is an integral part of real estate contracts that carries significant implications. Do you want to know how non-binding arbitration works? It provides an alternative dispute resolution pathway that, while beneficial in many aspects, requires parties to forgo traditional court proceedings and accept the arbitrator's decision as final.
Any decision to agree to an arbitration clause should not be taken lightly. It is essential to understand its implications, weigh the advantages and disadvantages, and consult with a legal expert at ArbitrationAgreements.org to ensure the decision aligns with your best interests. By doing so, you can navigate the complex world of real estate contracts with confidence and insight, ensuring that you are prepared for any disputes that may arise.
The Role of the Arbitrator in Real Estate Disputes
A key figure in any arbitration process is the arbitrator. Unlike a judge in a court setting, the arbitrator is usually an industry expert. In the context of a real estate contract, the arbitrator is typically a real estate professional or a legal expert specializing in real estate law. Learn more about arbitration agreement meaning information. They have a deep understanding of the intricacies and nuances of real estate transactions and disputes, which can be advantageous for parties seeking a fair and informed decision.
The arbitrator's role is to review all the relevant documents, listen to the arguments of both parties, and make a binding decision. This decision-making process is influenced by various factors, including the evidence presented, the specific terms of the contract, the applicable laws and regulations, and professional best practices in real estate. Given the weight of the arbitrator's decision and its finality, choosing an arbitrator with the right expertise and experience is of paramount importance.
The Process of Arbitration in Real Estate Disputes
Every arbitration process in real estate disputes generally follows several key steps. It starts with the initiation of the arbitration process by one party. This usually involves sending a formal notice of the dispute to the other party and the chosen arbitration institution, outlining the nature of the dispute and the relief sought.
Following this, the parties will typically select an arbitrator or panel of arbitrators. Depending on the arbitration clause's terms, this may be done mutually, or each party may select an arbitrator, who then jointly choose a third, neutral arbitrator.
Next, the parties will exchange evidence and arguments in a process known as discovery. Want to know arbitration clause & provision? This process allows both sides to gather information relevant to the dispute and build their respective cases.
After discovery, the actual arbitration hearing takes place. This proceeding is less formal than a court trial and may occur in person, over the phone, or through video conferencing. During the hearing, each party presents their arguments and evidence, and the arbitrator listens to both sides before making a decision.
The final stage is the arbitrator's decision, also known as the arbitration award. Read more about Arbitration Agreement Association. This decision is legally binding and enforceable by courts, meaning that the losing party must comply with it or face potential legal repercussions.
The Advantages of Arbitration in Real Estate Contracts
Like any form of dispute resolution, arbitration in real estate contracts comes with its many advantages:
Efficiency: Arbitration proceedings are typically faster than court trials, allowing disputes to be resolved more quickly.
Cost-effective: Although it can still be expensive, arbitration is generally less costly than litigation.
Confidentiality: Unlike court trials, which are public, arbitration proceedings are private and confidential.
Flexibility: Arbitration allows parties to have a say in selecting their arbitrator and in setting the rules for the proceedings.
Expertise: The arbitrator's expertise in real estate matters can lead to informed and fair decisions.
Conclusion: Making Informed Decisions about Arbitration Clauses
An arbitration clause in a real estate contract is a powerful tool that can shape the course of dispute resolution. Know how the federal arbitration act applies to both federal and state courts. It carries both potential benefits, such as efficiency and cost-effectiveness, and drawbacks, including limited appeal rights and potentially high costs.
Therefore, both buyers and sellers should approach arbitration clauses with care, considering their specific circumstances, needs, and risk tolerance. Consulting with a legal expert or real estate professional can provide valuable insight and guidance. Do you want to know who pays for mediation? By making informed decisions about arbitration clauses, parties can ensure that they are better equipped to handle any disputes that may arise, thereby safeguarding their interests in the complex landscape of real estate transactions.
...