What to Do When Communication is Ineffective: Embracing Alternative Dispute Resolution
Nitin Paul Harmon
Sept. 30, 2023, 11:05 a.m.
...
What to Do When Communication is Ineffective: Embracing Alternative Dispute Resolution
Ineffective communication occurs when the transfer of information from one party to another fails to achieve its intended purpose. Do you want to know what is the difference between arbitration and mediation? The breakdown may occur at any stage of the communication process, leading to misunderstandings, confusion, and potential conflicts. This impediment can be detrimental in various contexts, including personal relationships, business environments, and legal proceedings. Addressing the issue of ineffective communication becomes vital for productive interactions and, ultimately, success in various aspects of life.
Why is Effective Communication Essential?
Effective communication acts as the linchpin in any interaction or transaction. It ensures that all parties involved understand the conveyed information, facilitating informed decision-making. In a business setting, effective communication can drive innovation, foster teamwork, and boost productivity. Conversely, ineffective communication can lead to missed opportunities, strained relationships, and conflicts.
In legal scenarios, ineffective communication can result in unfair settlements, prolonged disputes, and escalating tensions. Hence, when communication breakdowns occur, it is crucial to seek solutions that ensure fairness, understanding, and respect.
What is Alternative Dispute Resolution (ADR)?
Alternative Dispute Resolution, commonly known as ADR, is a collection of processes employed to resolve disagreements outside traditional court proceedings. Want to know arbitration clause & provision. ADR methods aim to find mutually agreeable resolutions for disputes in a less adversarial and often more cost-effective manner.
ADR methods include negotiation, mediation, and arbitration. The hallmark of these methods is the facilitation of effective communication. They provide an avenue for each party to express their perspectives and needs, guided by a neutral third party in a structured environment.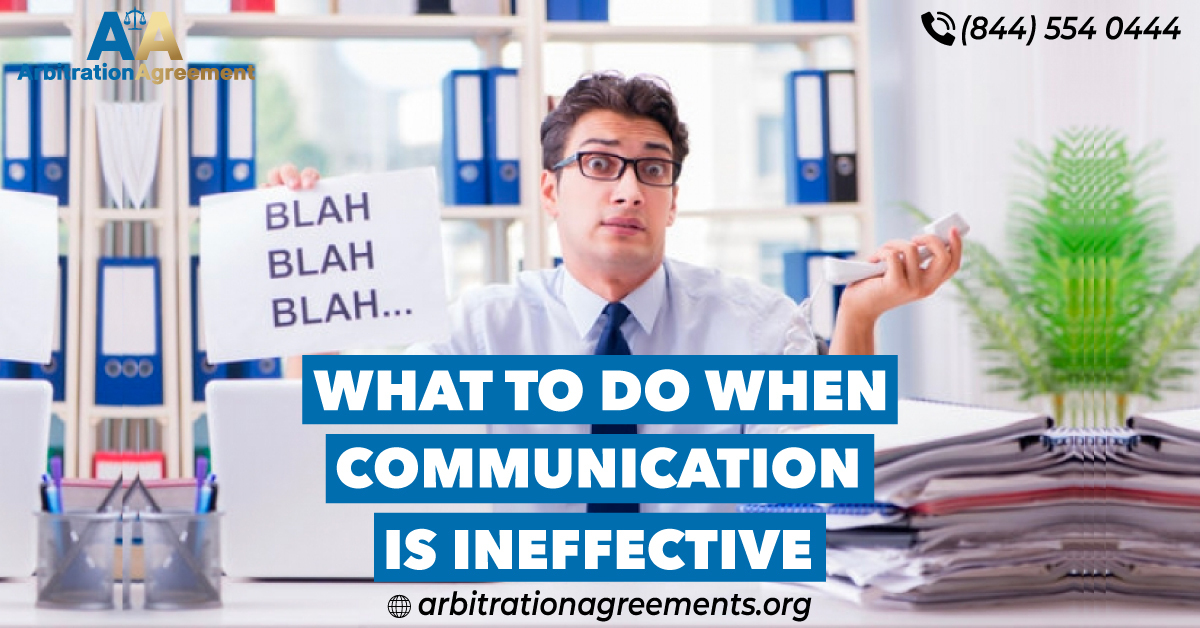 How Can ADR Help in Situations of Ineffective Communication?
In scenarios of ineffective communication, ADR can play an instrumental role in promoting better understanding among parties. The methodologies employed in ADR are specifically designed to facilitate open dialogue, ensure equal opportunity for expressing viewpoints, and foster empathetic listening.
Negotiation, as an ADR method, promotes direct communication between parties. Know how mediation defined? It provides a forum for each party to express their concerns, expectations, and interests directly, thus eliminating any communication breakdowns. During negotiation, the individuals involved can control the process, including setting the rules of the interaction, the pace, and the final decision.
Mediation involves a neutral third party who helps disputants reach a mutually satisfactory resolution. The mediator facilitates communication, promotes understanding, and focuses the parties on their needs and interests. Mediation provides a safe space for disputants to voice their concerns and perspectives openly and honestly, enhancing effective communication. Moreover, the mediator's skills in active listening, questioning, reframing, and providing feedback help identify and rectify communication roadblocks, thereby helping the parties reach a consensual resolution.
In arbitration, a neutral arbitrator hears arguments and evidence from both sides and then makes a decision. Do you want to know who pays for mediation? While the process is more formal and similar to a court trial, it still allows parties to communicate their positions effectively. The arbitrator ensures that both parties have an equal opportunity to present their case, promoting fairness and preventing potential misunderstandings.
What Are the Benefits of ADR in Overcoming Ineffective Communication?
ADR brings several benefits in situations of ineffective communication. One of the most significant advantages is its ability to promote open, candid dialogue. ADR fosters an environment where parties can express their concerns and interests without fear of judgment or reprisal, thereby enhancing understanding.
Another benefit of ADR is its emphasis on cooperative problem-solving. This approach reduces the risk of further escalating conflicts caused by ineffective communication. The processes focus on the interests of all parties, not just their positions, fostering a solution-oriented mindset rather than a win-lose scenario.
Moreover, ADR processes are flexible and adaptable, accommodating the specific needs and contexts of each dispute. Know what is mandatory arbitration? This adaptability extends to addressing various communication styles and cultural nuances, thereby minimizing misunderstandings and promoting effective communication.
The Application of ADR Across Various Spheres
ADR's effectiveness is not confined to legal disputes alone. Its principles of open dialogue, empathy, and fairness can significantly improve situations of ineffective communication across various sectors, including businesses, communities, and personal relationships.
Businesses thrive on effective communication, which is the backbone of team coordination, innovation, strategic planning, and customer relations. However, communication breakdowns can occur, leading to internal conflicts, missed opportunities, and decreased productivity. Here, ADR can be an invaluable tool.
By implementing negotiation and mediation in their internal processes, businesses can address conflicts before they escalate, saving valuable time and resources. Arbitration can be a useful alternative to lengthy legal disputes with partners or clients, thus maintaining business relationships and reputation. Do you want to learn more about arbitration vs mediation vs litigation? As such, the principles of ADR can foster a communication culture that promotes understanding, collaboration, and growth.
In Communities
Community disputes, whether between neighbors, within homeowners' associations, or among members of local organizations, can escalate into significant conflicts due to ineffective communication. ADR processes can be instrumental in such situations, helping parties to air their grievances, understand each other's perspectives, and find mutually agreeable solutions.
Mediation, in particular, can be very effective in community disputes, as it focuses on restoring relationships and maintaining harmony. By promoting effective communication, ADR can help build stronger, more cooperative communities.
In Personal Relationships
Ineffective communication is often at the root of personal relationship issues. Whether it's misunderstandings between friends, disputes in a family, or discord among spouses, communication breakdowns can lead to emotional distress and broken relationships.
Here, ADR techniques can play a pivotal role. For instance, mediation can help parties to express their feelings, needs, and expectations clearly and honestly, fostering understanding and empathy. Read more about Arbitration Agreement Association. By focusing on the needs and interests of each party, ADR methods can help resolve personal disputes in a respectful and fair manner.
Tools to Enhance ADR Effectiveness
To leverage the full potential of ADR in situations of ineffective communication, it can be beneficial to equip oneself with certain tools and skills:
Active listening involves fully focusing on the speaker, understanding their message, responding appropriately, and then remembering what's been said. It is crucial for effective communication and a vital skill in ADR processes.
Emotional intelligence plays an important role in alternative dispute resolution (ADR). It enables mediators to gain insight into the emotions of each party involved and use that understanding to facilitate a respectful, empathetic process. Do you want to know how non-binding arbitration works? With emotional intelligence, mediators can better manage stress, communicate effectively, and defuse conflicts in order to reach an amicable resolution. By using emotional intelligence during ADR, all parties involved will have their needs taken into account and be able to come to an agreement without resorting to more costly litigation.
In our increasingly globalized world, disputes often involve parties from diverse cultural backgrounds. Cultural sensitivity – the ability to recognize, understand, and respect the differences and similarities that exist between cultures – is vital. Learn more about arbitration agreement meaning information. It can ensure that communication is effective, respectful, and free of misunderstandings.
Final Thoughts
When confronted with the issue of ineffective communication, it's crucial to acknowledge the problem and take proactive steps to address it. Know how the federal arbitration act applies to both federal and state courts. Alternative Dispute Resolution offers a suite of methods that promote understanding, respect, and fairness, which are essential for effective communication.
From business disputes to personal conflicts, ADR provides a flexible, efficient, and less adversarial route to resolution. By fostering open dialogue and focusing on the needs and interests of each party, ADR can turn ineffective communication into productive conversation.
In the end, embracing ADR methods isn't just about resolving disputes; it's about transforming the way we communicate. By using these techniques, we can build bridges of understanding and cooperation, creating an environment where communication becomes a tool for connection rather than a source of conflict.
...