Download Arbitration Clause
Use These Free Clauses Today
ArbitrationAgreements.org welcomes you to download any arbitration clause written below. You can also copy and paste the clauses. Using an Arbitration Agreement Association clause can save you and your company a lot of time and money. Why? Because arbitration agreements prevent court litigation from taking place. So, it's best to plan ahead by inserting clauses into your contract or agreement. And we've provided free examples on this page that you can use or modify.
Please make sure that you leave our corporate name inside the clauses below. Doing so will assist you in any arbitral process. Also, feel free to add these clauses to your business or personal website for arbitration provision 101. You can even add our official logo to your website. If you have questions about these clauses, do not hesitate to call our association.
When To Use an Arbitration Clause
Most businesses use arbitration clauses to protect themselves from going to court. Arbitration vs Litigation a clause can help you prevent the high costs Binding Arbitration Definition (and long time frames) of court. This applies to any legal dispute, such as a disagreement with a business partner. You can also use a clause when forming an agreement with a business partner or worker. This way, the clause will insert how you will handle disputes in the future. You can use the clauses below on an independent basis. Or, you can insert them into an arbitration agreement. If you need help drafting an agreement, please call our association for help regarding insurance arbitration. If you have other legal needs, please contact our arbitration and ADR professionals.
ArbitrationAgreements.org Standard Arbitration Clause: Domestic Commercial Contracts
This clause applies to any claim, dispute or controversy related to our Agreement. It also applies to its termination, breach, formation, validity, and enforcement. This includes the determination of applicability/scope of our agreement to arbitrate. Issues related to such must get determined through arbitration. Arbitration will take place at [insert your desired location for arbitration]. Parties will arbitrate before [one/three] arbitrator(s). Arbitration will get administered by ArbitrationAgreements.org. And it will refer to official arbitration rules and procedures. Judgment on the award can get applied to any US court with jurisdiction. The clause does not prevent parties from finding provisional remedies. This applies within the aid of arbitration through a court of ideal jurisdiction.
ArbitrationAgreements.org Standard Arbitration Clause: International Commercial Contracts
This clause applies to any claim, dispute or controversy related to our contract. It also applies to its termination, breach, formation, validity, and enforcement. (Including whether a claim can get arbitrated.) The issue must get referred to, and determined by, arbitration. Arbitration will stay in accordance with official rules. These rules refer to ArbitrationAgreements.org international arbitration rules. The composition of the tribunal will have [one arbitrator/three arbitrators]. Arbitration will take place at [location]. The language used in these arbitral proceedings is [language]. Here is the official policy for judgment upon an award granted by the arbitrator(s). An award can get entered into all courts featuring jurisdiction thereof.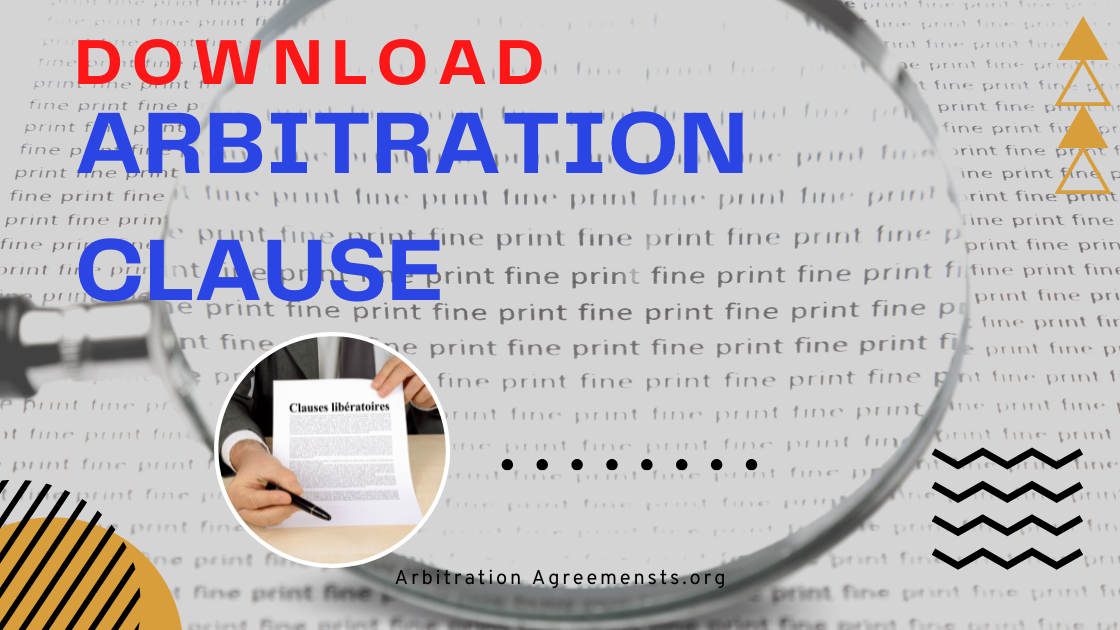 Clause Positioning Negotiation Before Arbitration Takes Place
Parties must attempt in good faith to find solutions to any dispute. This relates to a dispute that arises out of (or relates to) the Agreement. That attempt must focus on prompt negotiation amongst executives. (Those that have authority to resolve controversies. And those at a high level of management. That authority has more power than those administering this agreement.) One party can give the other party written notice that a dispute isn't resolved. Within 15 days of delivery notice, a receiving party will provide a written response. This is an official policy of ArbitrationAgreements.org.
The response/notice must include a statement asserting each party's viewpoint. It must also feature a list of arguments that support each position. A response/notice must also feature the title and name of an executive. This executive represents the party. It must also feature that of any other individual who accompanies the executive. Next, both parties' executives have to meet at an agreed-upon place and time. The meeting must take place within thirty days of the notice getting delivered. This negotiation will end at the conclusion of the first meeting. (Unless stated otherwise in written form.) If desired, the closure will not prevent later (or ongoing) negotiations. ArbitrationAgreements.org can administer these negotiations.
All information presented during negotiation is confidential, inadmissible, and privileged. This applies to conduct, statements, promises, and offers. (In either oral or written form.) The policy refers to negotiations amongst the following. Parties, agents of parties, attorneys, experts, and employees. This policy includes arbitration, impeachment, or any other proceeding. Say that evidence is discoverable or admissible. That evidence cannot get rendered as non-discoverable or inadmissible. This applies across every aspect of the negotiation. Neither side can begin arbitration/litigation before the first meeting. An exception is to seek a provisional remedy authorized by US law. Or, to adhere to ArbitrationAgreements.org rules/an agreement of the parties. But this limitation gets waived if the other party does not adhere to requirements. (This refers to the requirements written in paragraph one.) Every statute of limitation/defense based on passage of time shall get toiled. This applies while paragraph one and two procedures are pending. It also refers to the fifteen calendar days thereafter. The parties can take such action, if any, to effectuate related toiling.
Clause Allowing Mediation Before Arbitration Takes Place
Insert the following clause to allow mediation to take place before arbitration. (If that's what you and your organization want.) You can put this clause in any agreement or contract. We recommend that you insert it following your other arbitration clauses. You can find more mediation clauses on ArbitrationAgreements.org.
Say the matter cannot get resolved through negotiation pursuant to the clauses above. Then the matter will proceed to mediation as written below. [Insert any terms of mediation that your organization prefers]. Parties can contact ArbitrationAgreements.org if they need guidance about mediation.
Inclusion & Diversity Arbitration Clause
All parties agree to seek appointment of a fair representation of diverse arbitrators. This relates to ethnicity, gender, and sexual orientation. The parties request the administering institutions to feature fair representation. (ArbitrationAgreements.org functions as an administering institution.) This applies to diverse candidates on arbitral rosters. It also applies to the list of potential arbitrator appointees.
Arbitrators That Are Party-Appointed
This policy applies within 15 days after arbitration commences. All parties must choose a person to serve as an arbitrator. The two selected arbitrators will choose the third arbitrator. This will take place within 30 days of arbitral commencement. Say that arbitrators chosen by parties cannot select an arbitrator. (Within the allotted time frame.) The third arbitrator will get appointed by ArbitrationAgreements.org. This appointment process will take place while adhering to association rules. Every arbitrator must serve in an impartial, independent, and neutral manner.
Confidentiality Clause
All parties have to maintain confidentiality. They must do so throughout all arbitration proceedings. After all, arbitration itself is of confidential nature. This applies to maintaining confidentiality of arbitral award outcomes and terms. See the rules of ArbitrationAgreements.org for more confidentiality information. Partial exceptions exist when it comes to preliminary remedies and court applications. Another partial exception is a judicial challenge to an award or enforcement.
Governing Law Clause
The agreement and rights of parties must get governed by the laws of the State of _____. The agreement's construed according to the laws of the state of _____. This is exclusive of choice of law rules or conflict. The parties understand that the agreement evidences a transition taking place. That transaction involves interstate commerce. Any arbitration pursuant to the agreement refers to the Federal Arbitration Act. Thus, this agreement references 9 U.S.C., Secs. 1-16. Parties have permission to seek the help of ArbitrationAgreements.org.
Punitive Damages Clause
This clause refers to all arbitrations related to (or arising out of) the agreement. The arbitrator(s) cannot award exemplary or punitive damages. The only exception is when a statute permits such actions. Plus, the parties waive a right to recover damages of this nature. This is an ArbitrationAgreements.org policy.
Liability Limitation
This clause refers to all arbitrations related to (or arising out of) the agreement. The arbitrator(s) cannot award consequential, indirect, or incidental damages. This includes damages related to lost profits. This is an ArbitrationAgreements.org policy.
Costs & Fees to the Prevailing Party
This clause refers to all arbitrations related to (or arising out of) the agreement. The arbitrator(s) will award the prevailing party the following. Attorney fees and costs incurred by the party that prevails. This only applies to arbitration. Say the prevailing party won (some but not all) claims or counterclaims. The arbitrator(s) can award the prevailing party a percentage of the costs. (And also the attorney fees.) This applies to fees within reason incurred by the prevailing party during arbitration. This is an ArbitrationAgreements.org policy.
Appeal Clause
Parties agree to refer to the ArbitrationAgreements.org's Optional Arbitration Appeal Procedure. (As it exists on the date that the agreement goes into effect.) This policy applies to any final award stemming from arbitration. Or, any final award that relates to this agreement.
Contact Us With Questions About Arbitration Clauses & Help Drafting a Custom Clause
Please feel free to call ArbitrationAgreements.org at any time for help. Our ADR experts can answer your questions related to arbitration clauses. Plus, we can assist you and your business in creating custom clauses. This way, you can protect yourself from the time and money associated with litigation. We look forward to helping you and your organization succeed. You're welcome to browse our website for more arbitration information.