Does Mediation Mean Settlement?
Nitin Paul Harmon
June 1, 2023, 11:30 a.m.
...
Does Mediation Mean Settlement?
"Does mediation mean settlement?" is an important question when it comes to ADR: alternative dispute resolution. Let's begin by answering that question right away:
Mediation does not necessarily mean settlement. In many cases the parties involved in a dispute will be unable to reach an agreement and the mediation process may end without a settlement being reached.
It is important to note that, even if no settlement is reached during mediation, it can still be a valuable opportunity for both sides to understand each other's position and gain some insight into possible ways of resolving disputes in the future.
Mediation can also help build relationships between those involved, allowing them to approach any further negotiations with greater understanding and respect.
It should also be noted that mediators are impartial third parties and do not take sides or make decisions. Their role is simply to facilitate communication between the two parties.
Introduction to Mediation
Mediation has become an increasingly popular alternative to traditional litigation in numerous domains, from international relations to personal disputes. Know about mediation settlement agreement. information. This process provides a platform for parties to navigate their disagreements in a more flexible, confidential, and potentially less contentious manner. However, a common misconception exists around the concept of mediation, often equated solely with the idea of settlement. This article aims to dissect this notion and illuminate the broader meaning and nuances of mediation beyond mere settlement.
Understanding Mediation
Before delving into the complex relationship between mediation and settlement, it's important to understand what mediation entails. Mediation is a form of alternative dispute resolution (ADR) wherein a neutral third party, the mediator, facilitates a conversation between disputing parties to help them reach a mutually acceptable resolution. please continue reading to learn more about settling disputes through divorce mediation.
The mediator's role is not to impose a decision but to assist the parties in communication, helping to identify their interests, clarify misunderstandings, explore areas of compromise, and develop agreements that will benefit all sides. The process is both voluntary and confidential, fostering a safe space for dialogue and negotiation.
What is a Settlement?
A legal settlement is an agreement reached between parties involved in a dispute, wherein they resolve their conflict without a court judgment. Essentially, it is a compromise where each party typically makes concessions to avoid the uncertainty and expenses associated with a trial.
Legal settlements are commonly utilized in various disputes, including personal injury cases, contract disputes, divorce negotiations, and employment disputes, among others. The terms of a legal settlement are usually outlined in a settlement agreement, a document that provides the details of the resolution. This may include monetary compensation, actions to be performed, or behaviors to be ceased, depending on the nature of the dispute.
Once signed, the settlement agreement often becomes a legally binding contract, enforceable by law. Alow cost mediationsettlement is almost always more ideal than the end-result of a trial. However, the enforceability might be subject to the specific laws and regulations of the jurisdiction in which the agreement is made. As with any legal agreement, parties are generally advised to seek independent legal advice before entering into a settlement agreement.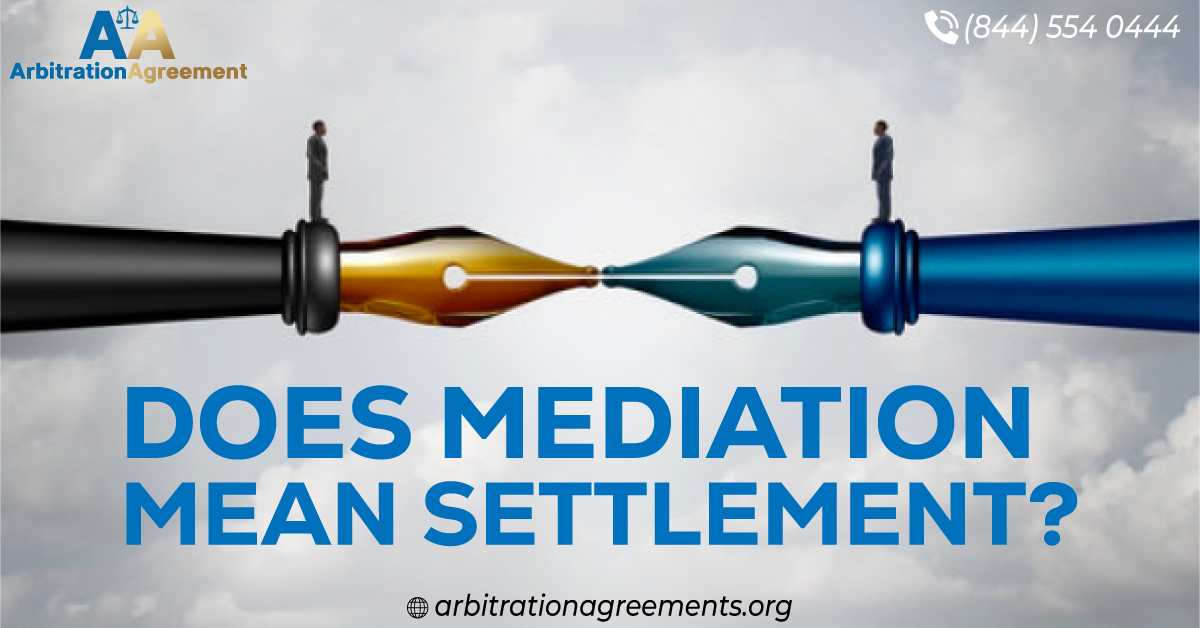 Mediation and Settlement: A Relationship Misunderstood
The association of mediation with settlement is understandable. A key objective of mediation is indeed to help the parties reach a resolution to their dispute—a settlement, if you will. However, equating mediation with settlement overlooks the multi-faceted nature of the process and the diverse outcomes it can produce.
Firstly, it's important to understand that not all mediations lead to a settlement. Mediation provides a forum for open and honest dialogue, but it does not guarantee the resolution of the dispute. It is up to the involved parties to agree or disagree to a proposed settlement employment arbitration. The parties, despite their best efforts, may not reach an agreement in some cases. Yet, this doesn't necessarily mean the mediation has failed. The process itself can offer valuable insights, improved understanding, and potentially pave the way for future resolution.
Secondly, focusing solely on settlement underestimates the transformative potential of mediation. Unlike the court-based dispute resolution, mediation can address not only the material issues at stake but also relational and emotional aspects. Mediation can help parties restore damaged relationships, improve communication, foster empathy, and achieve emotional closure—outcomes that go far beyond a mere settlement agreement.
Is Mediation Legally Binding?
Mediation is a voluntary, private process in which parties work towards an agreement with the help of a neutral third-party mediator. The purpose of mediation is to reach an amicable resolution that all parties are satisfied with and can implement.
In some cases, the outcome of mediation may result in a legally binding agreement between the parties involved. Do you want to know about arbitration form? In most cases, however, any agreement reached through mediation does not have legal enforceability unless it is reduced to writing and signed by both parties. A court also has to approve of any such agreements before they are legally binding and enforceable. It is important for participants in mediation processes to understand their rights and obligations under state law prior to engaging in the process.
Is Mediation a Transformative Process?
Yes. A more holistic view of mediation acknowledges it as a transformative process. This perspective emphasizes personal growth and social transformation as potential outcomes of the mediation process.
Mediation can offer disputants the opportunity to gain a deeper understanding of their conflict, the other party's perspectives, and their own needs and interests. This understanding can lead to personal growth, changes in perspective, and even shifts in behavior—outcomes that extend beyond the immediate dispute and can influence other areas of the disputants' lives.
Moreover, the transformative potential of mediation can extend to the societal level. By promoting dialogue, understanding, and peaceful conflict resolution, mediation can contribute to a culture of peace and cooperation, challenging the adversarial mindset often prevalent in our society.
What Are the Five Steps of Mediation?
Mediation, as a structured process, generally follows a sequence of steps to guide parties from dispute to potential resolution. arbitration company. While the specifics may vary depending on the mediator's style, the nature of the dispute, and the mediation model used, the following five steps provide a broad framework that is commonly employed.
1. Introduction and Setting the Stage: The mediator commences the process by explaining the rules and principles of mediation, such as confidentiality, neutrality, and voluntariness. This sets the stage for a respectful and constructive dialogue. The parties are then given an opportunity to agree to these terms and to the mediation process itself.
2. Storytelling and Issue Identification: Each party is given an opportunity to share their side of the story without interruption. This step allows each party to feel heard and validated. Through this process, the mediator identifies and outlines the key issues to be addressed.
3. Clarification and Information Gathering: The mediator asks questions to gain a deeper understanding of the issues, the underlying interests, and any hidden concerns. This step can involve private meetings, known as caucuses, where each party can feel safe to share sensitive information with the mediator.
4. Negotiation and Problem-Solving: The mediator facilitates discussions on potential solutions, encouraging the parties to consider a variety of options. The aim is to help the parties shift from their positions to underlying interests, fostering creative problem-solving and win-win solutions.
5. Agreement and Closure: If a mutual resolution is reached, the mediator assists the parties in crafting a detailed agreement that encompasses all the terms of the resolution. Do you want to know what is the difference between arbitration and mediation? If no resolution is reached, the mediator may summarize the progress made and discuss the next steps, which could include further mediation or exploration of other dispute resolution options.
Remember, while these steps provide a general framework, mediation is a flexible process that can be tailored to the unique needs and dynamics of each dispute.
When Is A Mediation Agreement Not Legally Binding?
A mediation agreement may not be legally binding in certain circumstances. First and foremost, if the agreement lacks the fundamental elements of a contract – offer, acceptance, consideration, intention to create legal relations, and certainty of terms – it may not be enforceable. Know how mediation defined? For instance, if the terms of the agreement are too vague or ambiguous, or if there's an absence of mutual agreement on critical points, the agreement may not hold up in court.
Additionally, the legal enforceability of a mediation agreement can be compromised if it was entered into under duress, undue influence, or misrepresentation. If a party can demonstrate that they were coerced into the agreement, or if they were misled about the nature or implications of the agreement, the court may find the agreement to be non-binding.
Similarly, if the agreement is contrary to public policy or involves illegal activities, it is unlikely to be enforced. It's important to remember that specific laws and regulations regarding the enforceability of mediation agreements can vary by jurisdiction, and one should seek professional legal advice to understand the implications fully.
How Does Mediation Work In A Personal Injury Case?
Mediation in personal injury cases provides an opportunity for parties to resolve their disputes outside the traditional court system. This process is often sought due to its efficiency, cost-effectiveness, and the control it grants to the parties involved over the outcome of their dispute.
The mediation process begins once both parties agree to participate. A neutral third-party, the mediator, is chosen mutually by the parties or appointed by the court. The mediator's primary role is not to make decisions, but to facilitate discussions between the parties, aiming to guide them towards a resolution that is agreeable to both sides.
During the mediation, each party, often represented by their respective attorneys, gets an opportunity to present their side of the story. This typically includes an explanation of the facts, presentation of evidence, and a discussion of the damages sought. The mediator may conduct these sessions jointly, with all parties present, or may hold separate private sessions with each party (known as "caucuses"), or a mix of both.
In these sessions, the mediator helps the parties to understand the strengths and weaknesses of their case, and the potential risks and rewards of proceeding to court. The aim is to help the disputants to see the dispute from different perspectives and to encourage them towards compromise.
If the parties reach an agreement, the terms of the agreement are usually documented in a written settlement agreement. This agreement outlines the specifics of the resolution, which might include compensation amounts, payment terms, and any non-monetary terms. Depending on the jurisdiction, this settlement agreement can become a legally enforceable document once signed by all parties. Do you know what is consumer arbitration? However, if an agreement is not reached, the parties retain their right to take the dispute to court. Even in such cases, the mediation process can still be beneficial as it can help clarify the issues, potentially narrowing the scope of the dispute before it goes to court.
To sum it up, mediation in personal injury cases serves as a potentially efficient, cost-effective, and less contentious alternative to court litigation. It offers parties the opportunity to reach a mutually agreeable resolution under the facilitative guidance of a neutral mediator.
Conclusion
While the potential for settlement is a significant feature of mediation, it is not the sole or even primary purpose of the process. Mediation serves as a platform for communication, understanding, compromise, and transformation. Learn more about arbitration agreement meaning information. It allows disputing parties to address their needs and interests in a holistic manner, potentially leading to resolutions that satisfy all parties involved and even fostering personal and societal growth.
So, does mediation mean settlement? Yes, and much more. It signifies an opportunity for understanding, growth, and transformation—an opportunity to not only settle a dispute but also to address the underlying issues, restore relationships, and promote a more peaceful society.
Summary: Does Mediation Mean Settlement?
Mediation does not always mean settlement of a dispute.
The goal of mediation is to facilitate communication between parties and help them an agreement that is satisfactory to all involved, but it does not guarantee a resolution or settlement.
Mediators may provide guidance and advice on how to resolve disputes without imposing any solutions.
If the parties are unable to reach an agreement during mediation, they can still try other options such as negotiation, arbitration or litigation.
Even if no agreement is reached in mediation, the process can be beneficial by allowing both sides to understand each other's perspective and look for potential areas of compromise.
...