Can Police Use Text Messages as Evidence?
Nitin Paul Harmon
Sept. 6, 2023, 12:25 p.m.
...
Can Police Use Text Messages as Evidence?
"Can police use text messages as evidence?" is a common question within the legal landscape. In today's digital age, the processes for criminal investigations and prosecutions have evolved dramatically. Do you want to know what is the difference between arbitration and mediation? Traditional forms of evidence like fingerprints or DNA are no longer the only tools at a law enforcement officer's disposal. A form of evidence that is increasingly becoming prevalent is digital evidence, particularly text messages. Given their widespread use in everyday communication, the question naturally arises: can police use text messages as evidence?
Understanding the Scope of Digital Evidence
The advent of digital technology has revolutionized the way humans communicate. Text messages, emails, social media interactions, and numerous other forms of electronic communication now form an integral part of our daily lives. Not surprisingly, these digital footprints can often provide valuable insights into a person's actions, intentions, or state of mind.
In legal parlance, any data or information stored or transmitted in digital form that a party to a court case can use in the court to support their case is known as digital evidence. Want to know arbitration clause & provision? Text messages are part of this broad category, alongside emails, web pages, documents, social media posts, and other digital content. Like other forms of evidence, digital evidence, including text messages, can potentially be used in court proceedings. However, the use of such evidence is not as straightforward as it may initially seem.
Text Messages as Evidence: The Legal Framework
In most jurisdictions, including the United States, the law allows text messages to be used as evidence. This is largely due to the legal principle of relevance. As a rule, any evidence that is relevant to proving or disproving a material fact in a case is generally admissible, unless some rule or principle specifically prohibits its use.
However, despite being potentially admissible, not every text message can be introduced as evidence. Know how mediation defined? For a text message to be accepted as evidence in a court, it must meet certain criteria. These can be summarized in two key legal concepts: authenticity and reliability.
Authenticity and Reliability of Text Messages
Authenticity refers to the need to prove that the evidence is what it claims to be. In the case of text messages, it means establishing that the messages were indeed sent by the person alleged to have sent them and received by the person they were sent to. Do you want to know who pays for mediation? This can be tricky, given the possibility of phone cloning, identity spoofing, and various other forms of manipulation or misrepresentation.
Reliability, on the other hand, pertains to the credibility and trustworthiness of the evidence. For text messages, this often revolves around issues of context and interpretation. Know what is mandatory arbitration? For instance, a message that seems incriminating when read in isolation may have a different meaning when viewed in the context of the entire conversation or relationship between the parties.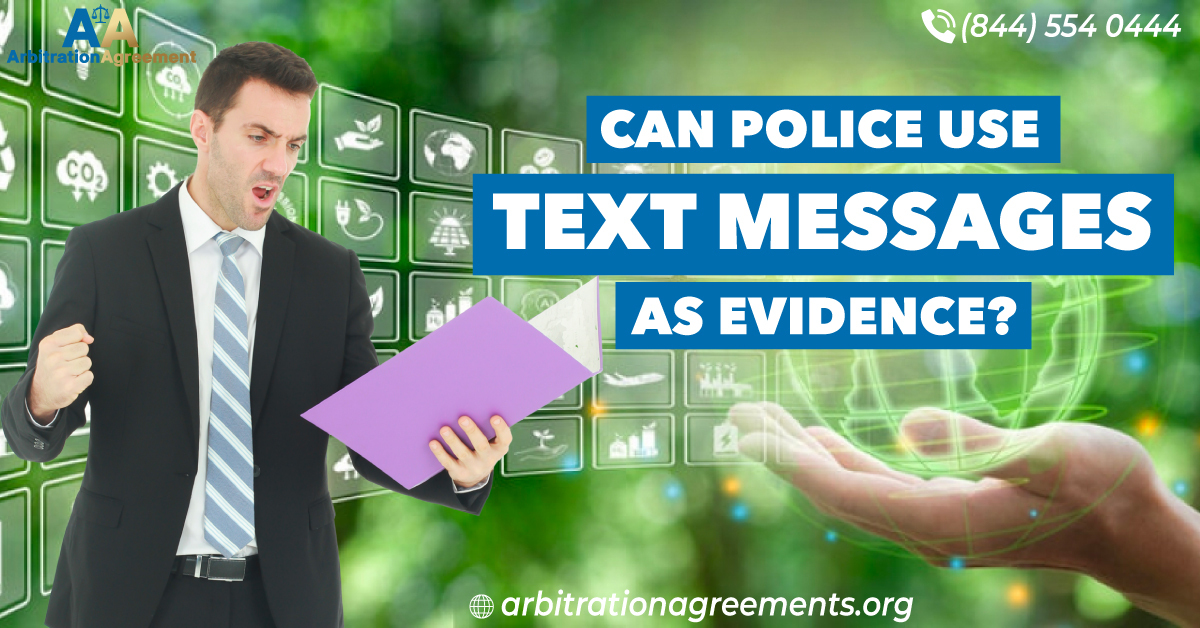 Obtaining Text Messages: Legal and Ethical Considerations
While it's clear that text messages can be used as evidence, another question remains: how can these messages be obtained? For law enforcement agencies, this is a process governed by stringent legal and ethical guidelines.
In the United States, for example, the Fourth Amendment protects individuals from unreasonable searches and seizures. This means that before law enforcement can access a person's text messages, they typically need to obtain a search warrant. This requires them to convince a judge that there is probable cause to believe that the text messages contain evidence of a crime.
Additionally, there are laws that protect the privacy of electronic communications, such as the Stored Communications Act (SCA) and the Electronic Communications Privacy Act (ECPA). Do you want to learn more about arbitration vs mediation vs litigation? These laws impose restrictions on how and when law enforcement agencies can access and use electronic communications as evidence.
Preservation and Examination of Text Message Evidence
Preserving the integrity of text message evidence is paramount to its admissibility in court. The process of preservation ensures that the original data remains unchanged during the investigation, which is important for maintaining its authenticity and reliability. This can be a challenging task due to the ephemeral nature of digital data. A common method for preserving such evidence is creating a forensic image, a bit-by-bit copy, of the device.
After preservation comes the process of examination. This involves analyzing the preserved data to extract relevant information. This step is not as simple as just reading the messages; it often requires the expertise of digital forensic professionals. They employ sophisticated software to recover deleted messages, decode encrypted messages, and correlate messages with other data like timestamps and geolocation information.
Interpreting Text Messages: A Complex Task
Interpreting the content of text messages can often be a complex task. Unlike traditional forms of communication, text messages often lack context. Do you want to know how non-binding arbitration works? They can be filled with abbreviations, emojis, or slang, which can have multiple interpretations. In certain situations, a seemingly harmless message might be coded language for illegal activity, while an incriminating message might just be a joke or a figure of speech.
In order to draw accurate conclusions from text message evidence, it's vital to consider the overall context. This includes the history of communication between the parties involved, their relationship, and the circumstances surrounding the messages. Sometimes, experts in linguistics or social behavior may be called upon to provide their professional opinion on the possible interpretations of the content.
The Role of Consent in Text Message Evidence
In some cases, the consent of the parties involved plays a role in whether text messages can be used as evidence. Learn more about arbitration agreement meaning information. In a situation where one party has willingly shared text messages, these can typically be used as evidence. However, situations can be complicated when a third party, such as a telecommunications provider, is asked to supply the messages. Laws such as the Electronic Communications Privacy Act (ECPA) restrict the circumstances under which these providers can share user data with law enforcement.
The Impact of Encryption on Text Message Evidence
In the modern digital age, encryption is becoming increasingly common as a method to ensure privacy. Encrypted messages can pose a significant challenge for law enforcement, as these messages can't be read without the correct decryption key. This has led to an ongoing debate about the balance between individual privacy and the needs of law enforcement.
The Future of Text Messages as Evidence
As technology continues to evolve, the legal landscape will have to adapt. Artificial intelligence, machine learning, and advanced cryptography are just a few of the developments that could significantly alter how text messages are used as evidence.
For instance, AI and machine learning can be utilized to help identify patterns, decode language, and even predict behaviors based on text message data. Know how the federal arbitration act applies to both federal and state courts. On the flip side, these technologies could also be used to manipulate digital evidence, creating even more challenges for law enforcement and the justice system. Similarly, advancements in encryption technology could make it more difficult for law enforcement to access text message evidence, potentially sparking new debates about privacy and security.
Conclusion: A Double-Edged Sword
Text messages can provide a veritable goldmine of information for law enforcement agencies. They can offer insights into a suspect's motives, actions, and connections, often playing a crucial role in investigations and prosecutions.
However, the use of text messages as evidence also raises complex issues of privacy, consent, and interpretation. Read more about Arbitration Agreement Association. Striking the right balance between the needs of law enforcement and the rights of individuals is no easy task, especially given the fast-paced evolution of digital technology.
In conclusion, while police can indeed use text messages as evidence, their use is subject to strict legal rules and principles designed to ensure the fairness of legal proceedings and the protection of individual rights. As our reliance on digital communication continues to grow, so too will the importance of understanding and navigating these rules and principles.
...