California Arbitration Rules
Nitin Paul Harmon
Sept. 5, 2023, 11:05 a.m.
...
California Arbitration Rules
The Golden State of California, known for its striking natural beauty and vibrant economy, also stands out for its unique legal framework. Do you want to know what is the difference between arbitration and mediation? A salient part of this system is its rules around arbitration, an alternative dispute resolution method increasingly sought after by individuals and entities desiring to avoid lengthy and costly court battles. While the general principles of arbitration remain the same across different jurisdictions, California offers a distinctive take on these procedures.
Why is Arbitration Important in California?
California, being one of the most populous states with a bustling economy, sees a high volume of legal disputes. The state's courts, like many across the nation, are often inundated with cases, leading to long waiting times and steep costs.
These circumstances, in conjunction with the private and less formal nature of arbitration, make it a preferred dispute resolution method for many Californians.
Arbitration in California, like elsewhere, allows for a neutral third-party (the arbitrator) to hear the parties' arguments and evidence before making a binding decision. Know how mediation defined? The process, overall, is faster, more flexible, and often less stressful than traditional courtroom litigation.
How are California's Arbitration Rules Unique?
Arbitration rules in California distinguish themselves in several ways, making them unique compared to many other U.S. states. The primary source of these differences arises from the California Arbitration Act (CAA) and the state's robust consumer protection laws.
One of the ways California's arbitration laws differ is that they allow parties to arbitrate only if both have expressly agreed to it, either in a contract or separate agreement. The state also maintains a strong focus on consumer rights, dictating that certain types of disputes may be unsuitable for arbitration due to potential power imbalances between consumers and corporations.
Moreover, the state insists on strict adherence to procedural fairness in arbitration. The arbitrators, for instance, are required to disclose any potential conflicts of interest, and decisions can be vacated if there's a reasonable impression of partiality. This demonstrates the state's commitment to ensuring a fair, impartial, and transparent arbitration process.
What are the Procedures for Initiating Arbitration in California?
Initiating arbitration in California typically begins with a written agreement between the disputing parties, which outlines that any disputes will be resolved through arbitration. Once a dispute arises, the initiating party serves the other party with a demand for arbitration, which lays out the details of the dispute.
The selection of the arbitrator(s) usually follows. In California, the process must be impartial, and the arbitrator is required to disclose any potential biases or conflicts of interest. Know what is mandatory arbitration? California also allows for the appointment of a panel of arbitrators, usually three, particularly in complex cases.
What Happens During the Arbitration Process?
The arbitration process in California is generally more streamlined and less formal than court litigation. It involves the submission of evidence and arguments by each party before the arbitrator. Some arbitrations may resemble a courtroom trial, with witnesses and cross-examinations, while others may be more akin to a negotiation meeting, depending on the agreement between the parties.
After hearing all the evidence and arguments, the arbitrator issues a decision, often referred to as an "award." This award is generally final and binding, though there are limited circumstances under which it can be appealed or modified.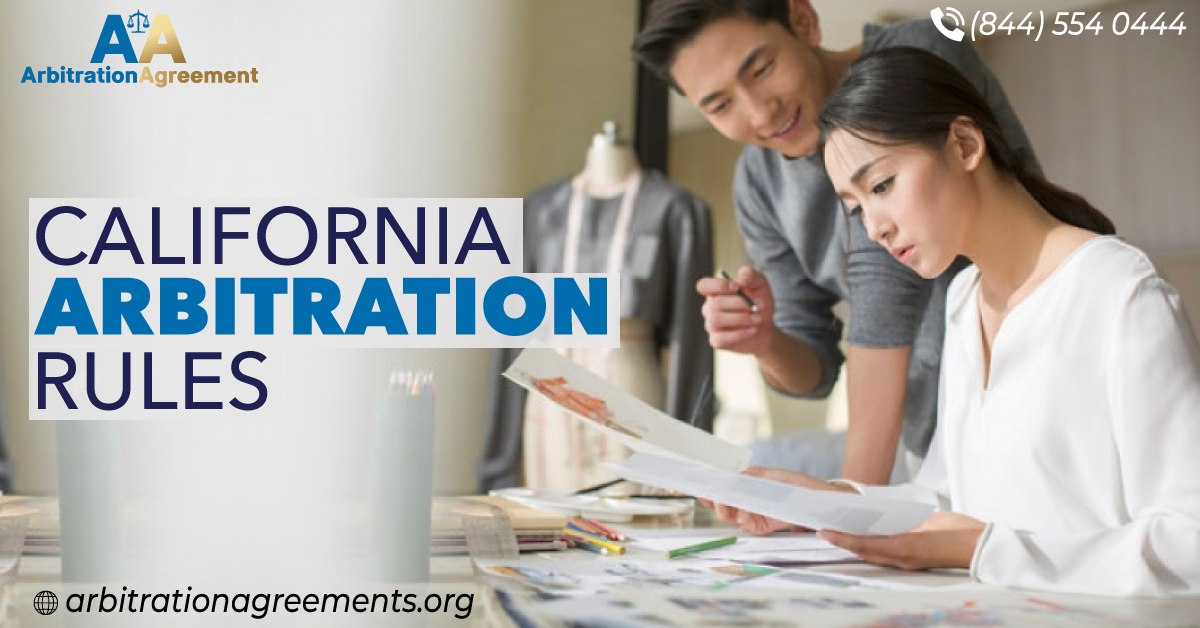 Can Arbitration Awards Be Challenged in California?
While the purpose of arbitration is to provide a final and binding resolution to disputes, California law does provide a narrow set of circumstances under which an arbitration award can be challenged. Do you want to learn more about arbitration vs mediation vs litigation? These include cases of corruption, fraud, misconduct by the arbitrators, or when the arbitrators exceeded their powers. It's important to note that these grounds for appeal do not include simple disagreement with the outcome or a perceived error in the arbitrator's decision-making.
What Are the Confidentiality Rules in California Arbitration?
California is renowned for its strict confidentiality rules regarding arbitration. Arbitration proceedings, unlike court trials, are private and typically not open to the public. The records and awards of the arbitration are also usually confidential. However, if the arbitration involves a public entity, certain records might be subject to disclosure under the California Public Records Act.
What Are the Costs Associated with Arbitration in California?
Arbitration costs in California can vary significantly depending on the nature and complexity of the dispute, the number of parties involved, and the length of the proceedings. These costs typically encompass the arbitrator's fees, administrative fees for the arbitration institution (if any), and attorney's fees, among other expenses.
Unlike in traditional litigation, the parties typically share the cost of the arbitrator's fees, unless their agreement provides otherwise. Do you want to know how non-binding arbitration works? It is also noteworthy that California's laws put specific safeguards in place to protect consumers and employees from bearing excessive costs in arbitration, ensuring that arbitration remains a feasible option for all.
What Are Some Considerations When Choosing an Arbitrator?
The selection of an arbitrator is a crucial aspect of the arbitration process, given the significant role the arbitrator plays in resolving the dispute. When choosing an arbitrator in California, there are several factors parties might want to consider.
Expertise in the subject matter of the dispute is often a key criterion, as the arbitrator's understanding of the industry or legal area can greatly influence the arbitration process and the final decision. Impartiality and independence are equally important, as any potential conflict of interest can jeopardize the integrity of the process and the enforceability of the award.
California's rules also mandate the disclosure of any circumstances that could cause a person aware of the facts to reasonably entertain a doubt that the proposed arbitrator would be able to be impartial. Thus, comprehensive disclosure by the potential arbitrators and diligent examination by the parties become vital to the process.
How is Arbitration Different from Mediation?
While both arbitration and mediation are forms of alternative dispute resolution, they differ significantly in their approach and outcomes. Mediation involves a neutral third party, the mediator, who facilitates discussions between the disputing parties to help them reach a mutually agreed settlement. Learn more about arbitration agreement meaning information. Unlike an arbitrator, a mediator does not impose a decision; the resolution depends entirely on the agreement of the parties.
On the other hand, arbitration is a more formal process, closer to litigation, where the arbitrator hears the evidence and arguments before making a binding decision. This decision, known as the arbitration award, is enforceable in the same manner as a court judgment.
The Future of Arbitration in California
California's arbitration rules have undergone numerous changes over the years, reflecting the evolving needs of its dynamic society and economy. Trends suggest that this evolution is likely to continue, with a focus on improving the efficiency and fairness of the process.
One potential area of change could be the increasing use of online arbitration, or "e-arbitration," particularly in the wake of the COVID-19 pandemic. Read more about Arbitration Agreement Association. The increased use of technology can make arbitration even more accessible and efficient, aligning with California's tech-forward ethos.
Further refinements in the rules to address consumer protection concerns, enhance arbitrator disclosure requirements, and streamline the process can also be expected. As such, anyone involved in arbitration in California needs to stay informed about these changes to navigate the process effectively.
How Do California Arbitration Rules Apply to Employment Disputes?
California's arbitration rules also apply to employment disputes, which include disagreements over wages, discrimination claims, wrongful termination, and other workplace-related issues. Employers often include arbitration clauses in employment contracts to steer potential disputes away from court litigation. Know how the federal arbitration act applies to both federal and state courts. However, such clauses must adhere to California's strong emphasis on procedural fairness and employee rights.
In 2019, California sought to restrict the use of mandatory arbitration agreements in the employment context through Assembly Bill 51 (AB 51). While the future of AB 51 is uncertain due to ongoing legal challenges, it underscores California's ongoing efforts to balance the efficiency of arbitration with the protection of employees' rights.
How is International Arbitration Handled in California?
International arbitration in California follows similar fundamental principles as domestic arbitration, with some additional elements due to the international nature of the dispute. The arbitration agreement must meet certain requirements under the Federal Arbitration Act and the New York Convention, an international treaty that promotes the recognition and enforcement of international arbitration agreements and awards.
California, being home to various multinational corporations and having strong trade ties with numerous countries, is often a preferred venue for international arbitration. The state offers a well-developed legal framework, experienced arbitrators, and is known for its reliable enforcement of arbitration awards, making it a popular choice for parties from different jurisdictions.
Conclusion
Arbitration in California is marked by its robustness, flexibility, and firm commitment to consumer protection and procedural fairness. Want to know arbitration clause & provision? The California Arbitration Act and various consumer protection laws provide a unique framework for dispute resolution that prioritizes the rights of all parties involved.
While the process has many advantages, it's essential for individuals and businesses to understand the rules thoroughly before choosing to arbitrate in California. As always, obtaining advice from a legal professional can help navigate this complex field and ensure that the process aligns with the parties' interests and rights.
Arbitration, with its numerous merits and distinct approach, is playing an increasingly crucial role in California's dispute resolution landscape. Do you want to know who pays for mediation? As such, understanding California's arbitration rules is an essential tool for anyone looking to effectively resolve disputes within this jurisdiction.
...