Arbitration in Real Estate
Nitin Paul Harmon
Sept. 3, 2023, 11:40 a.m.
...
Arbitration in Real Estate
Let's take a deep dive into the subject of arbitration in real estate. In the dynamic world of real estate transactions, disputes are, unfortunately, a commonplace occurrence. Often, these disagreements stem from issues as diverse as contractual misunderstandings, boundary disputes, or even property damage. Do you want to know what is the difference between arbitration and mediation? Such cases, if left unresolved, can lead to costly and protracted legal battles.
This is where arbitration, a form of alternative dispute resolution, comes into play, serving as an effective and efficient tool for the resolution of disputes in the real estate sector. Herein, we delve into the merits and transformative power of arbitration in real estate, spotlighting how it can serve as an influential force in mitigating friction and enhancing business relationships.
What is Arbitration?
Arbitration is a form of dispute resolution, which stands as an alternative to traditional litigation in a court of law. In arbitration, a neutral third party known as an arbitrator is appointed by the conflicting parties to review the facts, consider the merits of the case, and make a binding decision. This decision is enforceable by law and is typically final, with limited scope for appeal.
The arbitrator can be an individual, but often, it is an arbitration panel that constitutes more than one arbitrator. Importantly, the arbitrators are usually chosen for their expertise in the subject matter of the dispute, providing a high level of technical and industry-specific insight into the case.
Why is Arbitration Particularly Suited to Real Estate Disputes?
The property and real estate industry is characterized by its complexity and intricacy, often involving multifaceted contracts, considerable sums of money, and a wide range of stakeholders. Know how mediation defined? Consequently, the disputes that arise in this sector can be equally complex and can require a nuanced understanding of the industry and its practices. Here are a few reasons why arbitration is well-suited for resolving real estate disputes.
Expertise in the Subject Matter
In traditional court litigation, a judge, who might not have specialized knowledge about real estate matters, will decide the dispute. This could lead to the risk of misinterpretation of technical or industry-specific aspects. Arbitration, on the other hand, provides the opportunity to have the dispute determined by an expert in the field. These professionals, with their profound knowledge and experience, are likely to understand the intricacies of the case better and make a more informed decision.
Efficiency and Time-Saving
Court cases can be notoriously long-drawn, often extending for months, if not years. This is because courts are generally overburdened with cases and follow rigorous procedural requirements. In contrast, arbitration proceedings are usually faster and more streamlined, saving valuable time for all involved parties. A quick resolution can mean less time spent in uncertainty and more time focusing on the core business.
Despite the perceived high initial costs associated with appointing an arbitrator or arbitration panel, the process may still prove to be more cost-effective than traditional litigation. Know what is mandatory arbitration? This is primarily due to the shortened timeline and reduced legal fees resulting from a quicker resolution. Moreover, parties can often agree on procedural rules and requirements, allowing for further cost reductions.
Confidentiality is a significant advantage of arbitration that is particularly appealing in the real estate industry. Unlike court cases, which are open to the public, arbitration proceedings are private. The details of the dispute, as well as the final decision, are not disclosed to the public, thereby protecting the reputation of the parties involved.
In contrast to court litigation, arbitration offers more flexibility in terms of procedural rules and decision-making processes. Parties can negotiate and agree on these rules, allowing the arbitration to be tailored to their specific needs. This flexibility can help to streamline the process, making it more convenient for all parties.
One of the key benefits of arbitration is that arbitral awards are more easily enforceable than court judgments, particularly in an international context. This enforceability is facilitated by international treaties like the New York Convention, which has been ratified by over 160 countries. This makes arbitration a preferred method for cross-border real estate disputes.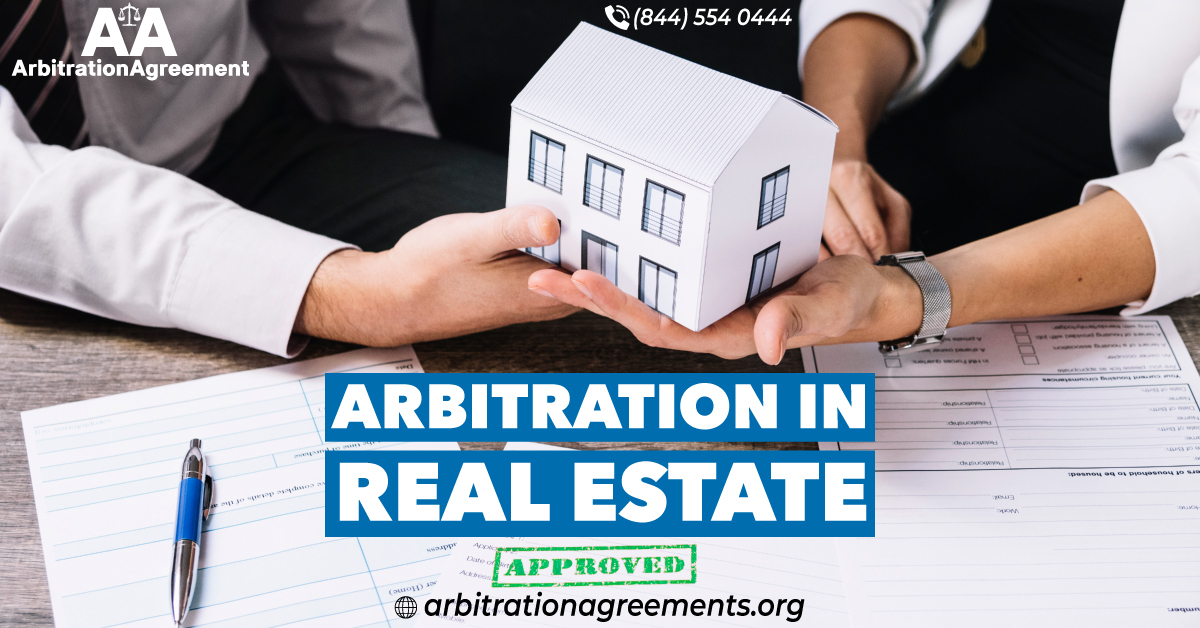 How Can Arbitration Promote Harmonious Relationships in Real Estate?
Unlike litigation, which can be adversarial and often damages relationships between parties, arbitration tends to promote more harmonious relationships. Do you want to learn more about arbitration vs mediation vs litigation? This is because it allows for a less formal and less confrontational setting where the parties can communicate openly. By focusing on a fair and balanced decision, arbitration helps to maintain and possibly even enhance business relationships, which is crucial in the relationship-oriented real estate industry.
How Can One Prepare for Real Estate Arbitration?
The benefits of arbitration in real estate are indeed compelling. However, like any form of dispute resolution, it requires careful preparation to fully realize its advantages. Here are some recommendations on how to approach and prepare for real estate arbitration effectively.
Understand the Arbitration Clause
Real estate contracts often include an arbitration clause specifying that disputes arising from the agreement will be resolved through arbitration. It is crucial to understand the implications of this clause. Do you want to know how non-binding arbitration works? This includes knowing the proposed arbitration institution, the number of arbitrators, and the applicable law in case of a dispute. If the contract is yet to be signed, consider negotiating these terms to ensure they align with your interests.
Choose the Right Arbitrator
The choice of an arbitrator is a significant factor in determining the outcome of the dispute. Choose an arbitrator who is not only impartial but also possesses deep knowledge and experience in real estate. Consider the complexity of the dispute, the sums involved, and the legal and commercial issues at stake when making this decision.
Assemble a Skilled Legal Team
Even though arbitration is less formal than court proceedings, it is still a legal process, and having a knowledgeable legal team is essential. Learn more about arbitration agreement meaning information. Engage lawyers who are familiar with arbitration proceedings and have a deep understanding of real estate law and practice. They will guide you through the process, from drafting and presenting your case to implementing the arbitration award.
Prepare Your Case Thoroughly
A well-prepared case is crucial to achieving a favorable outcome in arbitration. This involves identifying the key issues, gathering relevant evidence, and developing persuasive arguments. The more prepared you are, the better your chances of prevailing.
Embrace Open Communication
Arbitration is not as adversarial as litigation. Embrace this by maintaining open and respectful communication with the other party. This can help to clarify misunderstandings, narrow down issues, and even lead to an amicable resolution.
Can Arbitration Coexist with Other Forms of Dispute Resolution in Real Estate?
Indeed, arbitration is a robust method for resolving disputes in real estate, but it does not exist in isolation. It forms part of a broader suite of dispute resolution mechanisms, each with its unique features and advantages. Want to know arbitration clause & provision? These include negotiation, mediation, expert determination, and litigation.
Arbitration can effectively coexist with these other forms of dispute resolution, creating a more comprehensive and versatile dispute resolution framework. For instance, parties may first attempt to resolve their dispute through negotiation or mediation. If these methods fail, they can then proceed to arbitration or, in some cases, litigation.
This multi-tiered approach to dispute resolution offers more flexibility and can be tailored to suit the specific needs and circumstances of the dispute. It also ensures that parties have multiple opportunities to resolve their dispute before resorting to the more formal and final process of arbitration or litigation.
The Future of Arbitration in Real Estate
As we look ahead, it's clear that arbitration will continue to play a pivotal role in real estate dispute resolution. With the increasing complexity of real estate transactions, evolving technologies, and globalization trends, the potential for disputes in real estate is ever-present, and the demand for efficient and effective dispute resolution mechanisms is set to grow.
One of the most transformative trends in arbitration is the incorporation of technology. Online dispute resolution platforms and virtual hearings have gained considerable ground, particularly amidst global events like the COVID-19 pandemic which necessitated remote interactions. Read more about Arbitration Agreement Association. This technology offers the potential to make arbitration even more efficient, accessible, and cost-effective.
For example, online platforms can streamline case management, document exchange, and communication between parties. Virtual hearings can eliminate the need for travel, reducing costs and logistical complexities, particularly in international disputes. However, the use of technology also presents challenges such as cybersecurity risks and technical difficulties, which must be appropriately managed to ensure the integrity and effectiveness of the arbitration process.
Embracing Specialized Arbitration Institutions
We're also seeing the rise of arbitration institutions that specialize in specific industries, including real estate. These institutions offer tailored arbitration rules and procedures and a roster of arbitrators with deep industry knowledge and expertise. The development of such specialized institutions can enhance the benefits of arbitration, providing a more industry-focused and nuanced approach to dispute resolution.
Increasing Awareness and Education
Finally, there is an ongoing need to increase awareness and education about arbitration in the real estate sector. Despite its many advantages, arbitration is still not fully understood or utilized by many real estate professionals. Through education and awareness programs, industry professionals can gain a deeper understanding of arbitration and how to effectively leverage it in their transactions.
Wrapping Up: The Power of Arbitration in Real Estate
In the world of real estate, where transactions are complex and the stakes are high, disputes are often inevitable. Know how the federal arbitration act applies to both federal and state courts. However, it is how these disputes are resolved that can make all the difference. Arbitration emerges as a compelling alternative to traditional court litigation, providing a multitude of benefits such as industry-specific expertise, efficiency, cost-effectiveness, confidentiality, flexibility, and enforceability of decisions. More importantly, it fosters a more harmonious approach to dispute resolution, promoting better business relationships in an industry that thrives on connections and partnerships.
Arbitration is not a standalone solution. It complements a wider set of dispute resolution tools like negotiation, mediation, and litigation, offering parties a range of options to suit their specific circumstances. As technology and specialized institutions continue to revolutionize arbitration, it becomes an increasingly indispensable tool in the real estate sector's dispute resolution toolkit.
As we embrace the future of real estate, the importance of understanding and utilizing arbitration cannot be overstated. By doing so, we can navigate the complex web of real estate transactions with more confidence and ease, minimizing friction and maximizing harmony and cooperation. Do you want to know who pays for mediation? Therefore, the power of arbitration in real estate lies not just in resolving disputes but also in facilitating a more efficient, effective, and harmonious real estate landscape.
...