Arbitration and Mediation Training
Nitin Paul Harmon
Sept. 1, 2023, 12:15 p.m.
...
Arbitration and Mediation Training
Arbitration and mediation processes have rapidly become vital elements of the American legal landscape. As alternatives to the traditional courtroom litigation, they offer a multitude of benefits, including cost savings, privacy, flexibility, and speedier resolutions. With the rising interest and application in these methods, the demand for specialized training has surged as well. Do you want to know what is the difference between arbitration and mediation? One organization stands out in addressing this need — ArbitrationAgreements.org, which can offer full-scale arbitration and mediation training across the USA.
Why is Arbitration and Mediation Training Essential?
Arbitration and mediation are unique dispute resolution mechanisms, requiring specific skills and comprehensive knowledge to be executed effectively. Trained arbitrators and mediators bridge the gap between disputing parties, offering them a platform where their issues can be addressed, discussed, and eventually, resolved.
Arbitration, although sharing similarities with courtroom proceedings, calls for specialized training due to its distinctive features. The arbitrator's role is similar to a judge's — analyzing presented evidence, considering legal arguments, and then making a binding decision. However, unlike traditional courtroom proceedings, arbitrators work within an informal, more flexible framework. Know how mediation defined? This flexibility necessitates a nuanced understanding of legal principles and the ability to apply them in varying contexts.
Mediation, on the other hand, is a collaborative and facilitated negotiation process. The mediator's role is more of a facilitator rather than a decision-maker. They guide the parties through the negotiation process, fostering an environment conducive to constructive dialogue and compromise. This role calls for exceptional communication, negotiation, and emotional intelligence skills, along with a deep understanding of the mediation process and its principles.
What Does ArbitrationAgreements.org Offer?
Recognizing the need for quality and practical training, ArbitrationAgreements.org has risen to the occasion. We have designed a holistic program that covers both arbitration and mediation training. This program offers thorough education and practical application, ensuring that participants emerge as competent, confident arbitrators and mediators.
ArbitrationAgreements.org's training can cover a wide variety of topics. For arbitration, these include understanding the arbitration process, arbitration law and principles, evidence evaluation, decision making, drafting arbitration awards, and more. For mediation, their training encompasses mediation techniques and strategies, negotiation skills, ethical considerations, the role of emotions in mediation, and effective communication, among other areas.
The organization employs a variety of training methodologies to deliver its curriculum. Know what is mandatory arbitration? Role-playing exercises, case study analyses, and interactive discussions form a significant part of their teaching strategy. This way, participants get a real-world understanding of the scenarios they might face and how to handle them effectively.
Who Can Benefit from This Training?
ArbitrationAgreements.org's programs are beneficial for a diverse range of individuals. Professionals such as lawyers, corporate executives, human resources personnel, and project managers would find the training particularly useful. As these professionals frequently face situations that demand negotiation, conflict resolution, and decision-making skills, the training would enhance their competence in these areas.
The programs are also beneficial for aspiring arbitrators and mediators who want to build a career in this field. Do you want to learn more about arbitration vs mediation vs litigation? The in-depth, practical approach that ArbitrationAgreements.org adopts prepares these individuals to face real-world challenges, setting them up for success in their chosen career path.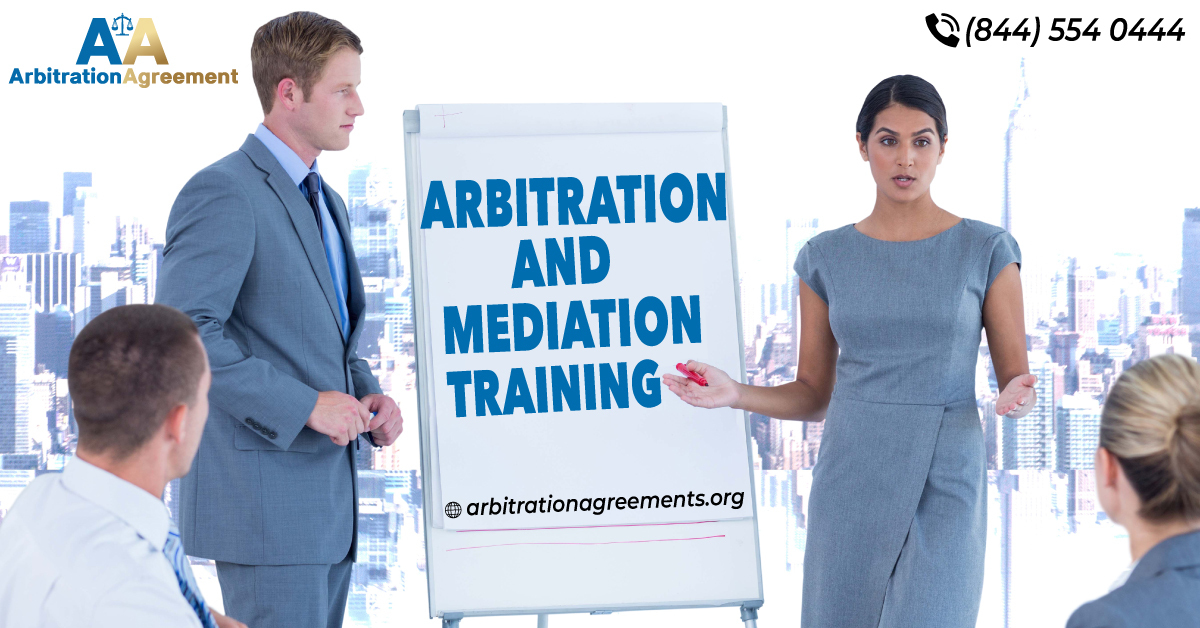 Why Choose ArbitrationAgreements.org?
Several factors set ArbitrationAgreements.org apart in the landscape of arbitration and mediation training. Our association has a team of experienced professionals who bring their practical insights into the classroom, adding an invaluable layer of learning to the theoretical knowledge imparted.
The organization's national reach ensures that our high-quality training is accessible to a wide audience. We also offer flexible learning modes, including in-person and online classes, accommodating the varying needs and schedules of participants.
ArbitrationAgreements.org's commitment to nurturing competent arbitrators and mediators shines through their comprehensive curriculum, practical learning approach, and continuous support to their trainees. Do you want to know how non-binding arbitration works? We pride ourselves on producing professionals capable of guiding parties through difficult times, resolving conflicts efficiently, and contributing to the broader application of these alternative dispute resolution methods.
The Future of Arbitration and Mediation Training
Looking ahead, the future of arbitration and mediation is set to evolve, with new complexities and challenges expected to emerge. Technological advancements, evolving legislation, and changing societal dynamics will all shape the way disputes are resolved. As such, training programs need to be agile, capable of adapting to these evolving realities.
This is where ArbitrationAgreements.org truly shines. Learn more about arbitration agreement meaning information. Their commitment to staying abreast of the latest trends and developments in the field ensures their training programs remain up-to-date and relevant. They continue to innovate their teaching strategies, course content, and methodologies, integrating advanced technologies and modern pedagogical approaches. This forward-thinking attitude makes them an appealing choice for individuals who want to stay competitive and relevant in the field of arbitration and mediation.
Post-Training Support and Continuous Learning Opportunities
Beyond the core training programs, ArbitrationAgreements.org also offers valuable post-training support. They provide a platform for networking, offering trainees the opportunity to connect with fellow professionals, industry leaders, and mentors. This network can prove invaluable for continuous learning, career development, and staying informed about the latest industry developments.
We can also facilitate continuous learning through advanced courses, refresher sessions, and special workshops on emerging topics. Want to know arbitration clause & provision? By doing so, they ensure their trainees have access to the resources they need to hone their skills further and stay on top of their game.
Understanding the Importance of Personal Attributes in Arbitration and Mediation
While technical knowledge and skills are paramount in arbitration and mediation, personal attributes such as patience, empathy, and impartiality play a crucial role as well. ArbitrationAgreements.org recognizes this and places significant emphasis on developing these qualities throughout their training programs.
Arbitrators and mediators often handle emotionally charged disputes. Therefore, patience and empathy enable these professionals to understand the perspectives of each party, fostering a more open and respectful dialogue. On the other hand, impartiality ensures fairness in the process, allowing both parties to trust the mediator or arbitrator fully.
Adapting to Changing Norms in Arbitration and Mediation
As societal norms and values change, so does the nature of the disputes arising. To tackle these new-age disputes effectively, arbitration and mediation must evolve in sync. ArbitrationAgreements.org's training programs reflect this understanding. Read more about Arbitration Agreement Association. They consistently update their curriculum to include contemporary issues such as digital disputes, environmental conflicts, or disputes arising from changing work norms.
This forward-thinking approach ensures that their graduates are well-equipped to handle a variety of disputes, making them versatile professionals in the arbitration and mediation field.
The Role of Ethics in Arbitration and Mediation
ArbitrationAgreements.org places great importance on the ethical dimensions of arbitration and mediation. Ethical considerations are interwoven throughout their training programs, ensuring their trainees understand the ethical implications of their roles.
Arbitrators and mediators bear the weighty responsibility of guiding parties towards resolution. They must conduct themselves with integrity, maintain confidentiality, avoid conflicts of interest, and uphold the fairness of the process. Know how the federal arbitration act applies to both federal and state courts. Understanding and abiding by these ethical principles are essential for maintaining public trust in alternative dispute resolution methods.
Final Thoughts: The Impact of High-Quality Training
Through their comprehensive training programs, ArbitrationAgreements.org is shaping the field of arbitration and mediation in the United States. They are empowering a new generation of professionals, equipped with the knowledge and skills to navigate complex disputes effectively.
Furthermore, they are contributing to the broader discourse around alternative dispute resolution methods, advocating for their widespread use, and ensuring their proper application. The quality of their training not only benefits the individuals they train but also the parties who seek effective, fair, and just resolution of their disputes.
Investing in high-quality arbitration and mediation training, such as that offered by ArbitrationAgreements.org, is an investment in one's professional growth and in the broader justice system. Do you want to know who pays for mediation? It paves the way for more efficient dispute resolution processes, fewer court backlogs, and ultimately, a society where disagreements can be settled amicably, fairly, and promptly.
In conclusion, as we navigate the ever-evolving landscape of dispute resolution, the need for comprehensive, forward-thinking training in arbitration and mediation becomes more apparent. ArbitrationAgreements.org, with its extensive, holistic training programs, commitment to continuous learning, and nationwide reach, is perfectly positioned to meet this need. Through our outstanding efforts, we can ensure that arbitration and mediation professionals are not only well-equipped to handle today's challenges but are also ready to tackle tomorrow's disputes.
...