ADR Training: Online
Nitin Paul Harmon
Aug. 30, 2023, 12:20 p.m.
...
ADR Training:Online
In our increasingly interconnected world, conflicts, both professional and personal, are an inevitable part of human relationships. Whether it's a dispute between two businesses, family members, or community groups, resolving these conflicts in a fair, efficient, and amicable manner is critical.
This is where Alternative Dispute Resolution (ADR) techniques come into play. Organizations and individuals seeking to improve their proficiency in this crucial area are turning to online ADR training courses. Do you want to know what is the difference between arbitration and mediation? ArbitrationAgreements.org is a recognized provider of these valuable online programs.
What is Alternative Dispute Resolution (ADR)?
Alternative Dispute Resolution (ADR) is a collective term for methods used to resolve disputes without resorting to formal litigation. These methods, which include arbitration, mediation, and negotiation, are preferred because of their cost-effectiveness, flexibility, and potential for preserving relationships between the disputing parties. ADR techniques can be applied in various sectors, including business, legal, and community settings, underlining their universal relevance and appeal.
Why is ADR Training Necessary?
The benefits of ADR have spurred the demand for competent practitioners who can effectively navigate these processes. Know how mediation defined? ADR training programs equip individuals with the necessary knowledge and skills to effectively manage disputes and negotiate mutually beneficial solutions. Moreover, as businesses and legal systems increasingly prioritize ADR methods over traditional court litigation, the demand for well-trained ADR professionals continues to grow.
Online ADR Training: A Paradigm Shift
As technology continues to redefine traditional learning platforms, online ADR training has emerged as a viable, accessible option for many. An online ADR training program, like those offered by ArbitrationAgreements.org, provides learners with the flexibility to study at their own pace and in their own space, making it possible for more people to acquire these critical skills without geographical or time constraints.
What Can You Expect From an Online ADR Training Program?
Online ADR training programs typically cover core areas of ADR, such as arbitration, mediation, and negotiation, along with their practical application. Know what is mandatory arbitration? Courses aim to enhance learners' understanding of conflict dynamics, their ability to facilitate dialogue, and their capacity to develop and implement effective conflict resolution strategies. Participants can expect to learn not only the theoretical foundations of these techniques but also how to apply them in real-world contexts.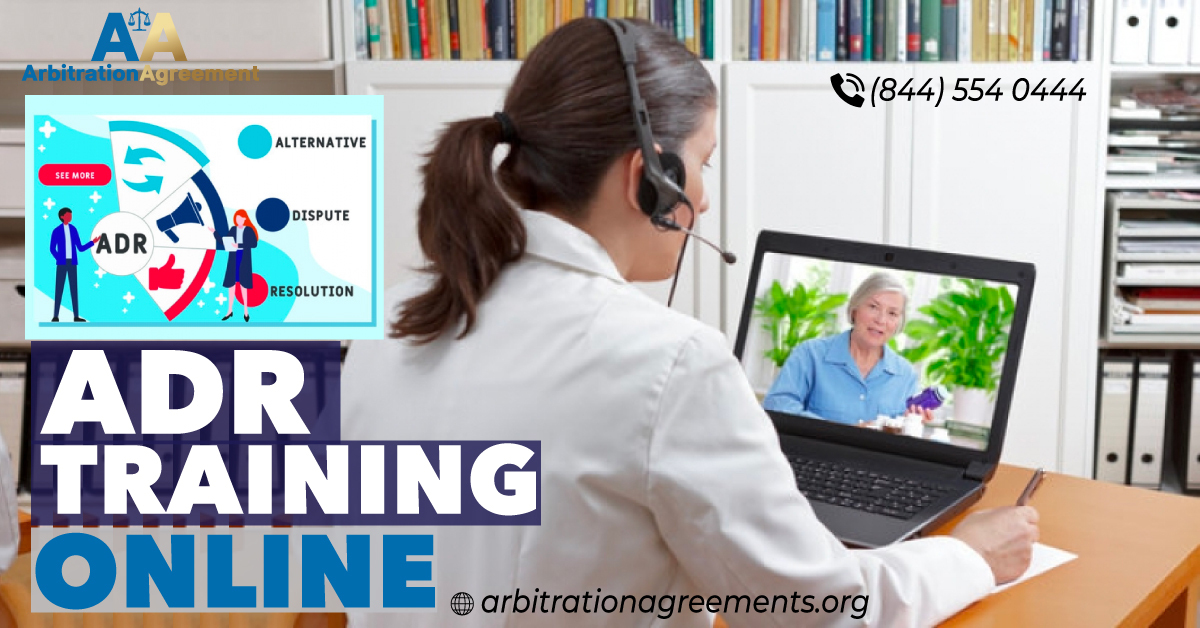 The Value Proposition of ArbitrationAgreements.org

'

s Online ADR Training Programs
One of the leading providers of ADR training online, ArbitrationAgreements.org offers comprehensive programs that cater to a variety of learning needs. Do you want to learn more about arbitration vs mediation vs litigation? Their courses are taught by experienced ADR professionals who bring real-world perspectives into the classroom, providing a nuanced understanding of the complexities and practicalities of dispute resolution.
Whether you're a professional looking to expand your conflict resolution skills or an individual seeking to manage personal disputes more effectively, the online ADR training programs offered by ArbitrationAgreements.org have something for you. They offer a diverse range of courses, from foundational training for beginners to advanced courses for experienced practitioners looking to deepen their knowledge.
Enhancing Your Professional Opportunities with ADR Training
By enrolling in an online ADR training program, you are enhancing your professional opportunities. Do you want to know how non-binding arbitration works? The skills gained from these courses are transferable across a wide range of professions, including law, business, human resources, social work, and education, to name a few. Whether it's for career advancement, adding a new skill set, or for personal growth, understanding and mastering ADR techniques can create a significant impact.
Moreover, having a certification from a reputable online training provider like ArbitrationAgreements.org demonstrates your commitment to learning and your readiness to contribute to the growing field of ADR.
Understanding the Future of ADR Training
As we look to the future, the role of online ADR training, such as that offered by ArbitrationAgreements.org, is likely to grow in importance. The need for effective dispute resolution strategies isn't going away - if anything, it's increasing. With the world becoming more interconnected and complex, the demand for trained ADR professionals will rise.
In an era marked by swift changes, technological advancements, and globalization, the emphasis on ADR skills will continue to rise. Learn more about arbitration agreement meaning information. More organizations and individuals are recognizing the potential of ADR strategies to reduce costs, save time, and preserve relationships. The integration of these skills is not just a trend, but a reflection of a new perspective on conflict resolution that is more holistic, comprehensive, and humane.
Demystifying Online ADR Training
Despite the growth and success of online learning platforms, misconceptions and reservations about online education persist. Some may fear the loss of the 'human touch' in a virtual environment or the perceived lack of networking opportunities. However, online ADR training programs, like those provided by ArbitrationAgreements.org, are designed to ensure an engaging, interactive learning experience that mirrors traditional classrooms.
Modern online learning management systems allow for interactive discussions, group projects, and one-on-one sessions with instructors. Do you want to know who pays for mediation? Online ADR training can also provide networking opportunities, connecting you with like-minded professionals across the globe and expanding your professional network beyond geographical boundaries.
Tapping Into the Potential of Online ADR Training
As we've discussed, online ADR training is not just about learning the techniques of dispute resolution - it's also about developing essential skills like active listening, empathy, and patience, all of which are crucial in every professional and personal interaction. Thus, ADR training can be seen as a journey of personal growth, beyond its practical, career-oriented benefits.
Organizations like ArbitrationAgreements.org are instrumental in making this journey accessible to everyone. Their courses are designed to cater to diverse learning needs, accommodating both beginners and seasoned professionals. Online ADR training is not merely a convenience; it's an opportunity to transform the way we approach conflicts and disputes, encouraging a more collaborative, constructive mindset.
Looking Beyond: The Impact of ADR Training on Society
While the primary purpose of ADR training is to equip individuals with conflict resolution skills, the societal impact of ADR cannot be underestimated. Want to know arbitration clause & provision? By promoting dialogue, understanding, and compromise, ADR techniques encourage a culture of respect and empathy, which are key to creating harmonious communities.
In addition to helping resolve disputes, the skills developed through ADR training - such as effective communication, empathy, and problem-solving - can be applied in everyday life. By promoting a more understanding approach to conflict, online ADR training programs, like those offered by ArbitrationAgreements.org, contribute to the creation of a more tolerant society.
Lifelong Learning and ADR
In an ever-evolving world, the notion of lifelong learning has gained prominence. It implies continuous learning and upskilling throughout one's life and career. Online ADR training fits perfectly within this paradigm, offering individuals the opportunity to consistently enhance their professional skill set and personal capabilities.
No matter your profession, conflicts and disputes are almost inevitable. By gaining proficiency in ADR, individuals from all walks of life can handle these challenges effectively and efficiently. Read more about Arbitration Agreement Association.The courses offered by ArbitrationAgreements.org are designed to cater to this ongoing learning process, ensuring that ADR training is as accessible as it is beneficial.
Selecting the Right Online ADR Training Program
When selecting an online ADR training program, it's essential to consider factors such as the course content, the expertise of the trainers, and the reputation of the training provider. ArbitrationAgreements.org excels in all these areas, providing high-quality, comprehensive programs taught by experienced professionals.
An ideal ADR training program should provide a balance of theoretical knowledge and practical application. It should offer an in-depth understanding of different ADR techniques and provide opportunities for learners to apply these skills in real-life scenarios. ArbitrationAgreements.org's programs embody these qualities, making them an excellent choice for anyone seeking to venture into the field of ADR or enhance their existing skills.
Final Thoughts
In conclusion, as the world continues to evolve, the value of Alternative Dispute Resolution techniques cannot be overstated. Know how the federal arbitration act applies to both federal and state courts. The global shift towards ADR reflects an understanding of the need for efficient, cost-effective, and humane methods of resolving conflicts.
Online ADR training, as provided by ArbitrationAgreements.org, has emerged as an essential tool for individuals and organizations to equip themselves with these valuable skills. With an emphasis on accessibility, flexibility, and practical learning, these programs offer an effective path for anyone looking to enhance their abilities in managing and resolving disputes.
The way we approach conflict resolution today will shape our societies of tomorrow. Through online ADR training, we can foster a culture of dialogue, understanding, and mutual respect, contributing to a more peaceful, collaborative world.
...