Tips for Mastering Your Emotions in Conflict Resolution
Nitin Paul Harmon
Nov. 23, 2023, 11:05 a.m.
...
Tips for Mastering Your Emotions in Conflict Resolution
Navigating the tumultuous waters of conflict can be challenging, especially when emotions run high. As an individual involved in conflict resolution, it's essential to master your emotions to ensure the situation is handled effectively and with sensitivity. But how can you achieve this mastery? Let's explore.
Why is Emotional Mastery Important in Conflict Resolution?
Emotional mastery plays a crucial role in our lives as it involves our capacity to identify, comprehend, and effectively handle our own emotions as well as the emotions of those around us. Do you want to know what is the difference between arbitration and mediation? In the context of conflict resolution, this skill becomes especially significant for a variety of compelling reasons:
Improved Decision-Making: Emotional detachment helps in making rational decisions. Being swayed by emotions can cloud judgment and hinder the objective evaluation of the situation.
Effective Communication: Understanding and controlling emotions aids in articulating points without aggravating the conflict further.
Building Trust: Parties involved are more likely to trust an individual who remains calm and composed during stressful times.
How Can Emotions Impact the Outcome of Conflict Resolution?
Emotions play a pivotal role in shaping the outcome of conflict resolution. Positive emotions like empathy can pave the way for understanding, while negative emotions like anger can escalate disputes.
Escalation: Strong negative emotions can escalate a minor disagreement into a major confrontation.
Miscommunication: Emotions can cause misinterpretation of messages, leading to further misunderstanding.
Inhibited Problem Solving: High emotional arousal can prevent parties from seeing potential solutions to the conflict.
What are the Strategies for Mastering Emotions in Conflict Resolution?
To achieve emotional mastery in conflict resolution, consider the following strategies:
Know thyself. Know about Alternative Dispute Resolution (ADR) Recognizing your emotional triggers is the first step in controlling them. By understanding what upsets you and why, you can anticipate your reactions and strategize accordingly.
It may sound cliché, but taking deep breaths works. It provides a pause, gives you a moment to collect your thoughts, and prevents impulsive reactions. Breathing deeply can also help to lower stress levels.
Instead of preparing your next argument, genuinely listen to what the other party has to say. Active listening fosters understanding and often de-escalates the situation.
Put yourself in the other person's shoes. Empathizing with their perspective doesn't mean you have to agree with it, but understanding where they are coming from can diminish animosity.
Instead of viewing the conflict as a battle to be won, see it as a problem to be solved collectively. This shift in perspective can alleviate the emotional charge associated with 'winning' or 'losing.'
Sometimes, we're not the best judges of our emotional states. Know how mediation is defined? Regularly seeking feedback from trusted colleagues or mentors can offer insights into how you handle conflict and areas for improvement.
If emotions are running too high, it's okay to suggest a break. A short time-out can provide both parties with the opportunity to cool down and approach the situation with a clearer mind.
How Can One Cultivate Emotional Mastery Over Time?
Emotional mastery is not achieved overnight. Do you want to know what is the difference between arbitration and mediation? It's a continuous process that requires practice and self-reflection. Here are a few steps to cultivate it over time:
Consistent Practice: Like any skill, emotional mastery gets better with practice. Regularly engage in activities that challenge your emotional control, like meditation or role-playing conflict scenarios.
Embrace Learning Opportunities: Instead of viewing emotionally charged situations as failures, see them as learning opportunities. Reflect on what went wrong, what triggered your emotions, and how you could react differently in the future.
Seek Mentorship: Find someone experienced in conflict resolution and learn from them. They can offer guidance, strategies, and feedback that can accelerate your journey towards emotional mastery.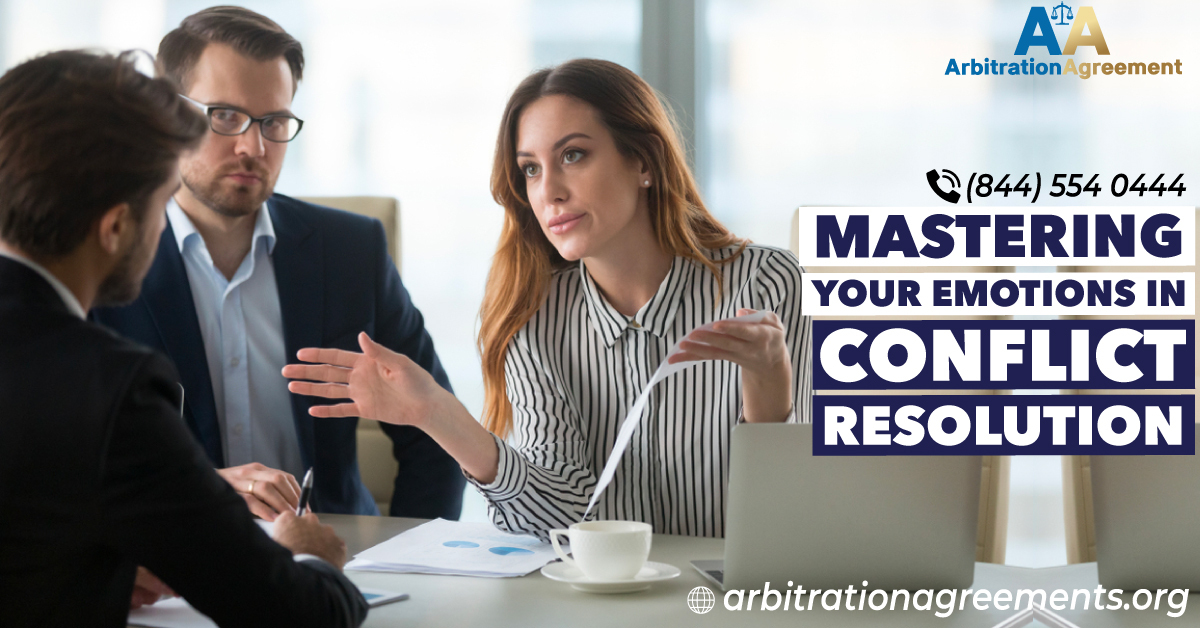 What Role Does Emotional Intelligence Play in Conflict Resolution?
Emotional Intelligence (EI) pertains to the skill of recognizing, comprehending, and effectively navigating emotions, encompassing both our own emotions and those of others. In conflict resolution, EI is invaluable. Conciliation High emotional intelligence can transform a tense situation into an opportunity for growth and understanding.
Recognition of Emotions: Before you can manage your emotions, you have to recognize them. Those with high EI are adept at this, swiftly identifying when they're feeling frustrated, angry, or hurt, allowing for quicker intervention and self-regulation.
Interpersonal Effectiveness: Emotional intelligence enhances interpersonal skills. An individual with high EI can gauge the emotional climate of a situation and adapt their communication style to ensure it's received in the best possible way.
Prediction of Reactions: Recognizing patterns in emotional responses allows those with high EI to anticipate reactions, both from themselves and others. Learn more about

arbitration agreements meaning

information. This predictive power can help in devising strategies to de-escalate potential flare-ups before they occur.
How Can You Boost Your Emotional Intelligence for Better Conflict Resolution?
Enhancing your EI can lead to better conflict resolution outcomes. Here's how you can boost your emotional intelligence:
Continuous Self-reflection
Spend time reflecting on your emotional responses. Why did a particular comment upset you? Why did you react a certain way? Know how mediation is defined? This reflection fosters a deeper understanding of your emotional landscape.
Stay Curious about Others
Ask open-ended questions and genuinely listen to the answers. By being curious about others, you can gain insights into their emotional worlds, fostering understanding and empathy.
Engage in Active Feedback
Just as you sought feedback for emotional mastery, do so for emotional intelligence. Understanding how others perceive your emotional responses can provide valuable insights.
Practice Mindfulness and Meditation
Both mindfulness and meditation can enhance emotional intelligence by promoting self-awareness and grounding. Regular practice can help in recognizing and managing emotional responses in real time.
Read Widely on Human Behavior
Books, articles, and even biographies can offer insights into human emotion and behavior. By understanding the broader spectrum of human emotions, you can better navigate and understand conflicts.
The Interconnection of Emotional Mastery and Emotional Intelligence
While emotional mastery focuses on controlling and managing emotions during conflicts, emotional intelligence is broader, encompassing the understanding and management of emotions in various scenarios. Know what is mandatory arbitration? Both are interrelated and essential for conflict resolution. By harnessing the power of both, you're better equipped to navigate the intricacies of human interactions and achieve favorable resolutions.
What is Fight or Flight?
The "fight or flight" response represents a fundamental physiological reaction triggered when we perceive a potentially harmful event or a threat to our survival. Do you want to learn more about arbitration vs mediation vs litigation? This response prepares the body to either confront or flee from the threat. It's an evolutionary mechanism that helped our ancestors survive in hostile environments.
When the brain detects a threat, it initiates the release of adrenaline and various stress hormones, resulting in:
Elevated Heart Rate: This serves to facilitate the circulation of more blood to the muscles.
Heightened Senses: Sharper vision and hearing for better assessment of the situation.
Tensed Muscles: Preparing the body to either flee or defend itself.
Rapid Breathing: To supply more oxygen to the body. In modern times, this response can be activated in situations that aren't life-threatening, such as conflicts or disagreements.
What are Emotional Triggers?
Emotional triggers are specific topics, behaviors, words, or situations that evoke an intense emotional reaction. Learn more about arbitration agreements meaning information. These triggers often stem from past experiences or unresolved issues. For example, someone who was bullied as a child might feel triggered when they perceive being marginalized or ridiculed in a group setting.
Understanding personal emotional triggers is crucial. Recognizing them allows for better self-regulation, ensuring that emotions resulting from these triggers don't escalate conflicts unnecessarily.
How Do Emotions Affect Conflict?
Emotions play a pivotal role in conflicts, influencing both their onset and outcome.
Initiation: Conflicts can arise from emotional misunderstandings or perceived slights, even if no actual harm was intended.
Escalation: When parties involved in a conflict let their emotions take control, minor disagreements can snowball into major confrontations.
Resolution: Emotions can either hinder or aid resolution. While negative emotions like anger or resentment can obstruct solutions, positive emotions like empathy can facilitate understanding and resolution.
FAQs
Q: How can I identify my emotional triggers?
A: Start by reflecting on past situations that evoked strong emotional reactions. Journaling can be helpful. Know how the Federal Arbitration Act applies to both federal and state courts. Over time, patterns might emerge, pointing to specific triggers. Feedback from close friends or therapy can also offer insights.
Q: Can the fight or flight response be controlled?
A: While the initial response is automatic, with awareness and practice, its intensity and duration can be managed. Techniques like deep breathing, grounding exercises, and mindfulness can help in calming the body and mind.
Q: Are emotions always a hindrance in conflicts?
A: Not necessarily. While unchecked emotions can exacerbate conflicts, emotions like empathy, compassion, and love can lead to understanding and resolution. The key lies in recognizing and channeling emotions constructively.
Q: How can I improve my emotional responses during conflicts?
A: Awareness is the first step. Recognize your emotions without judgment. Then, employ strategies like active listening, taking breaks when emotions run too high, and seeking feedback to improve emotional responses.
In Conclusion
Mastering your emotions is crucial for anyone involved in conflict resolution. It's a skill that not only ensures the effective resolution of disputes but also fosters trust, understanding, and collaboration among parties. With self-awareness, practice, and a commitment to continuous learning, you can navigate even the most challenging conflicts with grace and poise. Do you want to learn more about arbitration vs mediation vs litigation? Remember, conflicts are inevitable, but how we respond to them defines the outcome. Please contact our association if you have any questions about this crucial subject.
...