Essay Contest
The Official ArbitrationAgreements.org Essay Contest
ArbitrationAgreements.org is now accepting submissions for our annual Essay Contest. Let's jump right in and go over the topic of our contest for this year. "How do you see arbitration benefitting a niche business?" In other words, how can the arbitral process benefit a company in a specific industry? Your essay must contain no fewer than 600 words. We will select one first-place winner after reading all submitted essays. That winner will receive a $1,700 grand prize.
One or more second-place winners will also get selected by our organization. Every second-place winner will receive $30 for writing an outstanding essay. Our association may decide to feature your essay on our website. But that's not all. We can also decide to offer you a full-time or part-time role as a contributing writer. It's best that you browse our website to read many of our past and current articles. This way, you will understand the writing style and formatting that we prefer. All submitted essays will get checked for plagiarism. So, do not copy and paste any content into your submitted article. Please continue reading to learn more about our official Essay Contest. If you have any questions, do not hesitate to contact our association.
Submission Basics
Here is what we recommend applicants should do before submitting their essays. Begin by browsing current and past articles on our website. Doing so will help you recognize how to write in an ideal format for us. Again, it is crucial that your essay cannot contain any trace of plagiarism. We forbid applicants from copying and pasting content from any other source or article. Our editorial team uses advanced resources to check each essay for plagiarism.
The thesis of your essay must address the topic question in the first paragraph above. "How do you see arbitration benefitting a niche business?" This refers to how arbitration can help companies in a specific industry succeed. Your essay does not have to reference a specific company. Or, you are free to use a real business as an example. Our team wants you to get creative when it comes to defining your thesis statement.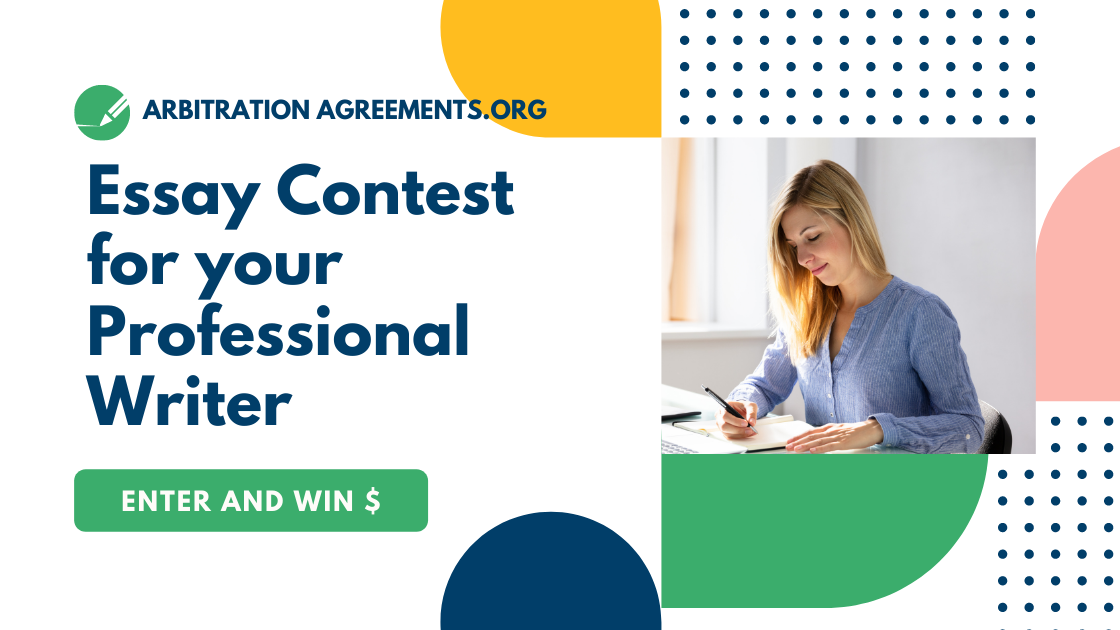 More About the Written Topic
Sure, the Essay Contest topic is simple and to-the-point. But do not make your writing TOO simple or base it off of Google Search results. Yes, we are posing an open-ended question. That does not mean we want to receive an open-ended answer. Instead, focus on making your essay very specific and detailed. Provide clear and concise evidence that reinforces your opening paragraph. Our association is looking for a writer who balances ingenuity, creativity, and substance. It is best for applicants to read some of the articles on our website. After all, our site contains dozens of pieces related to many aspects of arbitration. But your essay cannot appear like any of our posted articles or content.
Your essay must stay grounded in factual information and realism. Although, we encourage every writer to think outside-the-box. A successful essay will illustrate specific examples of the benefits of arbitration. Those benefits must correlate to how a business in a certain sector operates. Do not despair if you feel that you need to learn more information about the topic. You are welcome to message or email our association at any time. In fact, we even encourage potential applicants to pick up the phone and call us. Plus, you can browse our website to access countless arbitration resources.
The Awards
We divide our Essay Contest awards into two divisions. Division one refers to the first-place winner. He or she will receive the $1,700 grand prize. Division two awards relate to all second-place contest winners. Each division two winner will receive $30 as a reward. There is no limit to how many division two contest winners that we will select. That depends on the quality of writing in each submitted essay. ArbitrationAgreements.org reserves the right to not select a winner. This policy applies to both division one and division two. This can take place if essays fail to see our creative and informational standards.
Let's say that we choose you as a division one/division two Essay Contest winner. We reserve the right to feature all (or part) of your essay on our website. Plus, we may consider contracting you as a written contributor to the site. This could take place on either a full-time or part-time basis. As you can see, winning an award is about more than earning a prize. It's about the potential opportunity of working for a national arbitration association. So, please have the mindset that you already work for us when you compose your essay.
We Encourage You To Apply ASAP
The Essay Contest will become closed for new submissions later this year. Thus, we encourage you to submit your essay ASAP. Each applicant must be eighteen years of age or older. You do not need to have professional legal or arbitral experience to apply. This contest is open to both college students and working professionals alike. Please submit your essay to info@arbitrationagreements.org. When doing so, put "Essay Contest" in the subject line. You can also email us at that address if you have questions about the contest. Any affiliation to ArbitrationAgreements.org is not required to submit an essay.